Creamy Tuscan Cannellini Bean Pasta with Tenderstem® broccoli
Super-quick and easy to make, this vegan pasta dish is a great store cupboard supper, using mashed cannellini beans to create a creamy sauce to coat the delicious pasta. Topped with walnuts, chilli flakes and perfectly cooked Tenderstem® broccoli, this recipe is packed with the flavours of Italy, and healthy too!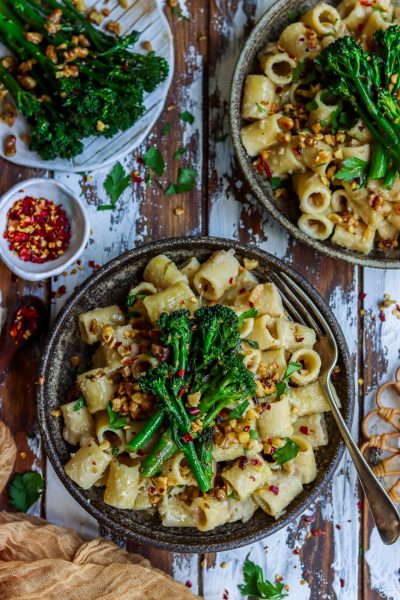 Prep 5 mins
Cook 25 mins
Serves 2
4 tbsp olive oil
40g of walnuts – chopped
1 tbsp chilli flakes (optional)
200g Tenderstem® broccoli
1 small white onion, peeled and finely chopped
2 garlic cloves, peeled and crushed
220g mezzi rigatoni, tortiglioni or penne
1 can cannellini beans, drained and rinsed
a few sprigs of rosemary, leaves removed and chopped
juice and zest of 1 unwaxed lemon
salt and freshly ground black pepper to taste
small handful of chopped parsley
Add 2 tbsp of oil to a large frying pan and add the chopped walnuts and chilli flakes (if using). Cook for 5 minutes until the walnuts start to go golden. Add the Tenderstem® broccoli to the pan and cook for a further 4-5 minutes until cooked. Remove everything from the pan, place in a bowl and set aside.

Add the remaining 2 tbsp oil to the pan with the chopped onion and cook for 5-7 minutes until the onion starts to caramelise. Add in the crushed garlic and cook for another minute.

In the meantime, cook the pasta according to packet instructions. Add the cannellini beans and the chopped rosemary to the pan containing the onion and garlic and cook for few minutes. Remove 1 cup of the cooking water from the pasta pot and add it to the beans. Add the juice and zest of a lemon.
With a potato masher, break down the beans until you have a creamy sauce. Season with salt & pepper. Save a cup of the starchy water from the pasta before draining it. Add the cooked pasta to the pan containing your sauce, add the cup of pasta water, stir and cook for another couple of minutes until the sauce thickens up.

Serve with the Tenderstem® broccoli and walnuts arranged on top and finish with a sprinkle of parsley.

Recipe and image courtesy of Tenderstem® www.tenderstem.co.uk