Zuppa di pesce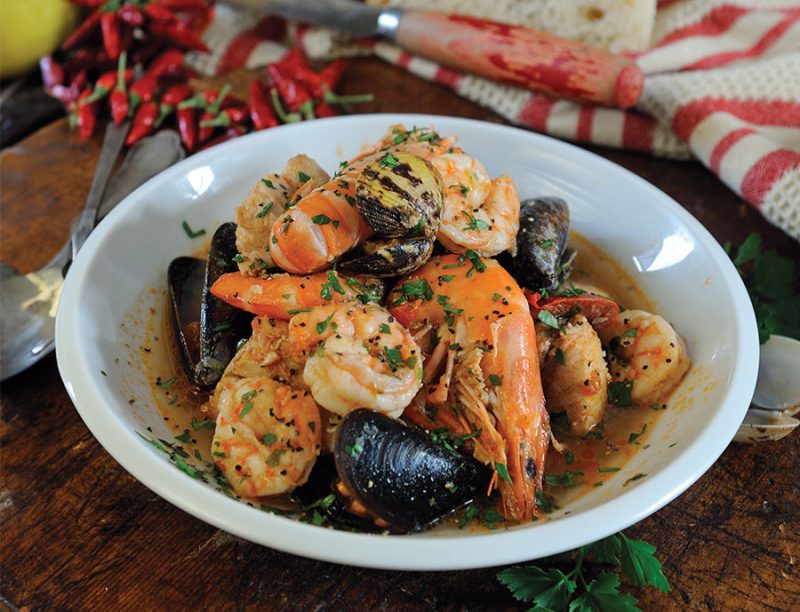 There's something about fish soup that gives it the 'wow' factor. The key is good quality fresh fish and adding them according to their respective cooking times.
One of the sheer joys of this dish is that not only does it look spectacular but it's a dish you can dig in and eat either with a spoon or with your hands. It's also a lot easier to make than it looks.
Perfect for an informal meal with friends. Just make sure you have a plentiful supply of napkins to hand!
Recipe by Mario Matassa. 
➤ SERVES 4
➤ PREPARATION 20 minutes
➤ Cooking 25 minutes
Ingredients:
1 garlic clove and 1 chilli pepper
olive oil
250g baby plum or cherry tomatoes
200g tomato sauce
100g peeled medium-sized prawns
200g fresh tuna, cut into 8 pieces
200g swordfish, cut into 8 pieces
4 large jumbo prawns
8 scampi
1kg mussels (discard any that are open)
500g clams (discard any that are open)
bunch of fresh parsley
salt and pepper
Method:
You will need a heavy-based pan plenty large enough to fit all the fish, and to have all the fish prepared and ready to go. Fry the chopped garlic and the chilli pepper in a couple of tablespoons of olive oil. Chop the tomatoes in half and add to the pan along with the tomato sauce. Bring gently to the boil and cook for a couple of minutes until the tomatoes have softened.
Add the tuna, swordfish, prawns and scampi, cover and continue cooking for about 5 minutes. Finally, add the mussels and the clams, and a handful of finely chopped parsley. Season, cover and continue cooking for 5 to 7 minutes until all the mussels have opened.
Turn off the heat and allow to cool, covered, for at least 5 minutes before you serve.
Find more recipes in our archive.
Tags:
food
,
Recipes