Gelato alla fragola velocissima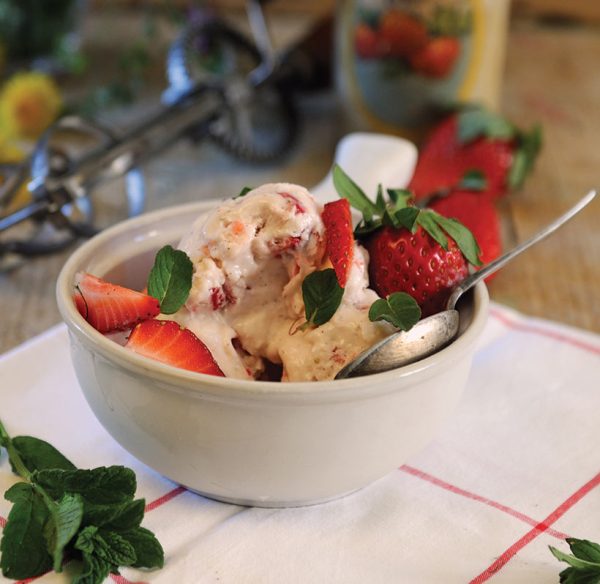 Mario Matassa was given this strawberry ice cream recipe years back at the restaurant by a fellow chef when sparks started shooting from the back of the ice cream machine, which is not supposed to happen.
The problem with most recipes for homemade ice cream made without the benefit of a machine is that you need to agitate the mix every couple of hours to stop ice forming.
With this recipe, for some reason, you don't. Simply prepare the mix and pop it into the freezer. You can substitute other fruits in this recipe – ripe peaches and sweet melons work equally well.
➤ SERVES 4
➤ PREPARATION 15 minutes
➤ FREEZING 5 hours
Ingredients:
300g fresh strawberries
3 tbsp sugar
400g whipping cream
2 tsp vanilla essence
400g sweetened condensed milk
Method:
Put 150g of strawberries and 1 tablespoon of sugar into a blender and blitz for a few seconds until smooth.
Chop the remainder of the strawberries into tiny pieces.
Beat the cream with the remaining sugar until it starts to thicken. Add the vanilla and, as you continue to beat, slowly add the condensed milk. Then add the blended strawberries and continue beating until everything has been well amalgamated.
Finally, add the chopped strawberries and mix in gently with a wooden spoon. You should have a thick creamy consistency.
Pour the mixture into a freezer container with a lid and place in the freezer for at least 5 hours. There is no need to stir the mixture as it freezes. It should not form ice.
Find more recipes in our archive.
Tags:
Recipes