Indulge your taste buds in the vibrant flavours of Italy with this delightful 'Insalata di riso' Mediterranean rice salad recipe.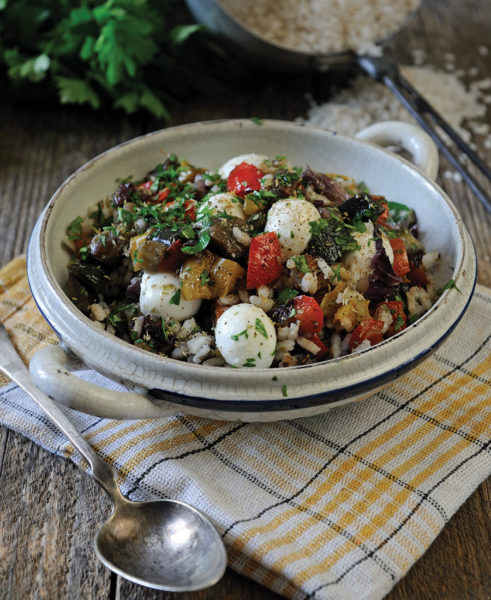 Rice salad has been described as the caposaldo, 'cornerstone', of Italian summer cuisine. Every Italian has an opinion about what makes a good rice salad, and there are as many variations on the recipe as there are grains of rice in a very large bowl!
But we are agreed that it's better not to use risotto rice for this. It's too sticky.
In Italy we use a rice labelled 'parboiled', made specifically for the purpose. American long grain rice is equally suited.
The variation in this rice salad recipe is a personal favourite. It takes full advantage of the glut of Mediterranean vegetables over the summer.
Feel free, however, to play about with the ingredients and add fresh herbs such as oregano and basil.
Indulge your taste buds in the vibrant flavours of Italy with this delightful Mediterranean rice salad recipe.
➤ SERVES 4
➤ PREPARATION 15 minutes
➤ COOKING 10-15 minutes
Ingredients:
300g rice
1 large red onion
1 large red pepper
1 large yellow pepper
2 medium sized courgettes
1 large aubergine
6 tbsp extra-virgin olive oil
3 tbsp capers in olive oil
200g bocconcini di mozzarella
bunch of fresh parsley, chopped
2 tbsp balsamic vinegar
salt and pepper
Method:
Boil the rice in plenty of salted water until tender and then drain and rinse under cold water to halt the cooking. Set the rice aside to cool.
While the rice is cooking, finely chop the onions, peppers, courgettes and aubergine. Add a couple of tablespoons of olive oil to a large heavy-based pan and heat. Add the vegetables, season well with salt and pepper and stir. Cook the vegetables until soft and tender. You might need to add a few tablespoons of water to create some steam and help the process.
Once cooked, transfer the vegetables to a large bowl and add the rice and the capers. Mix well and allow to cool for a few minutes before adding the mozzarella balls.
To finish, add the chopped parsley, a good drizzle of olive oil and the balsamic vinegar. Give everything a good mix and serve.
Recipe and photo by Mario Matassa
Find more recipes in our archive.