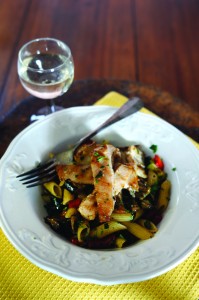 Penne with Mediterranean vegetables and grilled chicken.
Penne con verdure e pollo ai ferri.
Ingredients
300g penne pasta
1 sweet red pepper, diced
1 small aubergine, diced
1 courgette, diced
olive oil
2 chicken breasts
salt and black pepper
freshly chopped parsley
Method
Bring a large pot of salted water to the boil and add the penne. Whilst the pasta is cooking, add the diced vegetables to a large frying pan with a few tablespoons of olive oil. Cook until tender.
In a separate, lightly oiled griddle pan, add the chicken breasts, season and cook for about 5 minutes on each side.
Once the pasta is cooked, drain and add to the pan with the vegetables. Toss everything together well and place into serving bowls. Remove the chicken from the griddle pan and slice on the diagonal. Arrange the strips of chicken on top of the pasta and sprinkle with freshly chopped parsley, olive oil and serve.
Recipe and image by Mario Matassa