The legendary cuisine of La Serenisima deserves close attention, so join Mario Matassa as he unpicks the flavours and feeling behind Venetian cooking…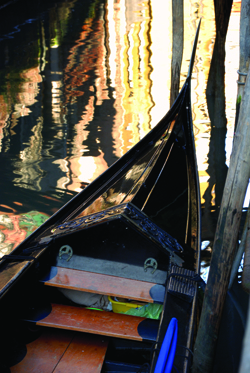 Venice hardly needs an introduction. One of the most popular tourist destinations in the world, the Renaissance city is renowned among other things for its stunning architecture, its history, its art, its music and its unique landscape.
With so much to see and experience, one can at least begin to understand why some visitors overlook Venetian gastronomy. So too, given the captive audience, it must be said that some of the more tourist oriented restaurants fail to do justice to the city's cuisine. But good restaurants, good food and a rich and varied cuisine is there to be found, if you know where to look and what to look for.
Venice was for long a leading commercial city of the Renaissance, importing exotic spices and ingredients from the Middle East. Invariably much of this found its way into the local cuisine. Also, because of the changing and varied landscape of the Veneto, the Venetians enjoy a wider repertoire of dishes than most Italian regions. Polenta, pasta and rice are used in equal measure. Seafood and fresh fish, naturally, are a mainstay of the local diet, the waters along the Adriatic, the rivers flowing down from Alpine heights and the shores of Lake Garda all providing a natural habitat of choice


Bean soup – Zuppa di fagioli
Serves 4 – Preparation 15 mins – Cooking 20 mins
Ingredients
1 stalk celery
2 medium carrots
1 small onion
2 litres chicken or vegetable stock
100g spaghetti, broken into small pieces
450g tin borlotti beans, drained
A few tbsp olive oil
Method
Dice the celery, carrot and onion and add to a saucepan with a few tablespoons of olive oil. Gently fry until softened (for about 5 minutes).
Next add the chicken or vegetable stock and bring to the boil.? Boil the vegetables for 5 minutes.
Add the broken spaghetti and beans and boil for a further 8-10 minutes until the spaghetti is cooked through.
Taste for seasoning, adding more salt if necessary and serve. Serve generously with crusty bread
TIP For a more authentic touch use bigoli pasta if you can find it in your local specialty shop.


Seafood salad – Insalata di Mare
Serves 6-8 – Preparation 30 mins – Cooking 1 hour 10 mins
Ingredients
1 small cuttlefish
1 small octopus (400g)
400g fresh squid
250g fresh prawns, peeled
Method
Place the octopus in a large pan of boiling water for 40 minutes. Turn off the heat and let cool for 30 minutes in its own water. In another pot of boiling water add the cuttlefish. Boil for 15 minutes then add the squid and cook for another 20 minutes.
Finally add the prawns and cook for another 5 minutes. Drain and cool under cold running water. Next, drain the octopus and cool. Chop the fish, leaving aside the prawns, into small dice and place into a serving bowl.
Dress with olive oil, freshly chopped parsley and serve tepid or cold with lemon wedges.