Boldly setting itself apart from traditional Italian recipes by shunning pasta in favour of gnocchi, polenta and rice, Mario Matassa leads us into the world of Aostan cuisine…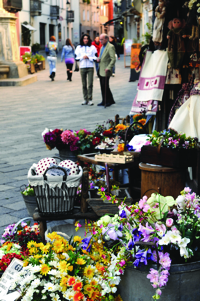 Aosta is Italy's smallest region, a valley nestled in the cradle of the Alps, bordering France and  Switzerland to the north and its regional neighbour, Piedmont, to the south. It's a land of pine-covered mountains, stone-roofed wooden chalets, fairytale castles, welcoming taverns, warming restaurants and, of course, the crowning feature, the towering snow-covered peaks of Monte Bianco.
The region's neighbours undoubtedly make their presence felt in the local cuisine, but, that said, Aostan cuisine has a style and character all of its own. Their typical dish bears little resemblance to the commonly held image of usual Italian recipes – to begin with, olive oil and pasta hardly get a look in here. A robust and simple mountain diet dominates, based on cheese and meat, dark rye breads, hardy vegetables, potatoes, polenta, gnocchi (which is as close as you are going to get to pasta), rice and thick, rustic soups.
Wherever you go in the Valle d'Aosta the jingling sound of cow bells seems to follow you. It's a sure sign of one of the mainstays of the local cuisine. The area is famed for its cheeses, with milk drawn from cows that graze freely most of the year round on luscious mountain pastures. There's a saying in the area: "Fresh cheese has three fundamental qualities: it cuts the hunger, it cuts the thirst, and it cleans the palate."  Toma , robiola and, above all, fontina are among the most popular. The lesser known Valle d'Aosta fromadzo, an aged cow's milk cheese, has been made in the valley since the early 15th century. When not eaten on its own, cheese features in many local traditional dishes, usually melted, a velvety smooth and tasty topping to ladle over gnocchi, polenta or rice. It's also added to thick soups (locally called seuppe) in addition to hearty vegetables, wild mushrooms, chestnuts and almonds.
Meat specialities include carbonade, a beef stew cooked with onions and red wine, and the cotoletta alla Valdostana, a veal cutlet coated in breadcrumbs, fried in butter and finished with a generous topping of melted fontina cheese. Among the most reputed local meat products are jambon de Bosses – a relatively rare cured ham which is sweet tasting – and lardo d'Arnad, which is every bit as good as its better known Tuscan counterpart, lardo di Colonnata. Mocetta, a cured ham made from mountain goat is also very popular.
For those with a sweet tooth, desserts in the area tend to be simple, the locals making full use of what grows locally. Wild berries, pears and apples feature, as do chestnuts. The honeys of the region are highly regarded and especially fragrant, the bees being spoiled with a huge array of wild flowers (millefiori – a thousand flowers), raspberries, blueberries and chestnuts. Dinner ends with the customary passing of the grolla, a hand-carved wooden vessel that can have up to eight spouts, a tradition that speaks of the kinship of the local people. It's filled with a pungent mix of black coffee, wine, grappa and lemon peel and passed ceremoniously around the table. Should you ever buy one, only ever wash it with water – the locals say that washing destroys the flavour and, besides, the alcohol disinfects the vessel.
…………………………………………..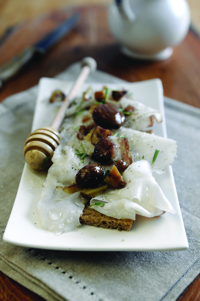 Italian Recipe 1 – Chestnuts with lardo d'Arnad and rye bread
Antipasto di castagne con lardo d'Arnad e pane nero
Lardo is often confused, and therefore dismissed, with lard. It is in fact a cured and spiced pork fat, very delicate in flavour and a true delicacy of Italian cuisine. It should be bought thinly sliced and kept in the fridge until ready to use.
Serves 4 | Preparation 10 mins | Cooking None
8 slices rye bread
125g cooked chestnuts
150g lardo d'Arnad
3 tbsp honey
1 sprig of rosemary
Ground black pepper
Place a few slices of rye bread on four serving plates. Top each slice of bread with a few slices of lardo (make sure you keep the lardo in the fridge until you are ready to serve).
Roughly chop the chestnuts and the rosemary and sprinkle over the lardo. Finish with a grinding of black pepper and a drizzle of honey over the chestnuts. Serve immediately.
…………………………………………..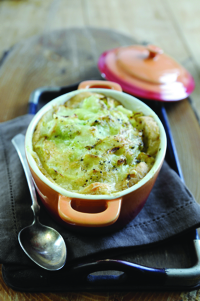 Italian Recipe 2 – Valdostana cabbage soup
Zuppa alla Valdostana
This soup is a descendant of cucina povera. Made with hardy cabbage, like ribollita it is a twice-cooked soup, but the addition of fontina cheese gives it a wonderful depth of flavour. Locals eat this as a first course but it is substantial enough to be a plate in its own right.
Serves 4 | Preparation 10 mins | Cooking 1 hour
1 small cabbage
½ day-old loaf, rustic style bread
200g fontina cheese, grated
1 litre chicken or vegetable stock
Unsalted butter
Salt and pepper
Wash and slice the cabbage and boil for 7-8 minutes until tender. Drain, add a knob of butter and set aside.
Slice the bread and place a layer on the bottom of an ovenproof dish.
Place a layer of cooked cabbage on top and a layer of cheese. Season with pepper and repeat, adding another layer with the remaining ingredients.
Add the stock to the dish. Place the dish into a preheated oven at 160°C for 30 minutes until golden on top.
…………………………………………..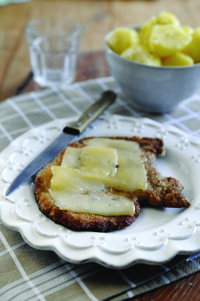 Italian Recipe 3 – Veal chop with fontina cheese
Costoletta alla Valdostana
This is served in practically every restaurant in the region but it's important to avoid touristy establishments and find a restaurant that does it well. The veal chops need to be evenly coated and fried in hot butter and there should be enough cheese just to coat the meat, not drown it.
Serves 4 | Preparation 15 mins | Cooking 12 mins
4 veal chops on the bone
1 beaten free-range egg
100g fine breadcrumbs
150g fontina cheese in slices
Unsalted butter
Place the veal chops on a chopping board and flatten out slightly with a heavy meat mallet. Trim off any excess fat. Dip the chops into the beaten egg and then into the breadcrumbs to coat.
Add a generous knob of butter to a large heavy-based frying pan and cook the chops for approximately 3 minutes on each side, or until golden.
Transfer the chops to an ovenproof dish and top with the slices of cheese. Place in a preheated oven at 180°C for 5 minutes until the cheese has melted.
Serve immediately with boiled new potatoes.
…………………………………………..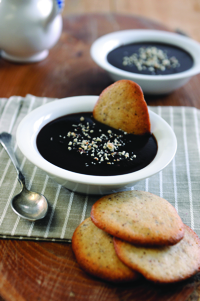 Italian Recipe 4 – Chocolate cream dessert

Crema di Cogne
This dish originated in Cogne, and is almost always served with tegole, a thin crisp biscuit made with egg whites, hazelnuts and almonds, widely available throughout the region. The tradition likely stems from the fact that to make a batch of tegole requires egg whites, which are always to hand after making the crema.
Serves 4 | Preparation 5 mins + chilling | Cooking 15 mins
4 egg yolks
200g caster sugar
1 tbsp dark cocoa powder
250ml single cream
250ml whole milk
50g dark chocolate, grated
Place the egg yolks and half the sugar into a large bowl. Whisk together until light and foamy. Add the cocoa powder, cream, milk and grated dark chocolate and stir together. Pour everything into a heavy-based saucepan and cook over a medium heat, stirring continuously until it thickens.
In the meantime, add the remaining sugar together with 2 tbsp of water into another saucepan. Place over a medium heat and cook until it caramelises – this will take the same amount of time as the cream. Once the cream has thickened, remove from the heat and add the caramel. Keep stirring for another minute until the mix is well incorporated.
Pour the chocolate cream into four serving dishes and set aside to cool slightly before placing in a fridge to chill. Serve chilled with tegole biscuits, which are traditional almond and hazelnut biscuits from the Valle d'Aosta.