Macedonia con crema chantilly all'italiana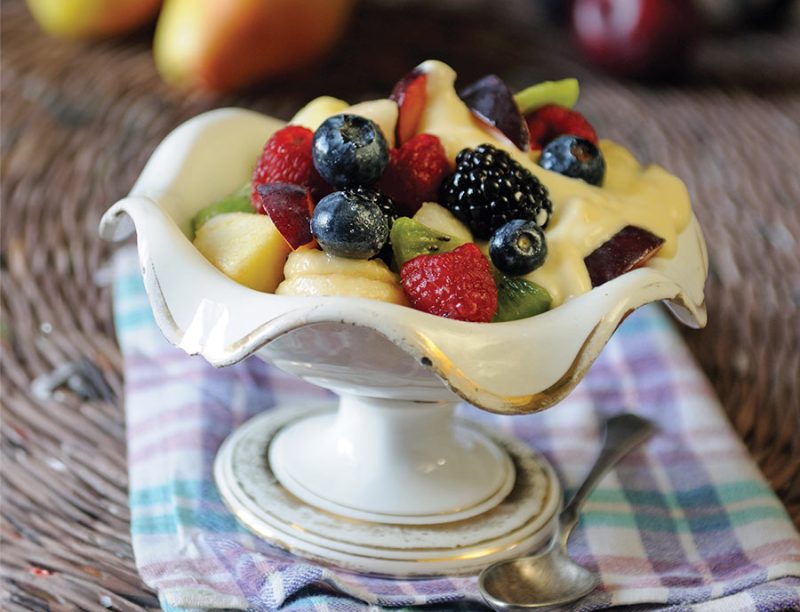 Over the summer, it pays to take advantage of the wonderful supply of fresh seasonal fruits.
One of my favourite desserts has always been a simple bowl of fresh strawberries with a generous dollop of Chantilly cream. But I also love Italian crema pasticcera (their version of custard, you could say).
So this recipe is what you could call a cook's compromise. Why choose one or the other when you can have both?
Recipe by Mario Matassa. 
➤ SERVES 4
➤ PREPARATION 15 minutes
➤ Cooking 15 minutes
Ingredients:
FOR THE CREAM
500g milk
6 large free-range egg yolks
200g sugar
1 tsp vanilla essence
40g cornflour
200ml double cream
FOR THE FRUIT SALAD
A mixture of in-season fruit (apples, raspberries, strawberries, banana, pears, melon, plums)
1 lemon
50ml dry white wine
50g granulated sugar
Method:
To make the cream, heat the milk in a heavy-based saucepan. In a separate bowl, whisk the eggs and 150g sugar until you have a thick, creamy consistency. Add the vanilla and the cornflour and whisk for a further minute. Once the milk has almost come to the boil, take it off the heat and pour it slowly into the egg mixture, continuously stirring to ensure no lumps form. Pour the mixture back into the pan and bring it gently to the boil, stirring all the time. Once it thickens, pour the cream into a bowl and gently cover it with clingfilm so that it touches and does not form a skin. Refrigerate until cool.
In the meantime, pour the double cream into a bowl and add the remaining 50g of sugar. Whisk with an electr ic beater until thick. Once the first cream has cooled, use a spatula to combine it with the double cream. You should end up with a thick, almost mousse-like consistency. Refr igerate for up to a few hours until ready to use.
To make the fruit salad, wash, peel and chop the fruit. Mix it all together in a large bowl and squeeze over the juice of a lemon. Add the white wine and sugar, give everything a good mix and refrigerate for about 30 minutes.
To serve, spoon the fruit into individual serving bowls, making sure you add a few tablespoons of the liquid. Add a couple of tablespoons of the cream and enjoy!
Find more recipes in our archive.
Tags:
food
,
Recipes