Focaccia con peperoni e mozzarella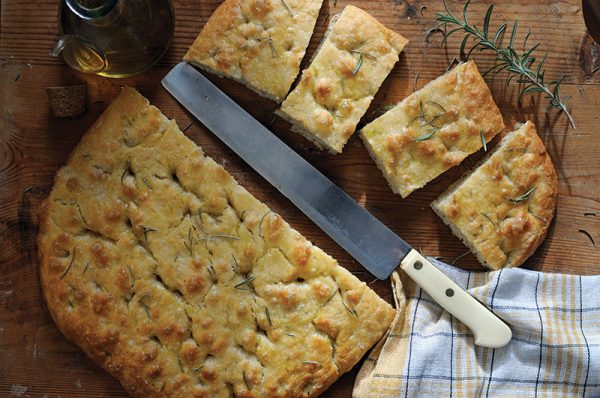 As the days get warmer and the nights shorter, Italians take to one of their favourite pastimes: eating outdoors. The key to a successful summer evening party is to organise a menu that can mostly be prepared in advance.
This focaccia recipe doesn't require any kneading. It does have to be prepared well in advance, but with that comes the advantage that you have plenty of time to do most of the hard work.
This is a recipe that we use in the restaurant which takes much of the hard work out of making focaccia. It's really foolproof and the result is a crispy crust and an airy, soft crumb.
The dough takes literally a few minutes to make and then it's immediately thrown into the fridge to be used a day, or even two, later. Use plenty of good extra-virgin olive oil when you make this, and, if you like, sprinkle some fresh rosemary over the top of the focaccia just before baking.
Recipe by Mario Matassa. 
➤ SERVES 4
➤ PREPARATION 10 minutes (plus resting and rising)
➤ Baking 20 minutes
Ingredients:
FOR THE FOCACCIA
510g strong bread flour
10g salt
450g lukewarm water
8g instant yeast
extra-virgin olive oil
FOR THE TOPPING
 2 medium-sized red peppers
2 medium-sized yellow peppers
1 garlic clove
extra-virgin olive oil
2 balls of mozzarella
salt and pepper
Method:
Put the flour, salt and yeast into a bowl. Pour in the water and stir with a spatula until all the ingredients are well amalgamated. Pour a few tablespoons of extra-virgin olive oil over the top of the dough, cover tightly with a lid or clingfilm and place the bowl in the refrigerator for at least 18 hours and up to 48. This is all the work you need to do in advance.
When you come to make the focaccia, first drizzle a few tablespoons of extra-virgin olive oil over a large baking tray. Wet your fingers slightly and scoop the dough onto the tray. It will be very wet, sticky and bubbly. Gently with your fingers, press the dough out onto the tray to form a large rectangle shape. It doesn't have to be perfect. In fact, it's better if it isn't. Leave the tray in a warm environment and allow the dough to rise for about 90 minutes.
While the dough is rising, peel your clove of garlic and slice the peppers thinly. Then add two tablespoons of olive oil to a frying pan. Add the garlic and the peppers and gently fry until the peppers have a little colour. Season with salt and pepper, add a few tablespoons of water, cover and continue to cook until tender.
Preheat the oven to 200?C/Gas Mark 6. Wet your fingers and dab dimples roughly into the dough. Sprinkle over salt and a good drizzle of extra-virgin olive oil. Place in the oven immediately and bake for between 15 and 20 minutes until crisp and golden. Allow to cool for a few minutes, then cut into squares and serve with slices of mozzarella and a forkful of peppers.
Find more recipes in our archive.