Simple and satisfying, there is a blissful array of filled pasta to be found on the market – we taste seven leading brands to find our favourites…
Growing in popularity outside of Italy, filled pasta is, for many, the perfect simple supper. The flavours and variations are understandably diverse – from meaty ravioli through to seasonal vegetables and perhaps the most recognisable of versions, spinach and ricotta.
These delicious parcels need the briefest of culinary attentions: lightly boil in water for two to three minutes (be careful to simmer and not hard boil them), drain and then dress in good olive oil, butter, pepper and Parmesan. An alternative cooking method is to heat them through in a pan with a few generous glugs of oil, turning gently with tongs, keeping an eye on temperature so as not to fry them.
This produces a more firm and flavoursome result – ideal when the pasta and filling are both meltingly fresh and need only a scant heat for them to be enjoyed. In the interest of fairness, we cooked each of our samples here in the same way – simmered in water – although we couldn't resist experimenting with different fillings. There is, after all, a boundless selection to be found in supermarkets and delis these days.
Editor's Choice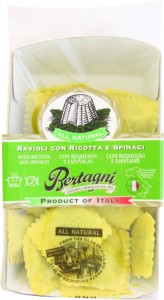 Bertagni Ravioli con Ricotta e Spinaci
From Taste of Italia
www.tasteofitalia.co.uk
Price £4.40/250g
Yet again we found an excellent product from burgeoning mail order company Taste of Italia. This authentically produced ravioli immediately stood out from the others with its comforting aroma and appealing egg-yolk colour. The first bite revealed a delicate, thin layer of pasta (just how it should be) and a well-seasoned filling that was bursting with flavour. As you'd expect, the ricotta cheese was soft and salty, and was matched well with a fresh, grassy texture from the spinach. No need for sauce – just warm through and dress with a good extra-virgin oil. If you are only used to bland supermarket versions of ricotta and spinach pasta, try this one for a totally new perspective.
VERDICT ****
The most flavoursome filled pasta we tasted – with a thin pasta shell and authentically vibrant flavours.
………………………………………………..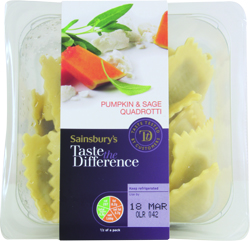 Pumpkin & Sage Quadrotti
From Sainsbury's
Price £2.50/250g
Delve inside these square bundles and find a pleasantly autumnal flavour, with a very sweet pumpkin filling that would make a good starter – but it might get too rich if you ate a whole bowlful to yourself! We found it hard to detect the sage inside, but enjoyed the fresh pasta and the unusually bold filling. Certainly good value for money – there are so many similar supermarket pastas that aren't nearly as good.
VERDICT ***
A sweet and bold pumpkin filling, with a reasonable price to match.
………………………………………………..
Goats' Cheese and Caramelised Onion Fiorelli
From Waitrose
Price £2.99/250g
Continuing the sweet-toothed theme, these sunny-shaped discs are again to be eaten in moderation. The flavour is heavy and sugary thanks to the caramelised onions – which do become slightly cloying after a while – and of course the rich goats' cheese offers no respite. They would, however, probably be quite a hit with toffee-mouthed children as a winter treat.
VERDICT ***
Very sweet and a little sickly, but good for a family treat in the colder months.
………………………………………………..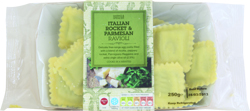 Italian Rocket & Parmesan Ravioli
From Marks & Spencer
Price £2.99/250g
Although we usually adore the offerings from M&S, these straightforward ravioli left us a little underwhelmed. The pasta was a tad chewy, and although we did enjoy the satisfying shape with crimped edges, the filling seemed slightly underseasoned. We were craving more Parmesan in the balance of flavour, and perhaps thinner parcels. Would work well with an infused oil dressing.
VERDICT ***
Sadly under par in terms of flavour – but would be a good match with a sauce.
………………………………………………..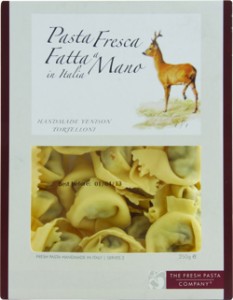 Venison Tortelloni
From The Fresh Pasta Company
Waitrose

Price £4.99/250g
As the only meat flavour in our selection, this is a fine example. Rich, thick venison is folded in generous portions of eggy pasta, presenting a pleasantly offal flavour and a hearty mouthful. You wouldn't need a sauce with this, as there is already plenty going on, and they also have an agreeable home-made look to them. We might even be tempted to pass these off as our own!
VERDICT ••••
A great alternative to vegetable and cheese-filled fresh pasta.
………………………………………………..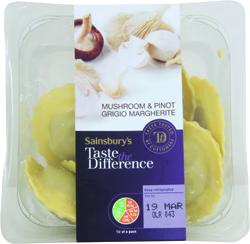 Mushroom & Pinot Grigio Margherite
From Sainsbury's
Price £2.49/250g
The grand title somewhat raised our hopes for this unusual flavour from Sainsbury's – but we must admit we were soon to be disappointed. The mushroom tasted surprisingly meaty, with a texture that was granular and cloying in the mouth. There were flavours there that didn't remind us at all of its intended ingredients – the consensus was that is wasn't entirely pleasant.
VERDICT *
We wouldn't suggest trying this infusion, which was more meat than mushroom.