We are all familiar with Gavi wine, but how much do we know about the region it comes from? Marina Spironetti reveals ten reasons why you should make 'Gavishire' your next destination…
Images by Marina Spironetti unless otherwise stated.
The name Gavi is a favourite on any wine list. One of Piedmont's most popular exports, it is named after a little-known territory in the southern part of the region, close to the Ligurian border. On clear days, the towering peak of Monviso can be seen on the horizon to the north. Yet this land of vineyards and gentle hills is a long way from the Alps – as it is from the Savoyard splendour of Turin.
This corner of Piedmont, significantly nicknamed Piemontemare, looks out to sea. The Italian Riviera is only 30km away, and when the wind blows from the south you can smell the sea in the air. This is a land of transition – and it has always been. The via Francigena, the historic road from northern Europe to the Eternal City, passes through its territory – as does the via del Sale, the ancient route that twists and turns from the Alps all the way to the coast.
Produced entirely with Cortese grapes, Gavi wine is a result of this area's peculiarity: a white wine in a region famous for its reds – an apparently eccentric choice that has its historical explanation in the influence that the Republic of Genoa had on this territory. The city's aristocrats were mainly on a fish and vegetable diet, and a fresh white wine was the perfect match. The cultivation of Cortese goes back in time over a thousand years: the first document mentioning the presence of vineyards in the area is dated 3 June 972.
There is a lot more here than good wine, though. 'Gavishire' has all it takes to become the next big destination. Here is a list of all those must-do things. Hurry while it's still a well-kept secret for those in the know.
1.Meet the ladies of Gavi
In an area where winemaking is an ancient affair, there are plenty of wineries to choose from. Some of the most innovative ones are all-women businesses and definitely worth a visit. Francesca Poggio is one of the most inspiring winemakers around. Together with her daughter Giorgia and sister Alessandra, she manages Il Poggio di Gavi, which is only a short drive out of Gavi itself. Born and bred in Milan, once she turned 18, Francesca left her home city for what had been the blissful land of her childhood holidays – Gavi was where her great-grandfather hailed from. Her adventure as a winemaker started in 2004 and was a success from the start. Production has soared from the initial 4,000 bottles to 40,000 today. She has a great touch for her wines, which are, in her own words, "direct, sincere and genuine. Just like me".
A stone's throw away from them is La Mesma, another all-women winery run by the three Rosina sisters – Paola, Francesca and Anna. All they had in the area was a family house and no experience in winemaking, as they candidly admit. Experiments quickly led to excellence. Today La Mesma is a certified organic business where anything chemical is strictly banned. In the summertime, wine tastings are organised in the shade of the impressive green oak tree – one of the oldest of the whole of Piedmont – that dominates one of their vineyards.
2. Signora Enrica's delicious amaretti
The recipe goes back to to the end of the 18th century – almond, sugar, egg white and honey are all it takes to make these traditional biscuits. To sample the most delicious ones, head to Caffè del Moro (via Goffredo Mameli 41), on Gavi's main street, where Enrica Bassano bakes amaretti with passionate and enthusiasm twice a week, on Mondays and Saturdays. Soft and fragrant, "you can tell they are homemade from the peculiar three-fingered pinch closure," as Signora Enrica explains. The café, founded in 1910, is an institution in itself – everything speaks of the magic of bygone times, from the wainscotting, coming straight from a brothel in Genoa, to the vintage pictures and the sepia posters of cyclist Fausto Coppi all over the walls.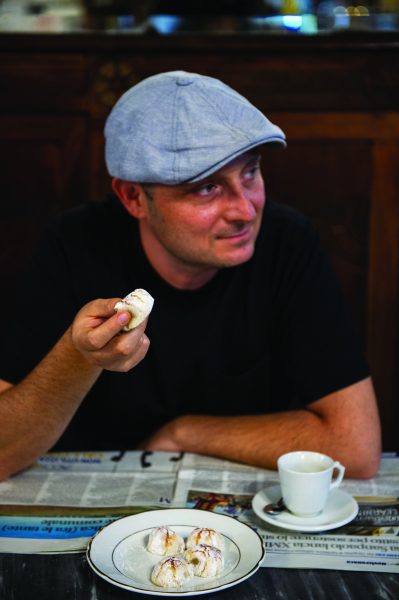 3. Say Cheese!
The name is Montébore and chances are you've never heard of it because it is one of Italy's rarest cheeses. First produced between the 9th and 11th centuries, the cheese was sent regularly to the court in Milan where it was highly prized. Not only that, a few cheeses were, allegedly, on the banquet table of the wedding of Isabella of Aragon and Gian Galeazzo Sforza, in 1489. The "wedding planner" on that occasion was none other than Leonardo da Vinci.
In more recent times, this noble product had almost disappeared, until a few brave cheesemakers decided to try their luck and resume production in the late 1990s. Made of a mixture of cow's and sheep's raw milk, Montébore has the unusual shape of a wedding cake. White, hard or medium-hard, more or less spicy depending on its ageing, it can be sampled and purchased straight from the farm at Cascina Boschetto (Cascina Boschetto 94, Stazzano).
4. Enjoy an e-bike tour
This corner of Piedmont gave birth to legendary bicycle racers Costante Girardengo and Fausto Coppi. Renting an e-bike is the perfect way to follow their lead and explore the territory, as well as being a fun way to burn off some calories. Hobby Bici (via Roma 3, Gavi) offers bike rentals and tours with experienced cyclotourist guides. Choose from food-and-wine-themed excursions to more adrenalin-filled outings. E-bikes can be rented directly from their shop in Gavi; rental time goes from a minimum of half a day to five days.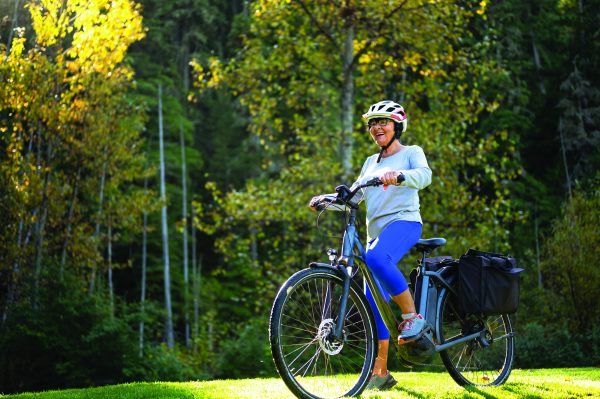 5. Raise your glass on a chic tractor cart
Get ready to hop on a fancy tractor cart and be driven around like royalty (well, perhaps not quite) on the Marchese Luca Spinola estate while sipping wine and munching on local delicacies. Hosts Andrea Spinola – the heir to the family vineyards – and his charming wife Nora will instantly make you feel welcome. Andrea gave up a promising corporate career in Milan to start production of organic wines. "I don't want to alter what is already made perfect by nature," he explains. Theirs is a family story – no wonder their wines are named after their children, starting from the eldest, Carlo, fresh and with a delicate floral bouquet, to Massimiliano, fermented in barrique barrels.
Their most popular bottle is the so-called Marchese col Fondo – literally, "Marquis with the dregs", which owes its name to its slightly cloudy appearance. Its slight sparkle is obtained with the ancestral method, which reveals Spinola's love for experimentations – the same love that led him to create the world's first certified kosher Gavi, which has proven to be particularly popular in the United States.
6. A natural pool in the centre of Voltaggio
The lovely town of Voltaggio has a history built on water. It is crossed by four rivers and features a small sulphurous spring. The crystal-clear waters of the river Lemme attract fishermen all year round and a natural pool right in the town centre is a perfect spot for a refreshing swim in the summer. A subscription to the local Pro Loco association affords bathers access to the showers and changing rooms and supports the café overlooking the pool – great for an afternoon drink. If you're on a tight budget, though, laying your towel down and enjoying the waters won't cost you a penny.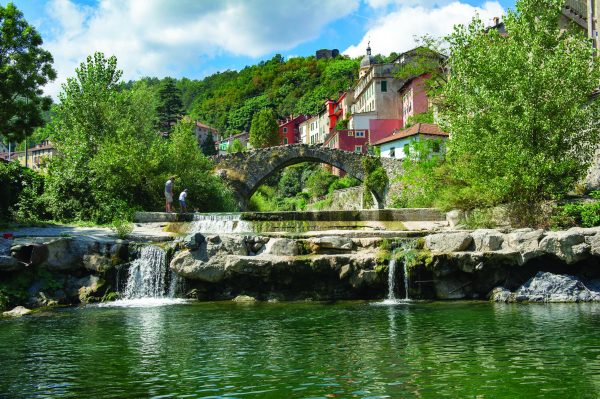 7. Get your daily dose of art
Housed in a 17th-century Capychin convent, Voltaggio's art gallery, offers a beautiful collection of about 150 paintings of sacred art from the 15th to the 18th centuries by Ligurian, Piedmontese and Lombard artists such as Sinibaldo Scorza, Bernardo Strozzi, Domenico Fiasella and Luca Cambiaso. Open from July to September. (Free admission on Sundays and public holidays, 15.30-18.30.)
8. Naked bottom ravioli? Yes please!
Ravioli have been made and eaten in Gavi since the 12th century, when the tasty stuffed pasta came to light in an inn called Raviolo, on the route between Genoa and the Po Valley. They are still a serious business nowadays – so much so that their production is regulated and protected by its own dedicated Order of Knights!
Their thin layer of pasta encloses a rich filling of beef, sausages, eggs, parmesan, escarole, endive and borage. They are served in different ways – al tocco, where the "touch" is a rich, roasted meat sauce; in wine (of course!); or a culo nudo, literally "naked bottom", laid on a linen cloth and with no seasoning apart from a sprinkle of Parmigiano Reggiano.
Buy them fresh from one of the local shops such as Il Girasole (via Serravalle, Località Chierasca, Gavi) or head to one of the historic restaurants in town like Osteria Piemontemare.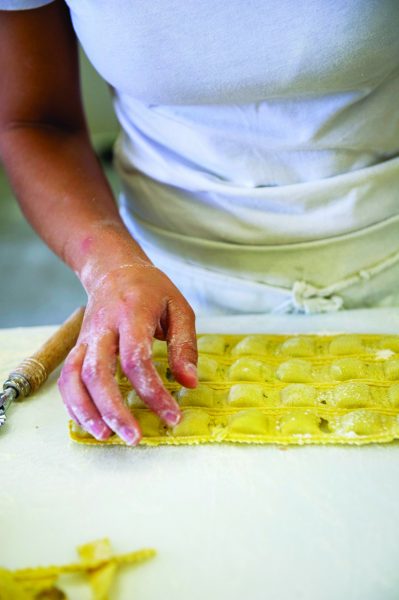 9. Step back in time at Libarna
Just a short drive from Serravalle Scrivia (a popular destination in itself for its designer outlet), the little-known archaeological site of Libarna (via Arquata 63, Frazione Libarna) will provide an interesting insight into what this area must have been like over 2,000 years ago. This part of Piedmont has been a crossroads since Roman times – the city of Libarna was founded in the 2nd century BC, at the same time as the via Postumia, which connected Genoa to Aquileia, when Rome was conducting military campaigns against the region's most prominent tribes. The amphitheatre, a few segments of city streets and the foundations of two insula blocks, and a Greek-style theatre are just about all that is visible today, but is enough to give you an idea of how the area was a prominent trade hub in those times. (Tue-Sat: 9.00-15.45. First and third Sundays of the month. Mandatory reservation for guided tours and groups. For further information, email the Associazione Libarna Arteventi, libarna.arteventi@gmail.com).
10. Trek along the Gorzente river
Nature lovers will love a light trek along the Gorzente river, right at the core of the Parco Naturale delle Capanne di Marcarolo – a nature reserve in the Apennine mountains of Piedmont and Liguria. Leave your car near the Baita Gorzente (Località Guado 1, Bosio; www.baitagorzente.it), where you can also stock up on drinks and snacks, and choose from one of the many tracks available. You can walk upstream and reach the peaks of Monte Tobbio, from whose summit you'll be rewarded with a fine view of the Ligurian gulf, or head downstream towards the lakes of Lavagnina and Laves. Take your swimsuit and towel with you – the Gorzente forms plenty of small, natural pools whose cold, emerald-green waters are perfect for a dip on hot summer days.
Enjoyed this article? Check out our Piedmont archive.