If Italy is truly the land of love, then what better place in the world can there possibly be to take your vows and say sì sì? We just love Italian weddings…
Creative Wedding
The Important details any wedding planner needs to know
Britta from Creative Wedding explains what a wedding planner needs to know to give good advice and a first-cost overview.
"Arriving emails with wedding requests make me excited and immediately I want to write back with the millions of ideas I have in my head.
But before answering, it is necessary to review the expectations. The more information I get from a couple, the more precise the advice I can give them on…
Budget: an approximate budget is helpful to understand which region of Italy may be the right one and what type of location is affordable.
Style & Ambience: Tell me your ideas and dreams, about colours, ambience and friends. This helps me to understand if your budget can match or if you should look for alternatives to realise your dreams.
Region of Italy:  Let me know if you have certain memories of a special region in Italy. I can understand better why you choose these landscapes, cities, cultures and can develop this into proposals.
Tell me about your ideas and dreams, about colours, ambience and friends
Civil or church wedding: Different nationalities have different ways of preparation for the bureaucracy of a civil wedding, And for Catholic Church weddings in Italy, it is important to know your religious background.
Date: Not only summertime is enjoyable in Italy; winter weddings and snowy mountains can be big fun; April and May are fantastic with the sun already out; autumn can be still warm and is less touristy.
Guests: Knowing the number of guests helps me to work out suitable locations and hotels. What kind of guests are coming? Is it more a formal group of family and business partners? In this case you surely
Contact Details
Creative Wedding
Britta Hartmann-De Marchi
+39 0362 95653 or
+39 347 112 95 19
info@creativewedding.co.uk
www.creativewedding.co.uk
Wed in Italy
Sipping a glass of Prosecco, relaxing…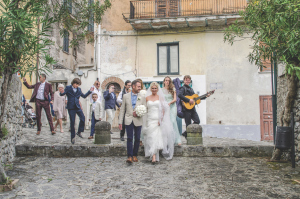 In the last few years Italy has become an extraordinarily popular destination for British couples marrying abroad. The recent weddings of George Clooney, John Legend and Kim Kardashian, to name a few, have proven that Italy is a favourite destination due its beauty, art and history and, of course, the delicious food and sunshine! But it definitely takes someone who knows the destination inside and out to ensure that the big day goes off without a hitch!
Raffaella Alflatt founded WedinItaly in 2006 with a single purpose: to grant couples their wish of having the perfect destination wedding in Italy.
From the shores of Lake Como, to a cliffside terrace on the Amalfi Coast, to a 16th-century villa nestled in the hills just outside Florence, to a charming Roman Villa, to a superb palazzo on the Grand Canal, sometimes it seems like there is nowhere in Italy Raffaella and her team have not planned a wedding.
Blessings and civil services have been arranged in lavish Italian gardens
Their collection of unforgettable weddings include Catholic, Protestant and Orthodox services held in magnificent Roman and Venetian churches. Hindu and Jewish ceremonies have been officiated in exquisite villas. Blessings, symbolic marriages and civil services have been arranged in lavish Italian gardens, panoramic roof terraces, and in the most beautiful historic buildings.
 "What makes Wedinitaly so successful is that we start by really understanding our clients' desires. We do our job with professionalism, dedication and attention to detail, but above all with passion," says Raffaella.
Wedinitaly have an office in Mayfair, London, where Raffaella and her planners meet the couples, and a permanent team based in Italy, who manage legalities and local suppliers. This allows the team to be on hand to assist couples during the entire process, from the early stage of selecting the destination, and inspection of venues, to the rehearsal dinner and the post wedding brunch.
The first consultation with the team is a complimentary 'getting to know each other'.
Contact Details
WED IN ITALY
info@wedinitaly.co.uk