Cocoa and chocolate have influenced the culture and of Piedmont for over 300 years and café society flourished here around the time of Italy's unification. 

Catherine Sidwell explains why Turin is known as the chocolate capital of Italy. She shares her experiences of some of the historic cafés, chocolate shops, gelaterie and the festival 'CioccolaTO'…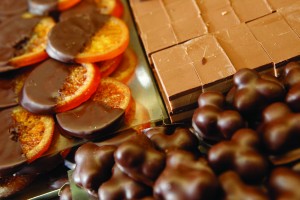 The elegant northern city of Turin lies at the foot of the western Alps. Capital of Piedmont, Turin was also Italy's first grand capital. Home to Martini, Lavazza, Fiat, and scenic location of the classic 1960s film The Italian Job, it is also home to the 'Slow Food' movement. While the region preserves traditional cuisine and agriculture, cacao beans from South America, crafted by skilled Piedmontese chocolatiers, made Turin the chocolate capital of Italy.
Cocoa and chocolate have influenced the culture and society of Piedmont for more than 300 years and café society flourished here around the time of Italy's unification. Count Camilo di Cavour frequented the best cafés and pasticcerie. Cavour colluded with Victor Emmanuel of Savoy against the French and Austrian empires to create the country of Italy in 1861. Turin's palatial cafés, shops and pasticcerie still sell an array of locally produced chocolates, sweet pastries, biscuits and cakes.
In the 19th century the air here was filled with a warm, inviting and comforting scent as producers made chocolate in the heart of Turin. Caffarel and Venchi moved to the outskirts of the city and beyond, while Ferrero, established in the mid 20th century, developed its successful global business in nearby Alba.
CHOCOLATE IN TURIN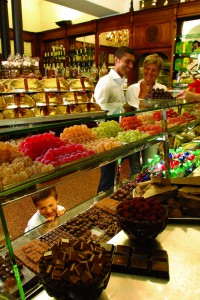 Cocoa arrived in Piedmont in the early 1600s from Spain. Initially, chocolate was only available within the Royal court, to aristocratic families and the elite. Since 1574, Turin had been the seat of the House of Savoy. The duchy once included Piedmont, the Valle d'Aosta, and extended into Switzerland, the Savoie in France and the island of Sardinia.
In the 17th century, Marie Jeanne of Savoy engaged the finest baroque architects to transform the city with palatial buildings, including the Palazzo Madama. In 1678, she also granted the first license to Giò Antonio Battista Ari, an expert chocolate maker.
Debate ensued regarding the medicinal, healing, pleasurable and aphrodisiac qualities of chocolate. Turin became the capital of the 'food of the gods' (as Linnaeus named Theobroma cacao in 1735) and boasted some of Europe's finest chocolate makers. By the end of the 18th century, Turin produced 350 kilos of chocolate a day, supplying Germany, France, Austria and Switzerland too. Today the region produces more than 40 per cent of Italy's chocolate.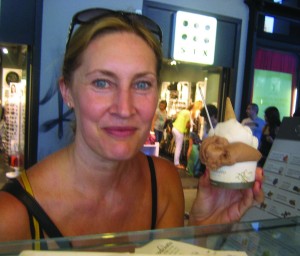 PIEDMONT FAVOURITES
Bicerin, originally an 18th century recipe, is still regarded as a treat. It is a hot drink in three layers: a dense, bitter-sweet hot chocolate, then coffee, then cool fresh cream on top.
Gianduja and giandujotti were first created due to shortages of cocoa during the Napoleonic wars. A creative chocolate maker blended cocoa with a smooth paste of Piedmont hazelnuts to create gianduja, then created chocolates shaped like an up-turned boat – giandujotti. The name 'Gianduja' comes from the jovial masked character of the Commedia dell'Arte who represented the region. Caffarel handed these out at Carnival time.
Other regional specialities include Tris di nocciole – three Piedmont hazelnuts covered in chocolate; Preferiti – cherries macerated in Maraschino liquor, and dipped in white, milk or dark chocolate; Cuneese al rum, a meringue with a rum cream filling, covered in dark chocolate, named after Cuneo, where they were first made; and Boero – cherries soaked in Cognac, dipped in chocolate.
The liquor and chocolate cream Alpino is made in a mountain-shaped mould. Baci di Cherasco (Cherasco kisses) mix chocolate with hazelnut pieces; and the chocolate bars, nocciolati, are filled with whole hazelnuts. Tartufi, a sweet take on savoury truffles, are small balls of ganache rolled in cocoa powder. The selection is overwhelming and there are stories behind each delicacy.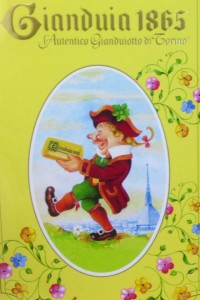 Good places to buy chocolates and sweet treats include Enodolceria di Servetto, Piazza Statuto 14 (west of Via Garibaldi), and Confetteria Avvignano and Giordano, both at Piazza Carlo Felice, 50 and 69, (near Porta Nuova railway station).
PALAZZO MADAMA
With 14 palaces in Piedmont listed by UNESCO, I visited Palazzo Madama, now the Museo Civico d'Arte Antica (Civic Museum of Ancient Art) to see splendid interiors commissioned by the House of Savoy. I wandered through vast, decoratively painted and gilded interiors on gently creaking timber floors and found a portrait of Marie Jeanne of Savoy in a small, silk-panelled room. Delicate china services for tea, coffee and hot chocolate are displayed here in antique cases. A palace tower provides a commanding panoramic view to the hills and mountains beyond.

HISTORIC CAFES & CHOCOLATE SHOPS
Just like mini palaces, Turin's historic cafés and chocolate shops attracted royalty, politicians and celebrities. Artists, writers and intellectuals met in fashionable cafés to debate over a hot chocolate or coffee. Today, many cafés, chocolate shops and pasticcerie can be found sheltered under the covered arcades that line the city's broad cobbled streets. Most of them are only about 20 minutes' walk from the Palazzo Madama.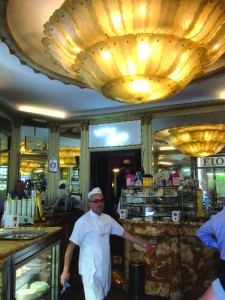 WEST & EAST OF THE PALAZZO MADAMA
Al Bicerin, famously frequented by Dumas, Puccini and Nietzsche, has been a favourite with visitors, locals and church congregations since 1763. The house speciality remains bicerin, to be sipped slowly, not stirred.
Close to Palazzo Madama, Grom (Via Garibaldi 11) serves organic and gluten-free ice cream (try the gianduja). East, towards the river, along Via Po, is Fiorio, a café where political debate has shaped Turin's history since 1780. Great for coffee, hot chocolate and gelato, carefully restored interiors lie beyond the marble bar.

PIAZZA CASTELLO & PIAXXA SAN CARLO
Piazza Castello is home to the stately Baratti & Milano, and the miniature art nouveau gem Mulassano. Further south, on Piazza Carignano, is the more informal Pepino.
The glamorous, arcaded Via Roma, with its up-market fashion brands, is lined by monumental columns. Marble pavements lead to Piazza San Carlo. Shop windows here are incredibly elaborate during Christmas and Easter. Quality establishments include Neuv Caval 'd Brôns, a pasticceria, cafeteria and gelateria. Stratta, the confetteria, is where Cavour placed huge orders for marron glacé (chestnuts drenched in sugar syrup). The elegant Caffè Torino and Caffè San Carlo are ideal places to sample delicacies.
The bottega of Guido Gobino is a street away. With his father's passion for excellence and respect for traditions, Guido sources unusual ingredients and experiments with new fragrances. I attended a tasting in a stylish, intimate, contemporary interior and can recommend the square ganaches. Each is distinctly flavour-filled: Barolo, Nocciola Piemonte IGP, Cappuccino and the dense Fondente Extra Bitter. The Lemon or Jasmine Tea Ganache are refreshing while the Ginger Fondente is warming. Pieces of Candied Sicilian Orange are delicately decorated.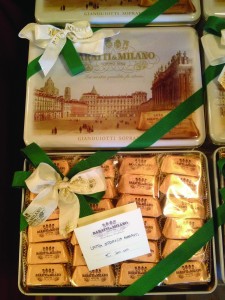 Guido has created a flavoursome Giandujotto without milk, and the hand-tempered Maximo +39 (available October to March) contains 39 per cent PGI Piedmont hazelnuts. Cremino Classico with Gianduja chocolate and hazelnut cream, and the Cremino al Sale (with salt and olive oil) are addictive. He has even created a new elongated Easter egg.
CIOCCOLATO
Turin celebrates its relationship with chocolate by hosting an annual festival. 'CioccolaTO' is dedicated to Italian and international chocolate, with a focus on producers in the Piedmont chocolate tradition.
Producers sell their ranges from white tented stalls. Counters are laden with chocolate: chunks and discs, bars, powders and spreads, melted and hot, individually foil wrapped, colourfully packaged and beautifully boxed. 'CioccolaTO' includes tastings, events, activities for children and tours to chocolate factories.
As winter draws in, the enticing aroma of hot chocolate fills the air again. Locals and visitors are drawn here by chocolate and its promise of satisfying the senses with a combination of pleasures, just as it did in the 18th and 19th centuries.
Feeling inspired to take a chocloate tour of Italy? Click here for top tips on all the cafés  to visit to experience Turin's best chocolate!
Photography © Catherine Sidwell
Tags:
Chocolate
,
food
,
Holidays
,
Piedmont
,
Tours
,
Turin