Valentina Nicastro shares some of her favourite places to eat, stay and visit when in the gorgeous northern city of Trento. (Photos by Valentina Nicastro unless otherwise stated)
What to see & do
Castello del Buonconsiglio
This splendid castle is the biggest and most important historic building not just in Trento but in the entire Trentino region. It offers interesting collections, great views and splendid gardens, and is definitely not to be missed.
Via Bernardo Clesio, 5 – 38122 Trento 
MUSE
Trento's science museum (left) is one of the city's major attractions, with six floors dedicated to nature, science and technology, and plenty of activities to keep youngsters and adults entertained.
Corso del Lavoro e della Scienza, 3
38122 Trento
S.A.S.S.
The Underground Archaeological Space of Sas (Spazio archeologico sotterraneo del Sas) takes you on a fascinating journey through the remains of the Roman city of Tridentum – you can even see just what Trento looked like back in Roman times thanks to a 3D reconstruction of the site.
Piazza Cesare Battisti, 38122 Trento
Cable car Trento-Sardagna 
Make sure you find time on your trip for a panoramic ride up to Trento Alta to enjoy a drink with a view at Bistrot Trento Alta at the top of the mountain. Then explore the village of Sardagna and try to spot all its murals. 
Doss Trento
From Piazza Duomo it's an easy 30-minute walk to reach this lovely hill on the right bank of the river Adige, which makes for a nice little escape into nature. There you will find the Mausoleum of local patriot Cesare Battisti (right) and the Museo Storico degli Alpini, the History Museum of Alpine Soldiers.
Where to eat
Osteria Le Due Spade
A refined eatery with a long history that dates back to the Council of Trento, when it was opened to feed attendees and pilgrims. Today it serves the traditional cuisine of Trentino prepared with a modern twist and using locally sourced ingredients. Dishes are always paired with exquisite wines and diners can pick from à la carte or seasonal tasting menus.
Via Don Arcangelo Rizzi, 11 – 38122 Trento
Locanda Le Due Travi
Lovely family-run restaurant in a strategic position only a couple of minutes from both the Buonconsiglio Castle and the train station. The tapas-style menu allows you to sample different Trentino specialities, from tasty cheeses and cured meats to delicious pasta and meats.
Via del Suffragio, 20 – 38122 Trento
La Gelateria
This is the place to go for a sweet break from sightseeing, offering a great variety of ice cream flavours, including some unusual ones – like violet, ginger and beer. They even do warm gelato! The only downside is that there are no tables, just a couple of benches outside. So most people take their ice cream and enjoy it as they walk along. (Eating on the streets is generally considered to be a bit rude in Italy, but exemptions are made for aficionados of the nation's gelati.)
Via Rodolfo Belenzani, 50 – 38122 Trento

 +39 327 225 8203 
Scrigno del Duomo 
This is a great spot for a pre-dinner glass of Trentodoc or a leisurely nightcap right in the beating heart of Trento. They have also a gourmet restaurant. Do note that this is not the cheapest place in town – you can spend up to €25 on an aperitivo – but for ambience it can't be beaten.
Piazza del Duomo, 29 – 38122 Trento  
Birreria Pedavena 
A historic beer hall that has been serving since 1921. The Austrian influence is visible both on the menu and in the décor. They serve artisanal beers and a range of local specialities including goulash, Vienna sausages and canederli (left). Being a beer hall, in Italy, they also offer pizza.
Piazza Fiera, 13
Where to stay
Grand Hotel Trento
This elegant 4-star hotel is right in the historical centre, two steps from the train station, and offers spacious rooms decorated in classic style, a cosy bar and a restaurant. Guests have also access to a gym and a wellness centre for some extra pampering after a day out exploring Trento's charms.
Piazza Dante, 20 – 38122 Trento
Hotel America 
Opened in 1923, this 3-star hotel is located near the Buonconsiglio Castle and the Cathedral and offers rooms with lovely balconies overlooking Trento's rooftops (some are also equipped with hydromassage showers). Guests can also rent bikes to explore the city on two wheels.
Via Torre Verde, 50 – 38122 Trento
Hotel Venezia
A great budget hotel with an unbeatable location on Piazza del Duomo, with most of Trento's top attractions on its doorstep. It's been managed by the same family since 1930 and offers simple, spacious rooms, some overlooking the Cathedral of San Vigilio and the Fountain of Neptune.
Via Rodolfo Belenzani, 70 – 38122 Trento
B&B Heart of Trento
A B&B offering stylish accommodation right in the city centre. The room to book is La Nuvola, with windows that flood the space with light and offer views over the city. Also available to guests is an external spa (4 minutes away) with sauna, Turkish bath, swimming pool and hydromassage.
Vicolo del Vò, 27 – 38122 Trento
Trento Apartment
Those looking for a little more privacy can opt for one of these apartments located in the central Piazza Fiera, which is where Trento's famous Christmas market takes place. The apartments are elegant, equipped with the latest comforts and have some great city views.
Piazza Fiera, 13 – 38122 Trento
Relais Villa Madruzzo
An elegant hotel about 4km from Trento city centre, housed in a 16th-century mansion. The original structure has been retained and decorated with sleek, modern touches that complement its classic appeal. There is also a wellness centre with indoor swimming pool, sauna and Turkish bath.
Via Ponte Alto 26, Cognola – 38121 Trento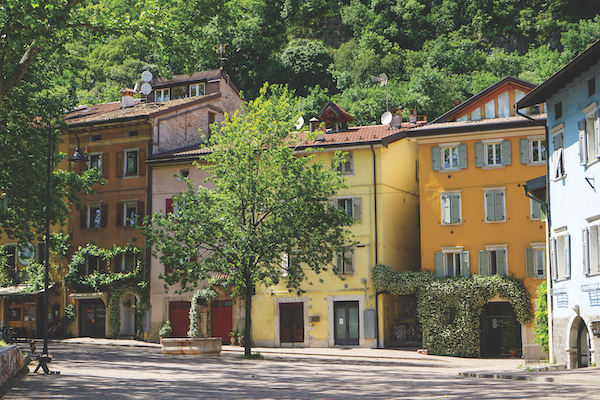 Don't miss
Le Feste Vigiliane
Trento's patron saint, Vigilio, is celebrated in June with a whole week of music and theatre shows, costume parades, games, exhibitions and gastronomic events. The streets are decorated in medieval style and a magnificent fireworks display takes place on the last day of the festival.
The Christmas Market
Trento hosts a fantastic Christmas market from mid November to early January, with picturesque wooden huts dotting Piazza Fiera and Piazza Cesare Battisti and the whole town adorned with light displays and festive decorations. There are also lots of initiatives and events in various locations during the entire holiday season.

The Gorge of Ponte Alto
A short drive or bus journey from Trento takes you to a deep canyon carved by the Fersina river. Here some of the world's earliest hydraulic works were realised in the 16th century to protect the town from floods, creating 40m high waterfalls.
Sport Festival
Now in its second edition, this event aims at celebrating sports with four days of interviews, debates and workshops featuring famous athletes and teams. What's more, the town centre turns into a massive playground with various sport camps scattered around the city's squares.
Getting there
By plane
The closest airport is Verona Valerio Catullo, from where you can reach Trento by car on the A22 motorway (about one hour) or by train (there's an aerobus shuttle service to Verona Porta Nuova central station departing roughly every 20 minutes from the airport – see below for connections from Verona).
By bus
Flixbus operates daily services connecting Trento with major Italian and European cities.
By train
Trento can be easily reached by train, though you'll probably have to change in Verona. From there, take a window seat, as the train ride is pretty scenic with views of castles and vineyards. 
By road
You can drive to Trento on the A22 Brennero motorway, but parking could be a problem as most of the historical centre is pedestrianised. 
Find out more about travelling in this area with Valentina's 48 hours in Trento