Following our article on Turin for Chocolate lovers, here's a list of must-visit cafés to experience the very best chocolates in Turin!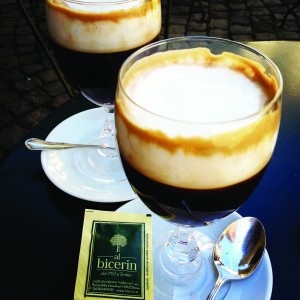 INFORMATION
➤ Turin Tourist Office
For information on and opening times of cafés and shops, seasonal city walking tours and chocolate factory visits.
www.turismotorino.org
➤ Palazzo Madama
www.palazzomadamatorino.it
(Closed on Mondays.)

➤ CioccolaTO
www.cioccola-to.it

TURIN'S HISTORICAL CAFÉS
➤ Al Bicerin
Piazza della Consolata 5
+39 011 436 9325
www.bicerin.it
Experience bicerin at this tiny café with a 250-year history. Located in a peaceful piazza opposite the Santuario della Consolata. You can buy their chocolates in the adjoining shop.
➤ Baratti & Milano
Piazza Castello 29
+39 011 561 3060
www.barattiemilano.it
At the entrance to the glass-covered Galleria Subalpina is the seriously spectacular exterior and interior of Baratti & Milano. Experience the capriccio e cioccolata calda.  
➤ Caffè Torino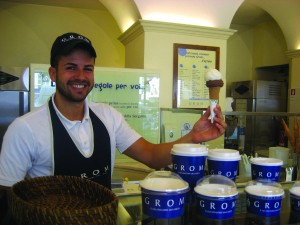 Piazza San Carlo 204
+39 011 545118
www.caffe-torino.it
Meeting place for Turin's intellectuals in the early 1900s. Tap your foot on the brass bull plaque set in the pavement outside for luck.
➤ FIORIO
Via Po 8
+39 011 817 3225
www.fioriocaffegelateria.com
A pillar of Turin's historical café scene. Carlo Alberto, King of Piemonte-Sardinia, would ask, "What are they saying at Fiorio?"
➤ Mulassano
Piazza Castello 15
+39 011 547990
www.caffemulassano.com
Opened in 1907. Originally a distillery, and the first café in Turin to serve sandwiches. Specialities: coffee, hot chocolate and pastries.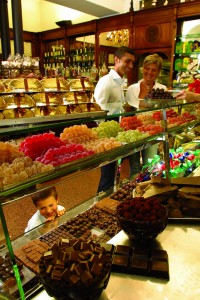 ➤ PEPINO
Piazza Carignano 8
+39 011 542 009
www.gelatipepino.it
In 1884 a Neapolitan came to Turin and invented the pinguino, a chocolate covered vanilla ice cream on a stick.
➤ Guido Gobino
Via Lagrange 1
+39 011 566 0707
www.guidogobino.it
A hero of Turin's new chocolate scene. Sample gianduiottini Turinot, cremini or ganaches in a 17th century boutique.
➤ Roma gia Talmone
Piazza Carlo Felice 36
+39 011 506 9215
www.romagiatalmone.it
Popular with locals. Buy a pretty bag of their gianduja wrapped in Italian colours.
Tags:
Chocolate
,
food
,
Holidays
,
Piedmont
,
Tours
,
Turin