Planning a trip to the Eternal city? See below for the best places to eat, what to see and do, where to stay and how to get there to ensure you have the best time in Rome…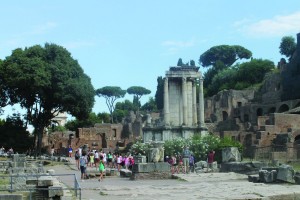 WHERE TO STAY
➤ Atlante Star Hotel
Via Vitalleschi, 34
+39 0668 73233
www.atlantehotels.com
Comfortable rooms with friendly staff, a convenient location close to St Peter's Basilica and a superb view across to the Vatican City. Absorb this while eating breakfast in the restaurant on the sixth floor of the hotel. Double room from €210
➤ Boscolo Exedra Roma
Piazza della Repubblica, 47
+39 0648 9381
www.ghotw.com/boscolo-exedra-roma
Five-star luxury hotel and a member of the Great Hotels of the World Luxury Collection, this residence is conveniently located in the centre of Rome close to the famous Basilica degli Angeli. It has two exclusive restaurants, a rooftop terrace, and a luxury pool and spa. Double room from €220
➤ Hotel Ponte Sisto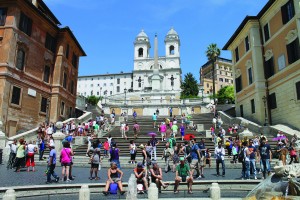 Via dei Pettinari, 64
+39 0668 6310
www.hotelpontesisto.it
Sits on the edge of the river in a restored Renaissance palazzo with pleasant rooms and marble bathrooms that offer a hint of Roman opulence. Also has a palm-lined internal courtyard. Double room from €180
➤ Hotel de Russie
Via del Babuino 9, Centro Storico
+39 0632 8881
www.hotelderussie.it
Popular with film stars and celebrities, this hotel is part of the Rocco Forte group and is one of Rome's most popular hotels. Rooms exude a 1930s-style décor and boast mosaic-tiled bathrooms. Double room from €420
➤ Hotel des artistes
Via Villafranca, 20
+39 0644 54365
www.hoteldesartistes.com
This hotel is just five minutes from Termini rail station, and provides ample space for the budget traveller. Rooms are comfortable, with good location and value. Double room from €59
➤ Hotel condotti
Via Mario dé Fiori, 37
+39 0667 94661
www.hotelcondotti.com
Nestled among designer boutiques, this elegant hotel can promise attentive service and a stylish décor. With a range
of rooms to suit all pockets. Double room €95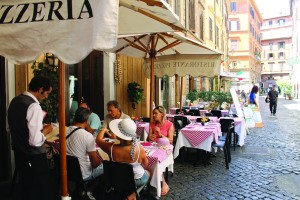 WHERE TO EAT & DRINK
➤ Osteria del Pegno
Vicolo di Montevecchio, 8
+39 0668 807025
This is a small and friendly restaurant with only 40 covers. The cuisine combines the best Roman flavours with that of the Abruzzo region. Chefs use locally-sourced seasonal produce, with great attention to detail and it offers an excellent selection
of wines to match. Eat well for €35-40.
Price range € €
➤ La Focaccia
Via Della Pace, 11
+39 0668 803312
Wonderful pizzas, excellent pasta and plenty of house specialities from a restaurant tucked away in a side street close to the Piazza Navona. Friendly staff will guide you through the menu in an atmosphere where you can enjoy a meal for just €20 – brilliant value for money.
Price range €
➤ CaffÈ Della Pace
Via Della Pace, 3
www.caffedellapace.it
One of the trendiest spots just off Piazza Navona for a drink. Sit by day or night and enjoy the evolving street scene from a bar that has a great choice of cocktails, wines, liquors and beers. Expect to pay €9 for a cocktail, €6 for a glass of wine and
€5 for a small beer.
Price range € €
➤ The Library

Via della Cancelleria 7 and 13
+39 3425 712456
There are two elements to this restaurant. One is an intimate, candlelit setting, perfect for a romantic occasion, while at the other the atmosphere is more bistro. Tuscany is a main influence – chefs travel there on a weekly basis to source seasonal ingredients. Eat for €40-50.
Price range € €
➤ Da Carlo
Corso Vittorio Emanuele II, 333
+39 06 899 27406
This intimate pizzeria offers a friendly atmosphere and reasonable prices. A good choice for lunch or a light dinner.
Price range €
➤ Il Capriccio di Trastevere
Via Roma Libera 19
+39 06 581 6469
Set in the heart of Trastevere with cosy tables or seating in the bustling square, this restaurant specialises in Sicilian cuisine with a tempting array of Sicilian desserts such as cassata and cannoli.
Price range €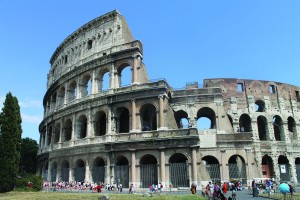 WHAT TO SEE & DO
➤ St Peter's Basilica
Described as the greatest church in Christendom, this is a sight to marvel at – from the stunning colonnades of St Peter's Square, Michelangelo's dome and the spectacular views climbing up to it, to the inspiring treasures, artistry and chapels within and the tombs of the Popes in the grottoes below.
➤ Vatican Museum/Sistine Chapel
Containing magnificent works of art by Perugino, Botticelli and Raphael – and sculptures and treasures from across the globe – the museum is a group of grand buildings, galleries, chapels and libraries. The finest sight of all is the Sistine Chapel, with its ceiling painted by Michelangelo.
➤ The Pantheon
The only building in Rome that remains architecturally intact from classic times, The Pantheon was commissioned in 27 BC by Marcus Agrippa as a temple to all the gods of Ancient Rome. It was then converted into a Christian church by Pope Boniface IV in 609 AD.
➤ The Colosseum
Often regarded as one of the greatest wonders of the Roman civilization, the Colosseum was completed in 80 AD and at its peak as a giant stadium, it could hold as many as 55,000 spectators. Although damaged by earthquakes over the centuries, it remains one of the great symbols of Rome.
➤ Cruise on the River Tiber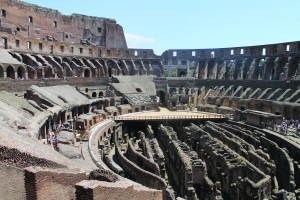 This offers a new dimension to Rome, with a 6km cruise along the River Tiber setting off from Castel Sant'Angelo to the Isola Tiberina. You can buy a hop on-off ticket valid for 24 hours or dine in style with Roman cuisine specialities on board. Visit www.battellidiroma.it
➤ The 'Vittoriano'
Built in 1935 in Piazza Venezia in honour of the first King of the United Italy, Vittorio Emanuele II, and incorporating the Altare della Patria (Altar of Patriotism), it is now possible to visit the Vittoriano in its entirety and rise up to the last terrace, with a glass lift for breathtaking views over Rome.
➤ Papal Blessing
On Sundays at noon, when the Pope is in residence, he appears at the second window from the right of the Apostolic Palace to pray and bless the crowd in St Peter's Square. When the Pope is at his summer residence (July and August), the General Audience is held in the Courtyard in the town of Castelgandolfo.
GETTING THERE
➤BY PLANE
British Airways (www.ba.com) fly from London Gatwick Airport to Rome's Fiumicino Airport. Many hotels will collect passengers from the airport in regular shuttle buses, though theymay charge for the return journey.
➤ GETTING AROUND
The OMNIA Vatican & Rome pass offers fast track admission to Vatican Museums, the Sistine Chapel, St Peters, the Vatican Gardens, plus a panoramic tour by minibus and audio guide. Access to the Colosseum, Forum and Palatine Hill with audio guide is also included along with access to the Roma Cristiana Open Bus and Rome's public transportation system. It costs €85 for adults, €55 for children (6-12 years) and is valid for three days. It can be purchased online at www.omniavaticanrome.org or at Tourist Information Points in Rome at the Opera Romana Pellegrinaggi meeting points.
Tags:
48 Hours
,
Holidays
,
Rome
,
Top Tips