Feeling inspired to book a trip to Cagliari this summer, after reading 48 Hours in Cagliari? Here's our top tips on where to stay, where to eat and what to see and do.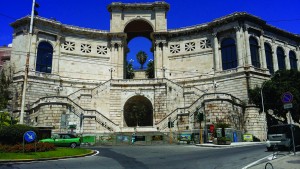 INFORMATION

➤  Meridiana (0871 222 9319, www.meridiana.it) offers direct flights from London Gatwick to Cagliari, outward on Saturdays and returning on Thursdays, from £178.45.
➤ Just Sardinia (01202 484858,  www.justsardinia.co.uk) offers three nights at the Sardegna Hotel from £359 per person. The price includes B&B, flights and airport transfers.
➤ Rhino (0845 508 9845, www.rhinocarhire.com) offers car hire from Cagliari and Olbia airports from just £12 per day.
WHAT TO SEE AND DO
➤ Il Duomo di Cagliari – La Cattedrale di Santa Maria e Santa Cecilia
Piazza Palazzo, 4
+39 070 663837
www.duomodicagliari.it
Cagliari's cathedral was originally built in the 13th century by the Pisans, who ruled the city at that time. It has undergone significant changes over the centuries. The church that stands here today is a curious melange of a building, with Romanesque towers dating from the 13th century, a 17th century dome, and a Neo-Romanesque façade that was created in the 1930s after the old façade was demolished.
➤ La Torre dell'Elefante
Piazza San Giuseppe
Cagliari's second tallest Medieval tower (the tallest is that of San Pancrazio) was also built by the Pisans, in 1307 as part of the city's fortifications against Moorish and Genoese attacks. During the Aragonese rule it was used as a prison. Later partially obscured by other buildings, it was restored in 1906.
➤ La Torre di San Pancrazio
Piazza Indipendenza
Cagliari's tallest Medieval tower predates the Tower of the Elephant by two years. Commissioned by Giovanni Capula it too was constructed to be an integral part of the city's maritime defensive system. Made from white limestone, it is open on the side that faces the Piazza.
➤ La Chiesa dei Santi Giorgio e Caterina
Via Gemelli, 2
info@santigiorgioecaterina.it
www.santigiorgioecaterina.it
This Neo-Gothic church is one of the most important buildings of the reconstruction of Cagliari after the Allied bombardment of 13 May 1943. Built on the site of a previous church, it was finally consecrated (after considerable political to-ing and fro-ing) in 1967.
➤ La Citadella dei Musei
Piazza Arsenale
+39 070 675 7627
The Citadel of Museums houses five exhibitions, including the incredible Museo delle Cere Anatomiche Clemente Susini (see Don't Miss).

➤ Il Palazzo Civico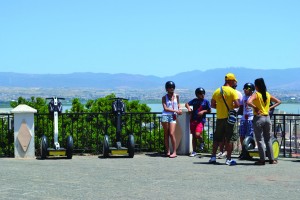 Via Roma, 145
+39 070 6771
As it is a working government office it is only open in the mornings (9am-12pm) and not at weekends, but it's well worth visiting just to see the exterior.
WHERE TO STAY
➤ A&R Bundes Jack Vittoria
Via Roma, 75
+39 070 667970
www.hotelbjvittoria.it
Recommended to me by friends who had stayed here before, and I am happy to pass on that recommendation to you. The entrance to Hotel A&R Bundes Jack Vittoria is inside one of the long, lofty arcades that run along Via Roma, sheltering shoppers from the sun. A single illuminated sign leads inside to a tiny grilled lift that you would not expect to lead to such characterful old rooms with a perfect aspect overlooking the harbour.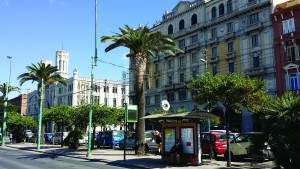 ➤ Hotel Sardegna Cagliari
Via Lunigiana, 50
info@sardegnahotelcagliari.it
www.sardegnahotelcagliari.it
Stylish coach party hotel on the route in from the airport. Set up to be all-inclusive, its 'La Scala' restaurant offers a mix of traditional Sardinian recipes and classic international cuisine, while there are also facilities for business meetings, weddings and conventions. You will need transport if you are to make the most of your visit, and the hotel can arrange for sightseeing tours and the rental of bicycles, scooters, cars, inflatables and boats.
➤ T Hotel Cagliari
Via dei Giudicati, 66
+39 070 47400
www.thotel.it
Its position, right in front of the Music Plaza and the Cagliari Lyric Theatre, helps to make the T Hotel the only design hotel in town where locals go for cocktails. For those staying the night, the hotel has no fewer than 207 rooms, plus the T Bar, T Bistro, T Restaurant, and even the T Spa Wellness Centre and its Fitness Room. The hotel also caters for business meetings.
➤ Albergo Aurora
Salita Santa Chiara, 19
+39 070 658625
www.hotelcagliariaurora.it
Bohemian family B&B that has been running for 50 years now in a beautiful historic building at the foot of Castello. A very convenient location not just for sightseeing but also for shopping, with the Via Manno, Largo Carlo Felice and Via Roma all within easy walking distance. The hotel is also very well served by buses – if by chance your eagerness to take full advantage of the shopping facilities means that the short walking distance home does not seem quite as easy as it did when you were setting out that morning…
WHERE TO EAT
➤ Dal Corsaro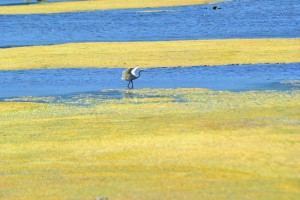 Viale Regina Margherita, 28
+39 070 664318
Four generations of the Deidda family have offered gourmet dining in this stately townhouse perfectly located in the centre of town but tucked away from the main tourist thoroughfares. It serves traditional Sardinian cuisine with a modern twist. Everything about it is stylish and absolutely correct, but without being at all pretentious or zealously trendy.
Price range € € €
➤ Trattoria Lillicu 
Via Sardegna, 78
+39 070 652970
A small and simple place in the historical quarter of Marina that offers typical seafood dishes in a friendly atmosphere. If the weather is suitable – and it usually is – do take advantage of a seat at the tables that line the narrow street outside.
Price range €
➤ Il Rifugio dei Sapori
Corso Vittorio Emanuele, 445
+39 070 756 1995
A gastro takeaway with strong vegan and vegetarian leanings – though, unlike you might find in northern Europe, not to the total exclusion of meat and fish. Its latest menu: cavolfiore soffocato con olive; patate in verde; bietola in salsa citronette; cicoria al vapore; dadolata di verdure; melanzane in umido; cavolo cappuccio con capperi; cous cous vegetariano; passato di verdure; riso thai, zucchine, cavolo rosso e mandorle; riso thai integrale bio, peperoni, cavolfiore, zenzero; lasagne alla bolognese; lasagne pomodoro e basilico; lasagne fiori di zucca, zucchini, provola; polpette di manzo al pomodoro; roast beef (!); pollo arrosto; cotolette.
Price range €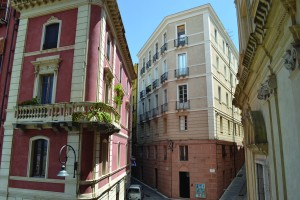 ➤ The Old Coffee
Via Alberto Lamarmora, 91
Handy little snack bar in a side street off the historic centre of Castello where food is brought to your small marble table. The interior is home to lots of interesting antique gadgetry. This is also a haunt of the local LGBT community.
Price range €
➤ Caffè Antico
Piazza Costituzione, 10/11
DH Lawrence, Gabriele D'Annunzio and the Sardinian writer Grazia Deledda (the first Italian woman to win the Nobel prize for literature) all sat at this café, which has now been restored to its original Liberty style of polished wood, marble and brass.
Price range €
GETTING THERE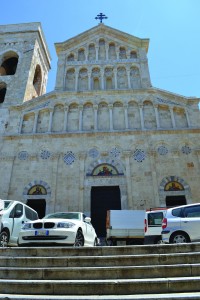 ➤By plane
The options for flights to Cagliari are quite limited and the island's alternatives – Alghero and Olbia – are far too far north to be considered, unless you do want to see the whole island. Meridiana flies from Gatwick, and easyJet flies from Stansted. But the good news is that a new BA service from Gatwick is set to begin in April 2015.
Photography © Adrian Mourby unless otherwise stated