Rachael Martin took a road trip from Milan to Arezzo to discover the secrets of this Etruscan town and experience its famous antiques market
Photos by Rachael Martin unless otherwise stated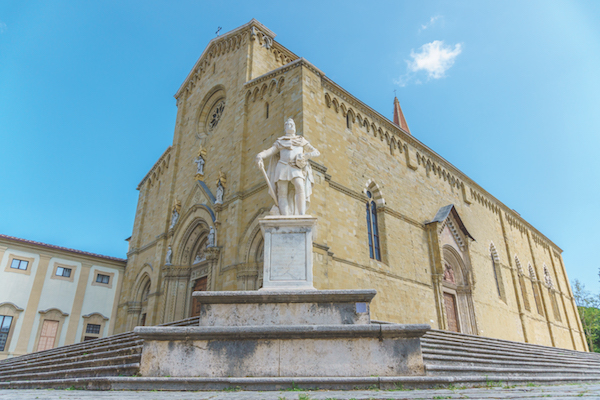 We were planning our regular Easter break with the kids and we had all agreed that this year we would be going to Tuscany. It was my Italian husband who suggested that we should go specifically to Arezzo. 
"Arezzo?" I asked. "Why Arezzo?" It's not that I have anything against Arezzo, it's just not the first place that jumps to mind when you think of a trip to Tuscany. "You'll love it," he assured me. He's usually right about these things and I so started planing the journey.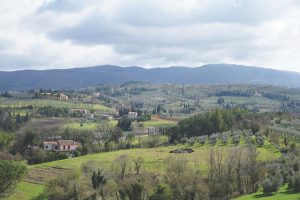 We set off from our home in Milan early on the morning of Easter Saturday, driving steadily across the Po Valley and into Emilia-Romagna, and soon we were seeing signs for Tuscan towns and villages. "Let's go to Florence for breakfast," I suggested. And so we did, eating at Caffè Scudieri, one of Florence's loveliest bars, right in the middle of town, on the edge of Piazza del Duomo with a view of the Baptistery and the Cathedral. My husband and I had a breakfast of brioche and cappuccinos, and there was fruit salad for the kids, and then we walked along the Arno up to the Ponte Vecchio before returning to the car. 
Lunch was a pile of finocchiona sandwiches that I made on my knee in the car as we travelled along. Finocchiona is a large, coarse-grained salami typical of Florence and Siena. Finocchio means fennel, hence the name finocchiona, because the salami takes its distinctive flavour from the wild fennel seeds that are used to make it, along with salt, garlic and black pepper. At one time pepper was an extremely expensive commodity, and so fennel seeds were used as a substitute. 
Of course, you can get finocchiona and the bread to make sandwiches with it anywhere, yet the sandwiches will never be the same as they were that day when we drove to Arezzo, with the kids in the back remembering the Maremma, the wild boar we saw there and the game of calcetto (a kind of mini-football) we had once played. Those sandwiches were the perfect overture to what would come once we had arrived at our destination.
Arezzo's roots are Etruscan and it was during this period that the first walls were built and the city was transformed from what had previously been a simple agricultural village. Quickly developing into an important centre for trade, it later became part of the Roman Empire. My husband was right. I loved it – the old town high on the hill with its sloping square that became famous the world over after its appearance in Roberto Benigni's 1997 film La Vita è Bella (Life is Beautiful). Just the setting itself is simply stunning.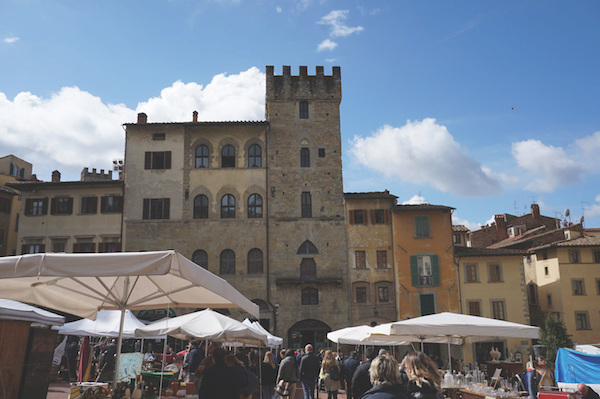 Legend of the true cross
In terms of high culture, Arezzo is most famous for being home to Piero della Francesca's Legend of the True Cross, a cycle of frescoes on the walls of the Bicci Chapel in the Basilica di San Francesco that tells the story of the Crucifixion. You will need to book in advance to see it, though, as visitor numbers are necessarily limited and it can get very busy at peak holiday times. Click here for more info.
Make sure you also visit the Duomo. Begun in 1278 and finished in 1510, it now has a 1914 neo-Gothic sandstone façade. Inside, there is the Mary Magdalene fresco, again by Piero della Francesca. 
Arezzo was also the birthplace of Petrarch, the early Humanist writer, poet and philosopher, and you can visit the house where he was born, La Casa del Petrarca, on Vicolo dell'Orto. Giorgio Vasari, the Renaissance artist and architect, also came from here. In his house, on Via XX Settembre, each room in his house is richly decorated with frescoes by Vasari himself, his assistants and other Tuscan artists. You can buy a combined ticket that includes the Basilica of San Francesco, Casa Vasari Museum, the Archaeological Museum and Amphitheatre, and the National Museum of Medieval and Modern Art, for €12.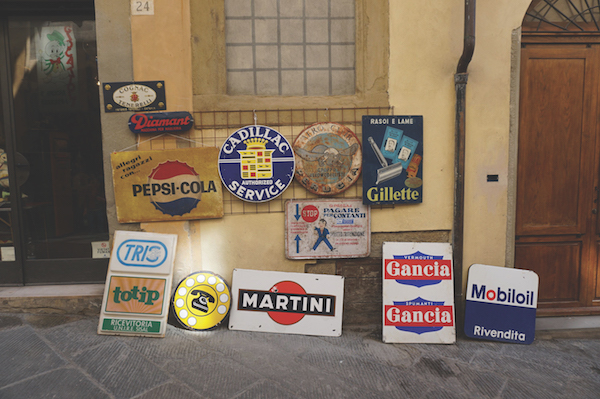 The first of its kind
That Easter weekend was the weekend of the town's monthly antiques market. This was started in 1968 by local antiques dealer Ivan Bruschi, who had been inspired by places such as London's Portobello Market and Paris's Saint-Ouen flea market, and was the first of its kind – on this scale at least – in Italy. 
The market takes place on the first Saturday and Sunday of every month in the Piazza Grande and the side streets leading into it. It's a huge event and there's always a lot to see: as well as antiques, there is also mid-century and vintage furniture and other objects – books, fabrics, prints, bijoux, various types of instruments and collectors' items. The general rule is that when you are in Tuscany, you should try to avoid the crowds, especially if it happens to be Easter weekend. Yet in spite of the bustle of the market and the influx of Easter tourists, Arezzo still felt less chaotic and more relaxed than other, more well-trodden, tourist destinations in the region.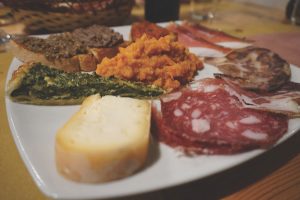 And when you are in Tuscany, you should eat. (Though that, of course, is true throughout Italy.) Our hosts recommended various locations, and we opted for Osteria da Giovanna, a trattoria on the outskirts of town, one of those places that is easy to drive past if you haven't been told about it. We walked in and were greeted with a rustic-style dining room and friendly faces. We were seated at simple wooden tables made from old wine boxes – and the food was everything
we had expected. 
We started our meal with a selection of classic Tuscan bruschette – with beans, fresh tomatoes, or dressed simply with oil – and a mixed plate of salumi, crostini and the traditional pappa al pomodoro, a dish of tomatoes, oil, garlic and stale bread – a classic example of simple, hearty Tuscan cooking that still respects its roots in peasant traditions and provided the perfect accompaniment to the salty salumi and pecorino from the area that were served with it. 
Stale bread is a theme that runs throughout Tuscan cooking. As well as pappa al pomodoro, it also forms the base of other typical regional dishes such as panzanella, a chopped summer salad of bread and tomatoes, and ribollita, a thick soup of stale bread, cavolo nero and cannellini beans that is made one day and then 're-boiled' (hence the name) the next.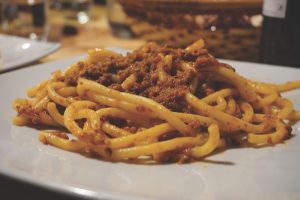 Tuscan pasta
And then there was the question of pici. Tuscany is not an area that includes many pasta dishes in its culinary make-up – the general preference being for bread or cereals such as emmer wheat (farro in Italian). Yet pici are pici and they are just so Tuscan – though in Montalcino they're known as pinci, and towards Grosseto and Umbria they call them umbricelli. 
For our second course, we shared a dish of peposo, a rich peppery beef stew that was traditionally eaten by local workmen. It was satisfying and simple home cooking, shared among our family, creating memories. There are meals that you enjoy and then there are meals that you remember… 
As far as the food was concerned, the trip had certainly been an unmitigated success, and although my younger son came home disappointed that he hadn't eaten ribollita, that has simply given us an excuse to go back one day. We also brought home a desire for more bruschetta and pecorino, the latter taste belonging to a boy who used to never eat cheese.
Where to eat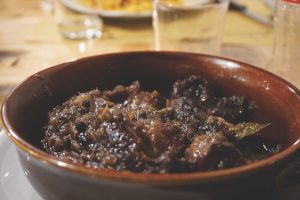 Osteria da Giovanna
Arezzo has lots to recommend it in the way of food and drink, but our great discovery on this trip was the Osteria da Giovanna. From the outside it doesn't look much, just a simple roadside trattoria, but looks can be deceptive. The food is very good indeed.
Via Anconetana, 164
52100 Arezzo
La Bottega di Gnicche
La Bottega di Gnicche is named after a thief who robbed the rich to give to the poor. A deli, bar and restaurant that offers local products and a wide selection of wines, it's a relaxed and friendly place in a prime spot in Piazza Grande.
Piazza Grande, 4
52100 Arezzo
Ristorante Antica Pieve
We didn't actually get to eat at this restaurant on the road to Cortona, but we were told that it has a very good reputation for meat. The next time we come down this way, we shall certainly make the effort to come out here.
Località Vitiano
52100 Arezzo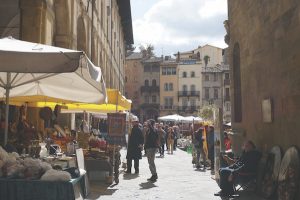 Getting there
By air
Florence and Perugia are the nearest airports, but you might get a better deal if you fly to Pisa or Rome. 
By car 
Arezzo lies off the E35 about a quarter of the way between Florence and Rome.