Rosalind Ormiston travels to one of the largest Italian lakes and shares ten good reasons why you should pay this northern beauty a visit
Photos by Getty Images unless otherwise stated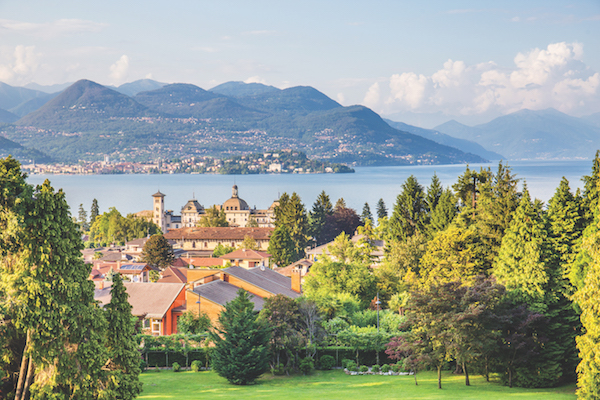 1. Stresa
Stresa is a town that has to be high on the list of any visit to Lake Maggiore, and is a popular choice to stay as a central location. It is just a short water-taxi ride from the spectacular Borromean Islands. The lively town has a variety of hotels to suit everyone, from cyclists on a stopover to long-stay visitors. The grand hotels along the shore front of Stresa recall the town's first heyday as the Italian riviera of the north. Today, a tranquil ambience flows through Stresa. The hotels have been renovated, refurbished, and offer not only superb accommodation but also spectacular views of the lake, some with private access pools by its shore. The centre of the town is bustling with places to shop and eat, and is as popular today as it was when it was visited by Stendhal, Dumas, Dickens, Hemingway, Charlie Chaplin and Lord Byron.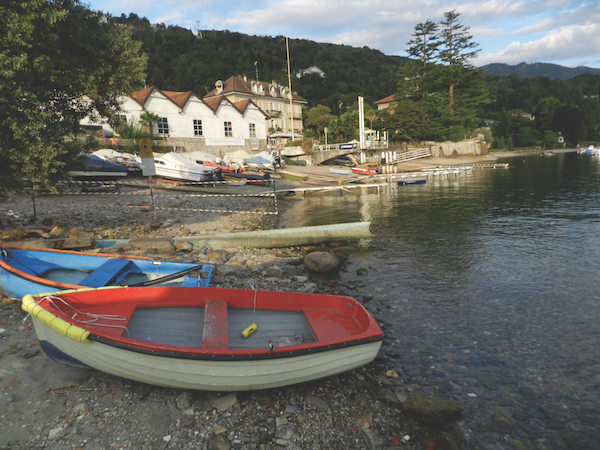 2. The Borromean Islands
These fabulous islands are the highlight of any visit to Lake Maggiore. They are a short journey by private boat rental (ie Cantiere Nautico Taroni), with a plentiful service of water taxis, or by ferry from Stresa (a bit longer from other locations) to Isola Bella, Isola Madre and Isola dei Pescatori. The most visited is Isola Bella with an 18th-century palace, its rooms bursting with ornate detail, exquisite statues in Italian terraced gardens, including a stunning grotto, and fabulous blooms, along with the breathtaking amphitheatre, Teatro Massimo. Isola Madre is equally breathtaking, as host to the 16th-century Palazzo Borromeo, and stunning botanical gardens populated with peacocks and Chinese pheasants roaming landscaped gardens of rare plants. Isola dei Pescatori, the 'Fishermen's Island', is the only one with permanent inhabitants. The tiny village is home to restaurants offering freshly caught fish, as well as little shops and boutique albergos. To get a spectacular bird's eye view of the islands and other parts of Maggiore there are helicopter rides that can take several routes.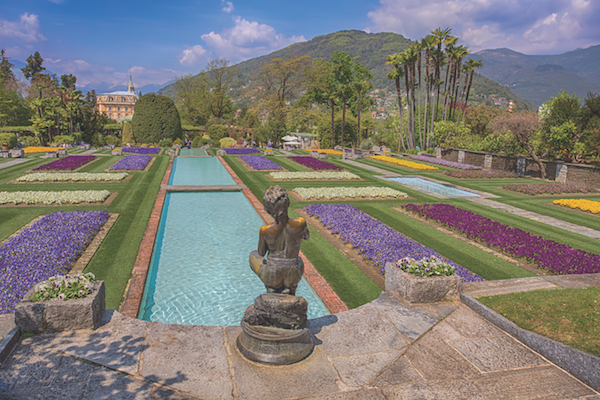 3. A picnic at Villa Taranto
Take a picnic to Villa Taranto, Pallanza, to relax in the internationally famous botanical gardens, created over 60 years ago by Scotsman Neil McEacharn, a retired captain. On the slopes of Punta Della Castagnolla, a promontory on the lake, McEacharn bought a 40-acre plot of land that he had seen advertised in The Times newspaper. Many childhood holidays spent in Italy led him to make this place on the northern shore of Lake Maggiore his home. A keen botanist and landscape gardener, he set about planting the extraordinarily beautiful gardens that surround the villa today with more than 20,000 different species. On his death in 1952, McEacharn left his property to the Italian State. The garden is open to the public from March to November for us to enjoy the herbarium, Fontana dei Putti and Dahlia garden, which alone has more than 350 varieties.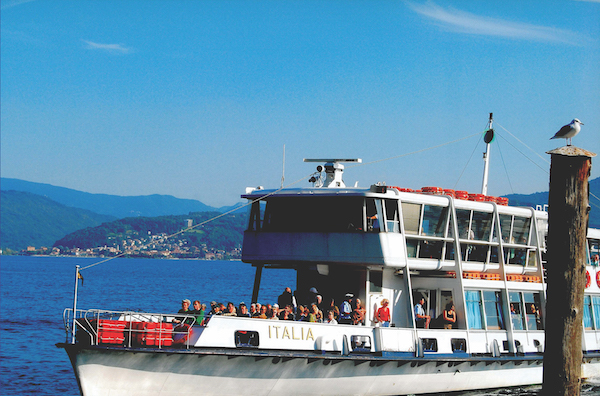 4. The Lake Maggiore Express
Operating from Easter through to September, the Lake Maggiore Express is a combination of lake cruise and express rail tour, journeying from Italy to Switzerland and back, over one day, or at gentler pace over two, depending on your holiday plans. The journey is a comfortable, scenic tour. The boat leaves from any ferry point on Lake Maggiore. For example, from the Stresa ferry landing stage the lake cruise is a journey of 61km, criss-crossing the lake, stopping at Baveno and Pallanza before crossing to Laveno. The medieval town of Cannobio is the last stop before sailing into Switzerland. Another stop at Brissago leads on to Ascona, chosen by authors and artists as a perfect place to stay, then on to Locarno to disembark. The return journey ends at Stresa's railway station.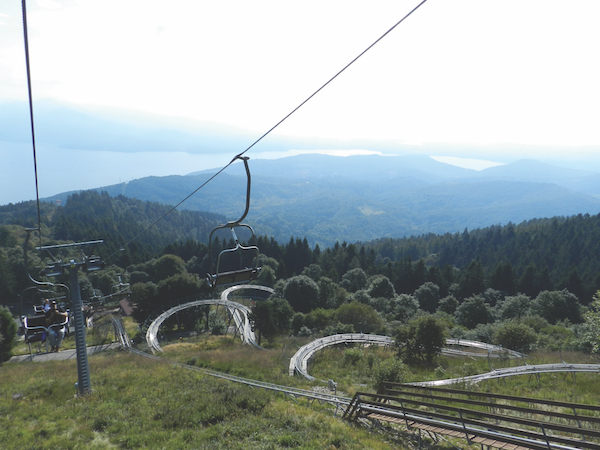 5. The Mottarone cable car
At a height of 1,491m, Mount Mottarone, above Stresa, is the most wonderful spot for a 360-degree panoramic view of Lake Maggiore and surrounding lakes. The Mottarone cable car from Stresa is a 20-minute ride up the mountain, changing cable cars halfway up. At the first stop there is the world-famous Giardini Alpini, well worth a visit for green-fingered plant enthusiasts. From the upper cable car terminus, there is a café for refreshments and a ski chairlift for the last few hundred yards to the top, or you can walk to the summit. Many mountain-bikers take their bikes in the cable cars to cycle from the top down to the lake. At Mottarone's majestic peak there is Alpyland Alpine Coaster offering an exhilarating ride on a 1.2km of track in individual bobsleighs down the mountain via a circular route back to the top. Suitable for all ages.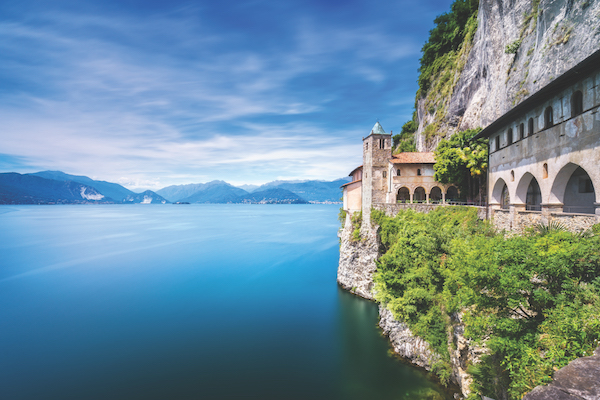 6. Get sporty round the lake
For those wanting to stay fit and enjoy the views, cycling offers several beautiful routes around the lake, with rewarding stops such as the stunning Hermitage of Santa Caterina del Sasso. This 12th-century piece of tranquility can be found teetering on the edge of a sheer cliff overlooking the Borromeo Gulf. (To hire bikes or e-bikes go to www.mottarone.it/bike-rent). For golfers, there are a number of breathtaking courses, including the Golf Des Iles Borromées, teeming with flora and fauna and offering incredible views of the Swiss Alps. When you get as far as the last hole, you'll be able to see Milan, Lake Maggiore and also the lakes of Varese, Monate and Comabbio. If sailing is what you love then you're in great company as it's a local lifestyle and every year the shores are filled with the celebration of the annual Verbania Vela Festival in June, with races, concerts and delicious food and wine.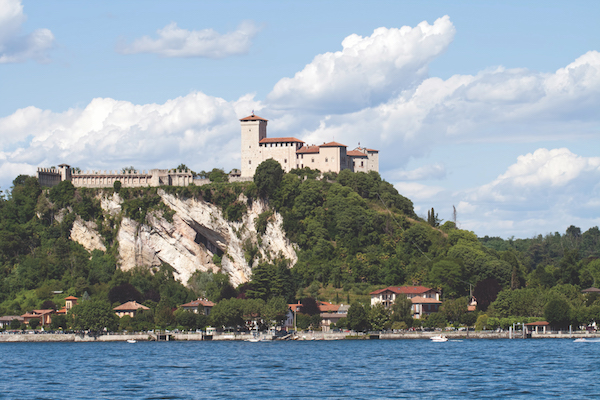 7. Angera Fortress
The Rocca di Angera, belonging to the Borromeo family, is a superbly preserved fortified medieval building built between the 12th and 14th centuries, situated on an outcrop of limestone above Lake Maggiore, at the southern end. The castle was one of a pair with Arona Castle on the opposite bank, a Lombardian defence system to deter invasion by Swiss troops and other adversaries. The fortress also controlled the shipping and flow of traffic on the lake for trade. It offers commanding views across the lake and inside hosts stunning 12th-century frescoes in the Sala della Giustizia, depicting the life of archbishop Ottone Visconti. The fortress also boasts a collection of tapestries from all over the world, and the renowned museum of toys and dolls, which was founded in the late 1980s and showcases more than 1,000 dolls dating back to the 18th century – a true collector's delight.
8. Specialist museums
The lake is awash with fascinating and quirky museums giving a insight to the history and culture of each area surrounding it. At the southern end is the slightly surreal but fascinating Gottard Park, a vehicle enthusiast's dream with planes, motorbikes, cars and boats. There are also museums dedicated to ceramics, pink granite, hats, pipes, umbrellas and parasols, and a new museum dedicated to perfume. La Casa del Profumo in Santa Maria Maggiore, celebrates the invention of Eau de Cologne. Learn more about the invention by local Giovanni Paolo Farina, who emigrated to Germany as a child and subsequently created what was then known as Aqua Mirabilis, or 'Miracle Water'. Its medicinal properties were certified by the University of Cologne in the early 1700s and its scent has been enjoyed by many thousands of wearers since.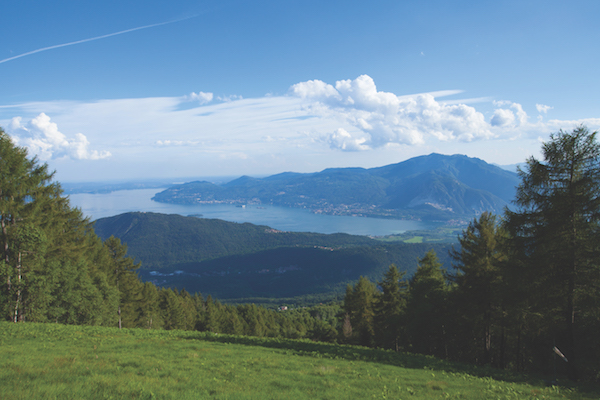 9. UNESCO sites
Untouched, protected treasures surrounding Lake Maggiore lie in wait, including the Sacro Monte of the Holy Trinity at Ghiffa, which stands at the foot of Mount Carriage. Made up of a church and three chapels, this serene piece of architecture stands in hundreds of hectares of woodland with footpaths leading to glorious walks. For the last six years, the National Park of Val Grande has become part of UNESCO's World Network of Geoparks. There are beautiful reserves to be discovered, including the Lagoni di Mercurago springs, which are wonderful to explore, whether you're walking or biking. You'll come across many plant and bird species as well as an archeological route leading to necropolises dating back to the 6th century BC. Other places to explore include the Dormoletto and Fodotoce reed beds, which extend for kilometres and act as essential water filters for fish and nesting places for birds such as grebes, swans and coots.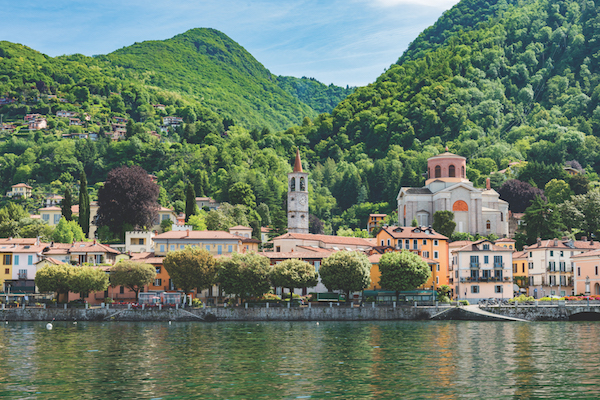 10.Markets, festivals & cookery courses
For fashion and food lovers alike there's a bustling market every day of the week. The most famous is Luino, every Wednesday and established since the mid-1500s. It offers an abundance of clothing, homeware, sweets, biscuits, salami, fruit and vegetables. Other markets to note (they normally start at around 8am and finish at 1pm) are Cannobio, and Verbania-Intra, with hundreds of stalls. For those interested in sagre (food festivals), then mid-summer is the best time of year in Italy. Lake Maggiore hosts the Sagra del Pesce a Castelveccana in early August with an abundance of all types of fish to eat. For those wanting to roll up their sleeves, there are several cooking schools around the lake from chefs' large kitchens in villas to more homely surroundings where you can learn from skilled locals.
For more about Lake Maggiore, check out our travel guide