Our editor Amanda Robinson discovers authentic Italian flavours and new friends at a hands-on cookery course in the Veneto hills…
Total immersion: it's the best way to learn, right? Speak a second language like a native, pass your driving test, swim like a fish, become a chef… It's a tried-and-tested route to success. So, how about an intensive, week-long culinary course in the Veneto hills that promises two cookery classes a day, every day, in the company of professional chefs? 
Like many Italia! readers, I adore the food culture in Italy and I also love to cook Italian food at home. I have enjoyed a number of Italian culinary 'experiences'  (yes, I do have a pasta maker and yes,
I have used it). These have been inspiring, but all-too-brief day courses, or maybe an hour or so with a patient hotel chef. I'd never been on a week-long course before, so this was right up my street – and slightly daunting in equal measure. As an enthusiastic home cook, could I keep up or would I be out of my depth?
A gourmet experience
Well, in the time it took me to knot the ties on my crisp new apron, doubt was cast aside. Stirred Travel run these weeks throughout the year at Villa Casagrande, the elegant Renaissance home of Conti Brandolini d'Adda in the tiny Veneto town of Cison di Valmarino.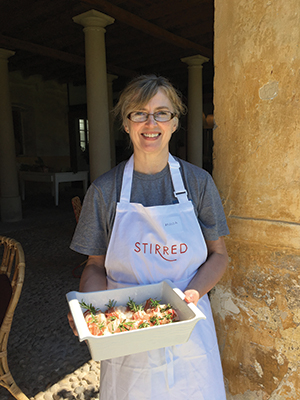 Lovely Sarah Roberts and her co-founder Patrick Obert have years of experience in organising gourmet holidays, and it shows. The week-long courses combine the laid-back ambiance of a sojourn in, let's face it, a rather spectacular palazzo, and the practical focus of hands-on cookery classes with professional chefs like Sophie Braimbridge (River Café, Chez Panisse) and Jake Simpson (Bocca di Lupo). During our stay, award-winning food writer Rachel Roddy (that Roman batter…) and the unstoppable Jeremy Lee from Quo Vadis in Soho came to share their expertise with us too.
Palazzo living 
Speeding along the broad-laned motorway from Venice's Marco Polo airport, it's a remarkably short time before we are out of the flat low-lying hinterland around the Venetian Lagoon and into the foothills of the Veneto Dolomites. The road climbs more sharply as we pull into the tidy town square of Cison di Valmarino, sweeping up to the steps of Villa Casagrande.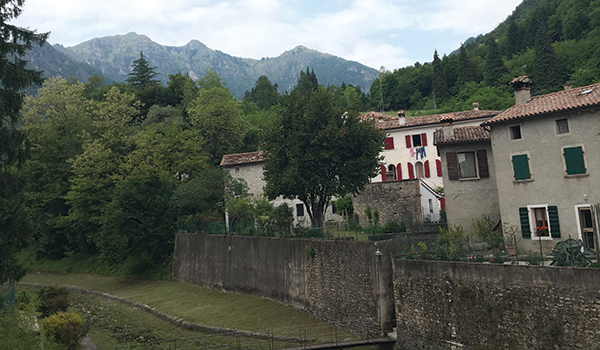 The red-shuttered palazzo that stands before us is our home for the week: graciously proportioned ensuite rooms filled with an elegant mix of contemporary art, frescoes and antique furniture, as well as landscaped lawns outside, complete with a very tempting 30-foot swimming pool.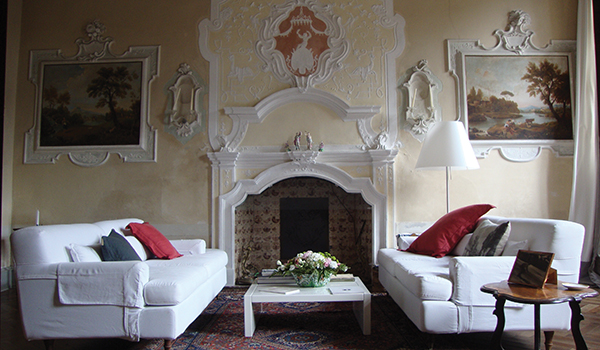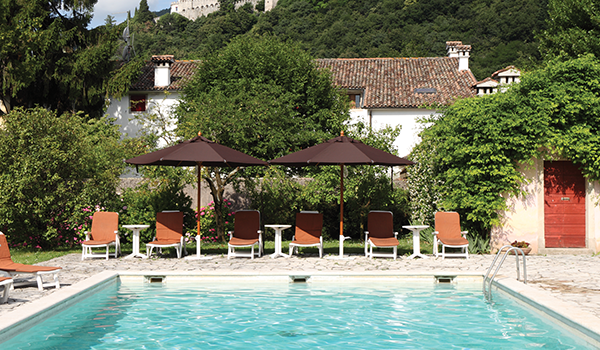 So far, so heavenly… But the serious culinary action takes place in an impressive state-of-the-art kitchen, all stainless steel and batterie de cuisine, overlooking the spectacular rose garden.
Kitchen crew
Two couples (one mother and daughter, one husband and wife) and four solo guests made up our numbers, but we were a team after the first morning's practical pasta making class. Talk about total immersion! By the time we sat down at the long dining table in the sun-filled portico to eat our way through fresh lemon and thyme tagliatelle, pumpkin ravioli heady with nutmeg, and spinach and ricotta rotolo (a giant steamed pasta roll, so delicious) that we made ourselves, the ice was well and truly broken and we were friends.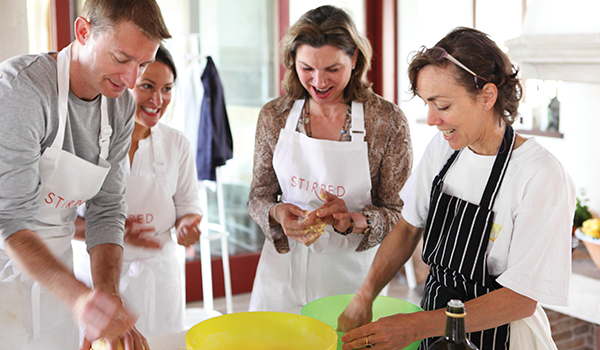 And that set the tone for our busy week: whatever we did, from visiting Rialto Market in Venice for supper ingredients and a private boat out to the island of Mazzorbo in the lagoon, to leisurely strolls round the town, cocktails on the terrace (anyone for a sgroppino?) or simply peeling mountains of onions around the large table, it felt like a relaxed houseparty, with cooking and eating at its very heart.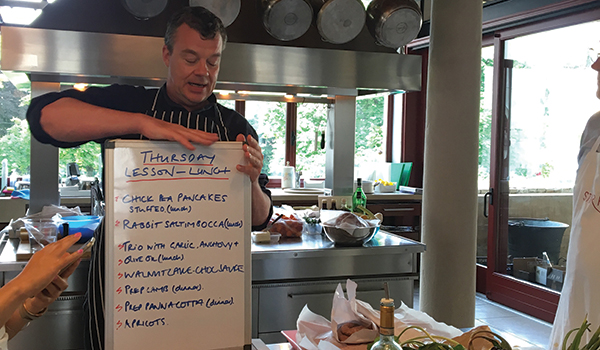 We covered so much culinary ground: from preparing spiky artichokes to deep frying battered sage leaves (thank you, Rachel), to removing ink sacs from fresh squid (messy), making panna cotta (boozy), quenelling gnudi and so much more.
You couldn't fail to be inspired by the enthusiasm and downright passion of our talented chefs and their willingness to share knowledge (including the ins and outs of whist – who knew, Jeremy?). With so much good food, perfect wine matching and hands-on experience, the only additional expenses are flights and local goodies like peppery olive oil and white polenta – if you have enough baggage allowance that is. You'll come away with a neat file of all the recipes and an enlightened understanding of the practicalities and ethos of authentic regional Italian cucina.
I'd go again, that's for sure – in fact, for one of our kitchen brigade, this was her second visit – she visited last autumn, and coming back this spring she was hoping for a different experience. With seasonality at the heart of everything Stirred Travel delivers, she wasn't disappointed.
Information:
Stirred Travel cookery courses run from March to June and then through September and October (see their website for precise details). The six-night stay costs £2,695, which covers your accommodation, tuition, food, wine, trips, tours and tastings (unless otherwise stated), lunch in Venice, dinner at a local restaurant, transfers to and from Venice airport at recommended pick-up and departure times. Private transfers can be arranged at an additional cost. The price does not include flights.
More to explore…
Just an hour's drive from Venice and a mere 35 miles from Treviso, Venice's sophisticated little sister, the small but perfectly formed village of Cison di Valmarino is one of the most beautiful villages in Italy (I Borghi più belli d'Italia), and only one of six in Veneto. Villa Casagrande sits at its heart in the prettiest of village squares with the steeply wooded foothills of Dolomites their dramatic backdrop. The imposing CastelBrando (once a fortress, now a hotel, museum and theatre) stands sentry in the hills above the village. Guided tours of the castle are available: take the funicular railway from the village, or just follow the road. Hike the trails to the old water mills just outside the village, where you can see the signs of the village's industrial past, or cycle along dedicated paths through the peaceful local countryside. You can find more information at www.cison.it
Cison di Valmarino is in the Prosecco region, and Italy's very first 'Wine Road' the Strada del prosecco e vini dei colli, is nearby, between Valdobbiadene and Conegliano. Tours run throughout the year, with visits to ancient towns like Refrontolo with its water mill and Follina and its 13th-century abbey, as well as the opportunity to visit local wineries. www.coneglianovaldobbiadene.it
Tags:
Cookery classes
,
Cooking
,
Food and drink
,
Italian Holidays
,
Veneto