Rome may not seem like the obvious choice for a family break, but if you plan it right, it can be a fantastic destination for the whole clan, says Beth Al Rikabi…
Photos by Beth Al Rikabi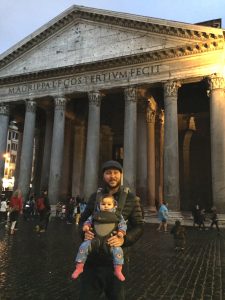 If you're planning to head to Rome with little ones, these quick tips for happy family travel in and around the city are the ideal place to start:
Bring snacks and a lightweight raincoat.
Get to know the area you are staying in on day one, identifying the best place for your morning coffee, kitchen essentials, and transport options to your favoured spots.
Keep your itinerary simple and make sure you have pitstop preferences up your sleeve to avoid those grumpy "Well I don't know where to eat, you decide" moments.
There are plenty of water fountains about town so take a bottle and remember to fill up on your travels.
The streets are bumpy and uneven so unless you have a sturdy pram, you might rattle your little one's brains out. Have a think about taking a carrier instead.
When travelling with babies and toddlers, think about when you can get them to nap and the fact that they might not sleep very well in a new place. Allow time to indulge your sleep-deprived body with a little rest.
Where to visit
If you want some family-friendly sites alongside all the big-hitters like the Colosseum and Pantheon (above) et al, here are some choices that will go down a storm with the kids in your party: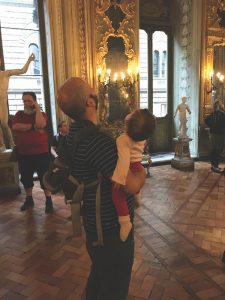 Galleria Doria Pamphilj
A beautiful and characterful palace (left) hidden in the centre of town with oodles of art and an informative audio guide. It's a great place to take the kids too, as there is plenty of sparkle and shine for them to marvel at.
Via del Corso, 305 – 00186 Roma

 +39 06 679 7323
Domus Aurea
A completely different look at the history of the city with a spectacular virtual reality tour to complete your visit. Only open on weekends, and visitor numbers are strictly limited, so book in advance and there'll be no queuing.
Via della Domus Aurea, 1 – 00184 Roma
info@coopculture.it
Centrale Montemartini
An excellent recommendation by Eleonora Baldwin in her guide to Rome with kids, this is a hoard of Greek and Roman sculptures, which is set in a converted power plant. There are excellent free guided tours specially designed for children.
Via Ostiense, 106 – 00154 Roma

 +39 06 0608
Villa Farnesina
A modest villa in Trastevere adorned with impressive frescoes as well as delicate details. Get the free audio guide to help process all the beauty.
Via della Lungara, 230 – 00165 Roma

 +39 06 68 02 72 68
Where to eat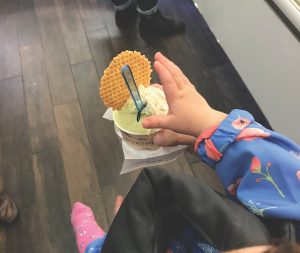 Il Punto Gelato (right)
Full of fresh, seasonal flavours, including vegan options.
Piazza di Sant'Eustachio, 47 – 00186 Roma

 +39 06 6880 8292
Grazia e Graziella
A great spot for a family feast or a late night nibble. Something for foodies and fussy children, plus top-notch colouring books and crayons!
Largo MD Fumasoni Biondi, 5 – 00153 Roma

 +39 06 588 0398
Osteria da Fortunata
The best in Rome. Freshly made by smiley ladies who look out on to the street as they roll, pinch and twist their dough. It's rustic, simple food with incredible flavours. Very popular so make sure you book.
Via del Pellegrino, 11 – 00186 Roma

 +39 06 6066 7391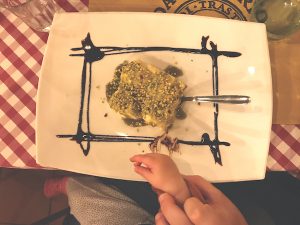 Da Vittorio a Trastevere
A genuine Italian restaurant off the beaten track with a lovely feel and the added bonus of a particularly tasty tiramisù (left).
Via San Cossimato, 14 – 00153 Roma

+39 06 580 0353
Angelino ai Fori
A reliable restaurant in a touristy area with all-weather dining thanks to large outdoor heaters. Something for everyone here, plus changing facilities and plenty of room for families to spread out.
Largo Corrado Ricci, 40, 42, 43, 43a /
Via dei Fori Imperiali, 25 – 00184 Roma

 +39 06 679 1121
Getting there
By plane
Rome Fiumicino (FCO) has connections to cities all over the world. Most people come into town on the Leonardo Express, but if you have a family to transport, a private taxi can be convenient, and even cost-efficient. 
By taxi
It's normally recommended that you book in advance, but we just found Taxi Rome Shuttle at the airport and it worked out very well. One way fares to the city centre start at €49.

 +39 347 586 31 70
office@taxiromeshuttle.com
To read more about family travel in Rome, see Beth's feature on travelling to the Eternal City here
And find more travel features on Rome in our archive