Having explored Rome's nooks and crannies several times over, Beth Al Rikabi delves into the city once more on a multi-generational family holiday…
Photos by Beth Al Rikabi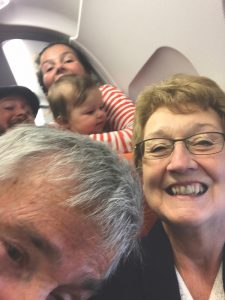 It was while I was cheffing at a yoga retreat amongst the mellow green folds of the Sabine Hills, with the city an hour's train ride away, that I first gleaned what it must be to be an Italian in Rome. I explored wide-eyed, consuming its majestic character and strength, as well as finding the time to sit and do nothing in its gentle, quiet corners. When my husband came to visit, it was no effort for him to dance to the same tune, happy to create a mosaic of memories for the many visits that followed as a couple. After our family grew to three, it wasn't long before it was time to enrol our 10-month-old Esme in the Rome fan club. My mum and dad, who had joined us the previous year, were coming along for the ride too, and looking forward to having their very own personal tour guides again. 
I suspected that travelling with a baby would be stressful but it wasn't actually that bad. If anything it makes the whole experience less intimidating, with the usually stony-faced security men ushering you through metal detectors with a soppy smile. And by flashing her flirtatious grin at every stranger, she helped break down that often-awkward barrier between our different language and culture. Mum later remarked on how travelling with Esme had made her more aware of families, how it made the experience more immersive and real.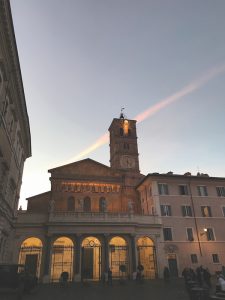 Shuttle taxi
On arriving at Fiumicino, we swapped our usual dash on the Leonardo Express train for a more family-friendly shuttle taxi. Although public transport is quick and inexpensive from the airport, we were staying in Trastevere, which is tricky to get to overloaded with luggage and a baby who was too excited to nap on the plane. I happened upon Luciano from Taxi Rome Shuttle in departures and, with car seat included in the trip, €70 was worth it for the comfort and peace of mind it provided.
We stayed on Via Natale Grande in a quiet part of Trastevere. It made for a great base with convenient tram stops near by, a handful of authentic cafés and eateries minutes from our door and our most cherished Piazza di Santa Maria only a five-minute stroll away. Each day we'd grind into action late morning with a cappuccino and pastry from Caffetteria Berti next door, setting ourselves us up for a couple of hours' sight-seeing before lunch time. 
We've stayed in Trastevere several times, finding its combination of labyrinth-like streets, medieval architecture and buzzy nightlife a winning combination. Nestling into the belly of the River Tiber, banks lined with sycamore trees (often filled with migrating starlings when we visit in autumn, screeching and swooping over the city) it's a tranquil 20-minute stroll to many places. Campo de' Fiori with its popular daily market, Piazza Navona, filled with dramatic fountains, and the ever-impressive Pantheon, standing strong for almost two thousand years whilst the madness carried on around it. 
Our previous preference was to walk from place to place, but with more people in tow there was a call for public transport. It's straightforward to navigate, and tickets can be bought from vending machines in metro stations, bars and tobacconists; and cover trams, buses, the metro and some trains. We tended to buy a few single-use tickets at a time to save any faffing whilst out and about. We found a few bus and tram lines near our apartment that delivered us to most of the places we wanted to visit, which took the stress out of the day.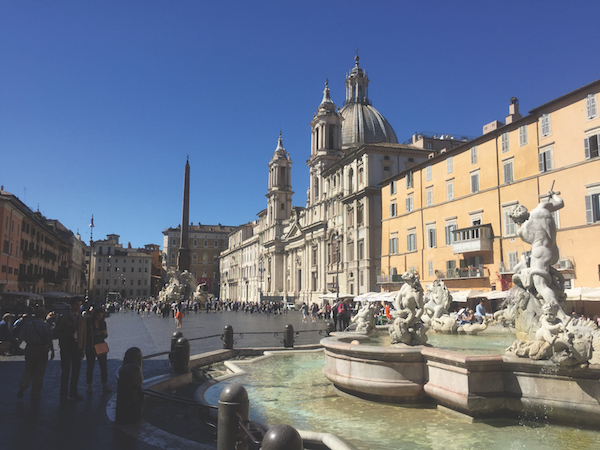 A bright start
After a bright start with sunny walks around the Forum and some al fresco Aperol spritz, the weather turned and our activities were confined to indoors. It doesn't just rain in Rome: roads become rivers, drains bulge biblically and the street vendors appear from every doorway touting their umbrellas and ponchos. Luckily, with churches and cafés at every turn, there are plenty of places to shelter.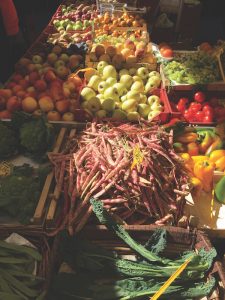 To get an insider's idea on places to visit with all the family in the rain, I met up with food writer Rachel Roddy, who lives with her husband and young son Luca in Testaccio. I also fancied a chat about my favourite city, a place Rachel never intended to set up camp in but which obviously had the same effect on her as it has had on me.
We met in her local food market and, as well as lively conversation and plenty of advice on places to explore, I brought away some punchy fennel and fresh ravioli to cook for dinner. It really does make all the difference getting insider information when you visit, so if you can't find yourself a local to bother, see if there are food tours you can join to get the most from your stay in the city. 
At the top of my husband's to-do list was a trip to the Domus Aurea, Emperor Nero's 'Golden House'. For this we broke away from the clan to fully immerse ourselves in this fantastic historical site, made even more engaging by the realistic virtual reality display that ends the tour. A visit is perhaps not for anyone with a short attention span, but it is a fascinating underground adventure into Rome's lavish and bloody past.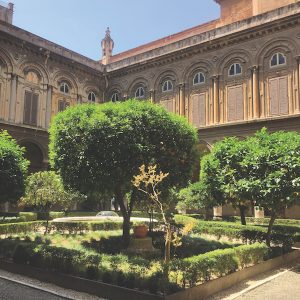 Emerging bleary-eyed from below ground, there was time to steal a macchiato before returning to the family. We arranged to meet at the Galleria Doria Pamphilj, a wonderfully arranged and accessible palace with a thorough audio guide and plenty to keep your interest. It's very central, so a good little attraction to fit in between church and café hopping. From here we raced the rain showers to a tried and tested bar, Bibo Ristorante Pizzeria, a quirky place full of characterful older gents wearing bow ties serving tables. It came as a welcome rest after a long day in the rain and was perfectly positioned for a quick stop in at the vast yet understated Church of the Apostles next door, followed by a tram ride home. Evenings were mostly spent close to home, restricted slightly by a bedtime routine. However, unlike in the UK, where you are met by withering glances when you bring a child into a restaurant, here they get top treatment, so don't be afraid to keep the little ones up a bit to enjoy the freedom of eating out together.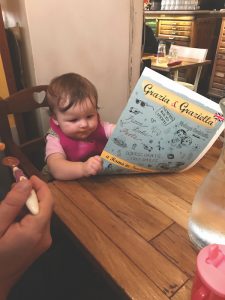 A humble abode
On another day spent sheltering from the storm (it really was quite bad) we happened upon Villa Farnesina, a cute and characterful find only 10 minutes' walk from our apartment. A humble abode as villas go, it was filled with remarkable frescoes, and surrounded by a simple garden sitting in the shade of pine and cypress trees. Say yes to the audio guide, as otherwise you can become overwhelmed by the unrelenting fresco-clad interiors. If the weather allows there are the Botanical Gardens just across the road for a stroll and a picnic. On this occasion, however, we stopped in at our favourite, Grazie e Graziella, where we ordered far too much food, drank too much red wine, then had to go back to the flat for a snooze.
It was towards the end of our stay that the sun broke through one afternoon, changing our plans to involve sitting outside in the warm and drinking beer outside the Pantheon. The Italians are masters of relaxing into their surroundings and doing very little. They call it dolce far niente – the sweetness of doing nothing. I think we finally succeeded in embracing this singularly Italian concept on that last sunny afternoon.
If you're thinking of a city break with the family in tow, check out our Rome for families travel guide