Twenty years ago Rachael Martin arrived in Italy, exploring the country by rail and dreaming of rooms with a view. Twenty years, one Italian husband and two kids later, she still has the memories of those first voyages of discovery…
Photos by Rachael Martin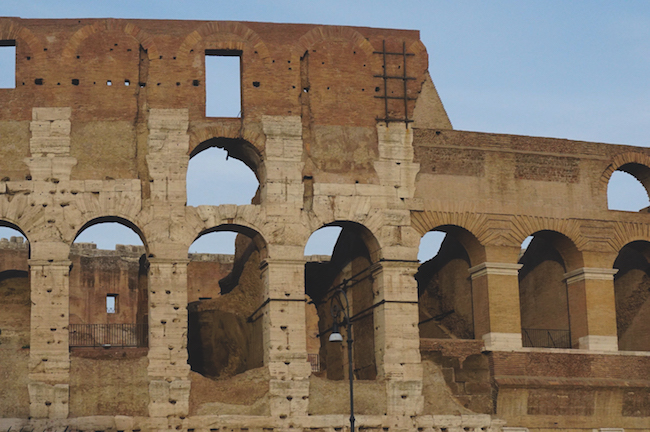 "What can I get you?" the woman on the other side of the counter asks me. My younger son immediately starts to recite a long list of all the various things he wants to eat. We're in a panificio in Trastevere and there are trays of pizza in the counter below me, some just fresh out of the oven. It's another one of those places where we both want to eat everything they've got.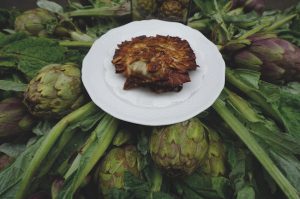 Rome is like that. As well as pizzas, there are also carciofi alla giudia ('Jewish-style' deep-fried artichokes), carciofi alla romana (artichokes again, but this time braised with herbs, Roman-style) and abbacchio (suckling lamb), accompanied by pan-fried chicory from menus that read like gastronomical poems. Then there is the pasta – alla carbonara, alla gricia or all'amatriciana. Federico Fellini, who spent most of his adult life in Rome, said that life is a combination of magic and pasta. Eat pasta in Rome and it's easy to understand why he thought that way.
This is a family trip. We had left Milan on a startlingly pink sunrise on a cold February day of Carnival weekend to get the fast train south from the Central Station. I love high-speed trains – and if you're travelling with kids, they're always a good idea. High-speed trains not only get you there quicker, they provide squeals of high-level entertainment, especially on the screens that tell you just how fast you're going. Yet there is still the journey and the sense of place; the feeling of moving through space. Lombardy, Emilia-Romagna, Tuscany and Lazio. Northern Italy becomes central Italy, and ultimately central will become south. But before the south, there's Rome.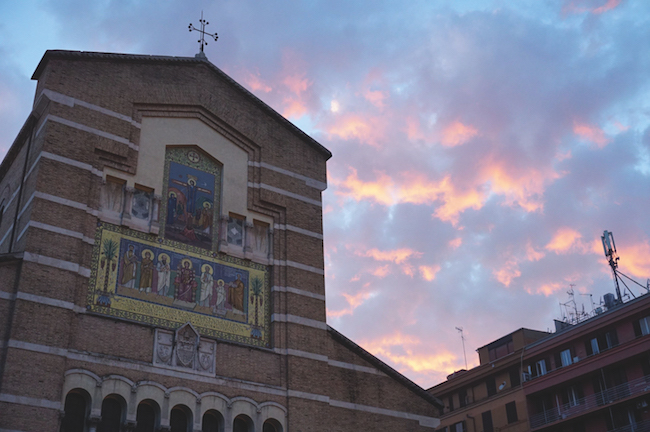 I had booked a family room at Bed & Breakfast Testaccio with a view from our balcony that looked down onto Piazza Santa Maria Liberatrice and its church, to the left. Testaccio is Rome's 20th rione, or neighbourhood; home to Monte Testaccio, an artificial hill made up of old clay vessels used during Roman times. It also has an old mattatoio, a slaughterhouse, that's now dedicated to contemporary art and events; a distinct neighbourhood feel and some very good trattorie.
We walked along the Tiber beside bare February trees and found a pastry shop with Neapolitan pastries, sfogliatine, rum babà – and prices that, having lived in Lombardy for so long, always make me feel like I haven't quite paid for everything. Politicians' faces stared out at us from posters for the upcoming elections as locals went about their business as I imagined they always had.
I chatted with a guy at a bar where, even after living in Italy for 20 years (but in the north) I found myself straining to understand his accent. Accents change a lot over Italy, and it's always a case of adjusting my ear. Testaccio is undergoing one of the inevitable great gentrifications, he told me, and house prices are soaring, as they always do.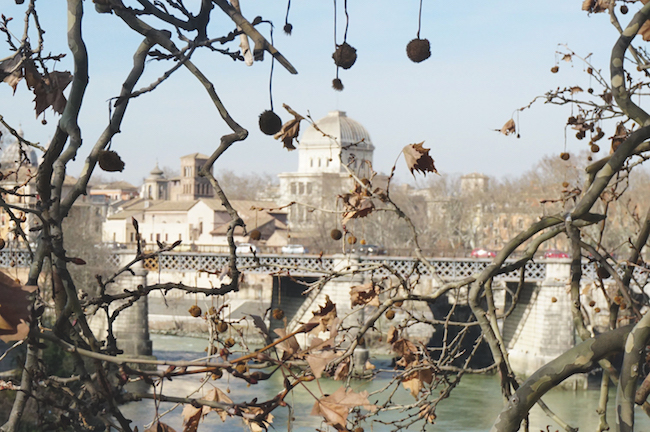 Then my elder son got ill. Plans changed, and our Roman holiday about the ancient Romans took a slightly different turn. My younger son and I went off to explore, through cobbled streets and past weathered coloured buildings amidst the centuries of history that unfolded before us. The fun was out there in the exploring. He held the map, his camera hanging from his wrist. Then he got tired and we opted for one of those sightseeing buses where we sat on the top deck in the rain and took pictures we would never remember. Up the hill and down the hill (because we're in the city of the seven hills) and in the meantime he's still nine and playing about with the languages on his audio guide and seeing what language he can find next.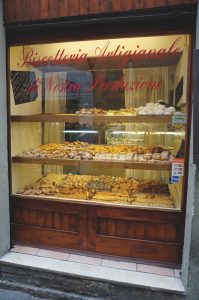 And then the next day we were standing in the panificio in Trastevere. It was Sunday morning and we still hadn't been inside the Colosseum. My son stood there extending his list: focaccia con patate, the one filled with porchetta; focaccia con patate, the one without the porchetta; arancino di riso and a meatball sandwich. "And pizza rossa. I want pizza rossa," he said. 'Red pizza', pizza with tomato sauce on top. It's eleven o'clock in the morning and this is supposed to be breakfast.
"We're not having pizza rossa as well," I tell him.
"Signora!" began the woman behind the counter. "If the boy wants pizza rossa, give him pizza rossa!" I want to tell her he's not having pizza rossa. I want to tell her he's got enough as it is. My son gets his pizza rossa.
If a child wants to eat, the child shall be fed. It's kind of one of the unwritten laws of Italian culture, and it holds even more true if he's a boy in a culture that still puts its sons on pedestals. Afterwards, we ordered sfogliatine with ricotta and some with Nutella, and took some more photos.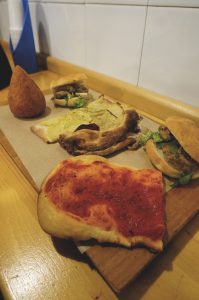 "They're for my food blog, mum – the one I'm going to do when I'm older." Then we moved on to a bar where I had coffee and he had juice. He played with his camera and looked at the photos he'd taken. "Mum, look at this one," he said. "And this, and this." I watched him taking it all in and wondered how much and what he would remember when he'd forgotten about the photos. Would his memories also become linked with the food he had eaten?
Read about the first part of Rachel's trip by rail (to Bologna) here.
For more Rome travel inspiration, take a look at our Rome Travel Guide.