Mantua was once considered an island with power to rival that of Venice. Adrian Mourby experiences the mystery and elegance of the city today…
Through the early morning mist, as my boat crossed the still waters of Lago Inferiore, Mantua's towers and domes rose like a fairytale kingdom.
In the days when the Gonzaga family controlled Mantua, four artificial lakes surrounded the fortified city, cutting it off from Lombardy. The fourth of these, Lago Pajolo, was drained in the 18th century so that Mantua might expand south. Only Rio, a narrow canal that once bisected the city, remains to remind us of the days when mighty Mantua was an Italian island almost as powerful as Venice.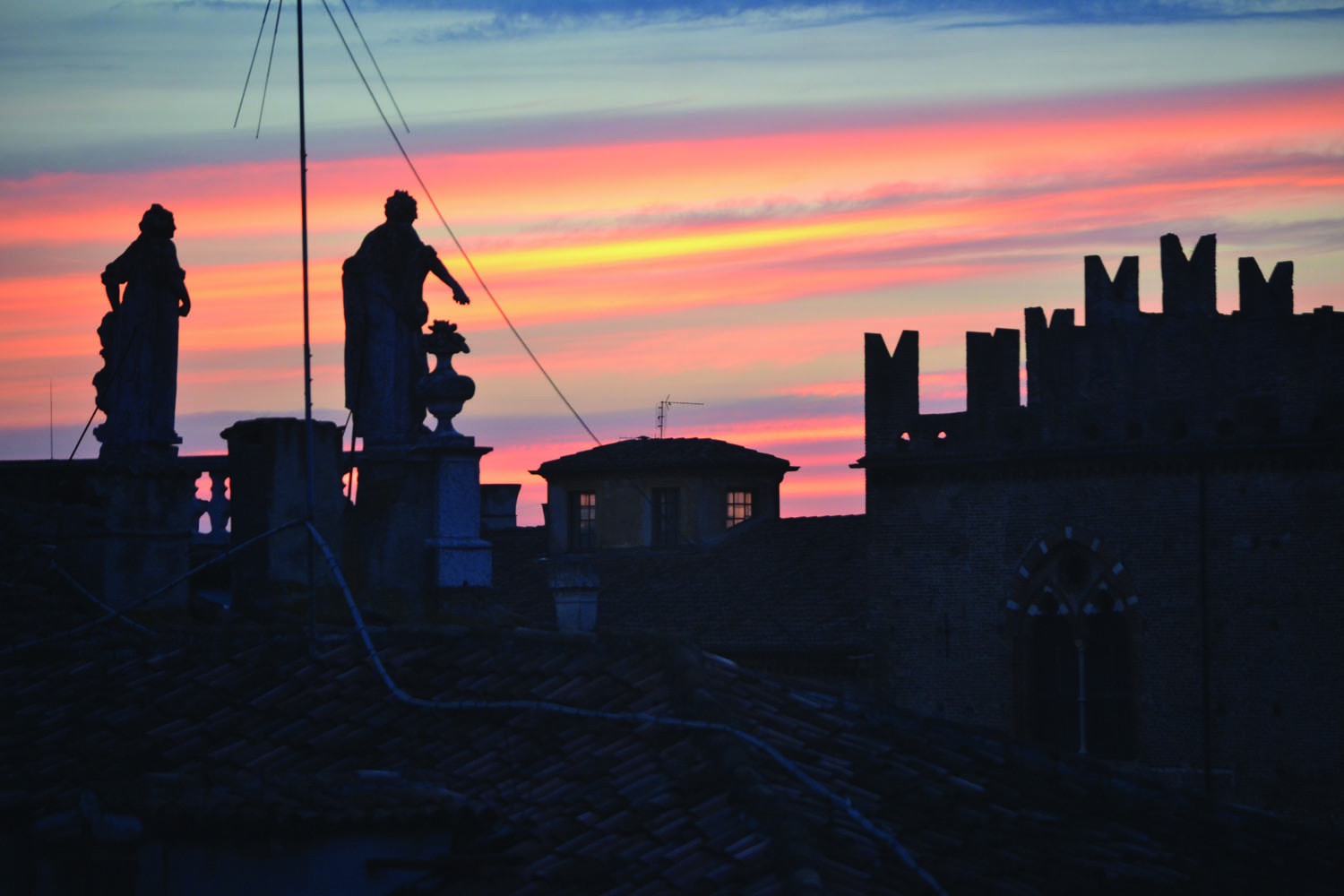 I had arranged for the boatman to drop me in Porto Catena, at the eastern edge of Rio, so I could see the city before it awoke. Maybe I'd catch the ghosts of Monteverdi and Mantegna, Giulio Romano and all the other great artists whom the Gonzaga family enticed to Mantua in its heyday.
Entering the city by Piazza Arche, I walked up cobbled streets as far as Piazza Sordello. This long, cobbled rectangle waits patiently outside the Ducal Palace. Around it stand the Cathedral, Palazzo Castiglioni, where I'd be staying, and a small clutter of restaurants whose chairs had not yet been set out for the morning. There's also a number of tall brick towers, an entrance to the Ducal Palace, and the House of Rigoletto, which is probably the strangest place to start any tour of a city.
Rigoletto, as everyone knows, is the most famous person not to have lived in Mantua. He was actually called Triboulet and was the deformed court jester to kings Louis XII and Francis I of France. In 1851 the censors of La Fenice Opera made Giuseppe Verdi move his story of royal misdeeds from Paris to Mantua. The resultant opera, Rigoletto, was such a success that in 1978 a house in Piazza Sordello was nominated Casa Rigoletto and a life-size statue of the hunchbacked jester was placed in its front garden.
Walking south up the gently inclined piazza I came to the Cathedral of San Pietro, which is a curious confection with gothic brick arches, a white marble façade in the neo-classical style and a romanesque campanile. I slipped in through one of the side doors to find a surprisingly gracious and harmonious nave, given the hodge-podge of styles outside. Built by the great Giulio Romano in 1545 after a fire, the nave has an understated beauty that's illuminated by gold, white and mushroom paintwork. Evidently, Romano based his designs of what St Peter's in Rome looked like before its current, baroque incarnation.
And then something strange and wonderful happened. The organ started up with a tune that was only vaguely familiar until I recognised Gabriel's Oboe from Ennio Morricone's score to The Mission. The organist had come in early to practise for a wedding. And I was one of only two or three people there to witness this moment of unexpected beauty.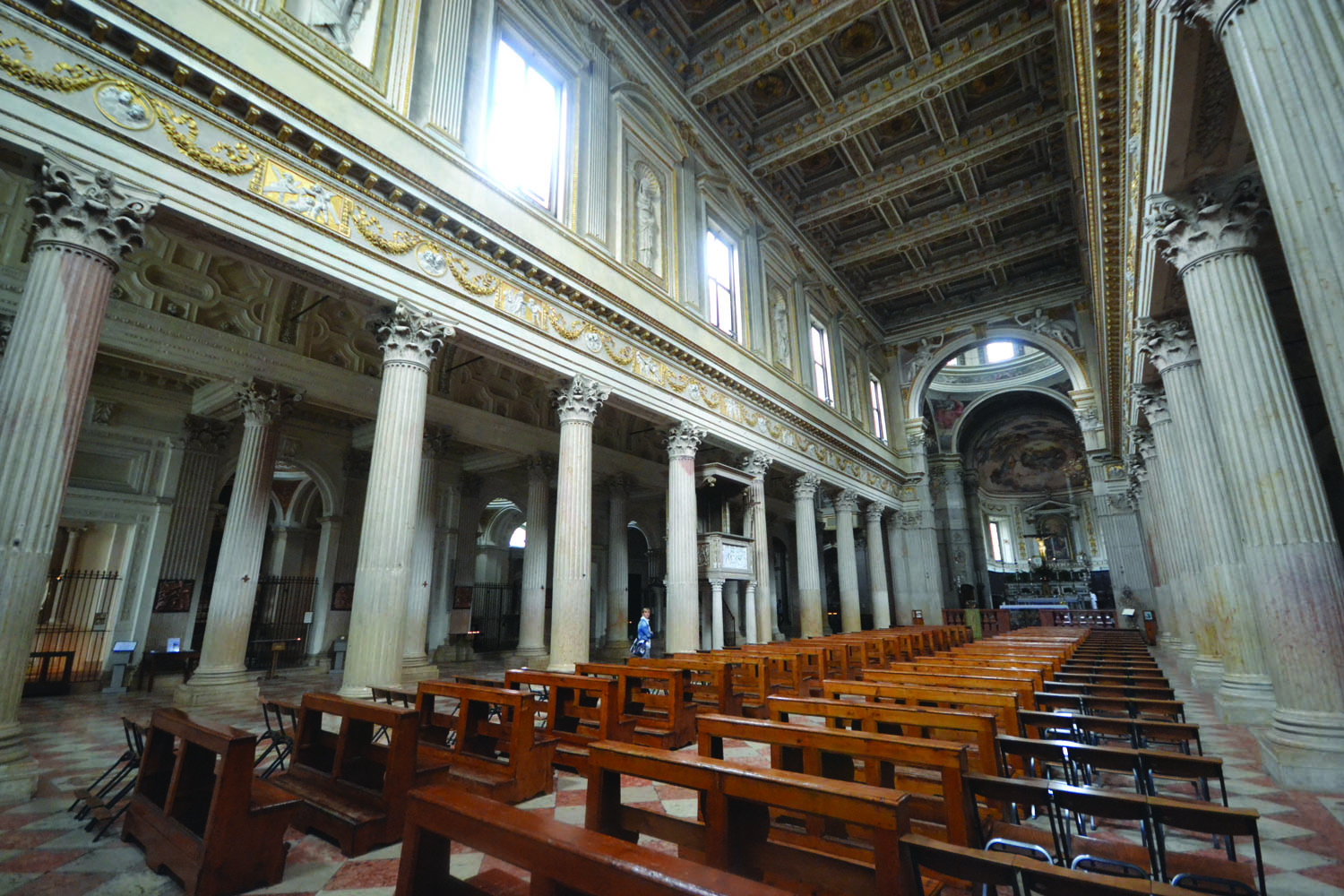 Still transported, I walked on past Palazzo Bianchi, the Bishop's Palace since 1823, and dropped my bag with the porter at Palazzo Castiglioni, which is owned by descendants of Baldassare Castiglione, the Renaissance writer and friend of Raphael who worked as an ambassador for Gonzagas. The family lets out rooms in their tower to visitors, though apparently mine wasn't ready yet.
Mantua, like so many Italian cities times, was once festooned with towers. I passed the tallest as I walked from Piazza Sordello towards Piazza delle Erbe. The Tower of the Cage looms over the Palace of the Podesta from where Mantua was run in medieval times. The 55m tower has a cage high up on its exterior that is big enough to house a felon. Whether it was ever used for this purpose is not known, but it certainly made for a good deterrent. The Palace of the Podesta, like most of historic Mantua, is a brick building, and it dates from 1227. In a niche sits a statue of the poet Virgil, who was born in Pietole Vecchia, a village just outside what is now Mantua, in 70 BC. Despite the fact that there was no such place as Mantua in those days, he has been adopted as a local.
Up ahead, in Piazza delle Erbe, the cafe proprietors were putting out chairs in the square that is renowned as Mantua's tourist trap, so I diverted to the right in front of Antica Osteria Broletto and came upon a side view of the mighty Basilica of San Andrea. This is a colossal building whose dome dominates the skyline of Mantua. It's almost too big for the city. The basilica was begun in 1474 and by the time it was completed, some three hundred years later, it had six side chapels, each with a footprint the size of a small church. It also had a massive marble octagon beneath its dome indicating where the relic of Christ's blood is buried.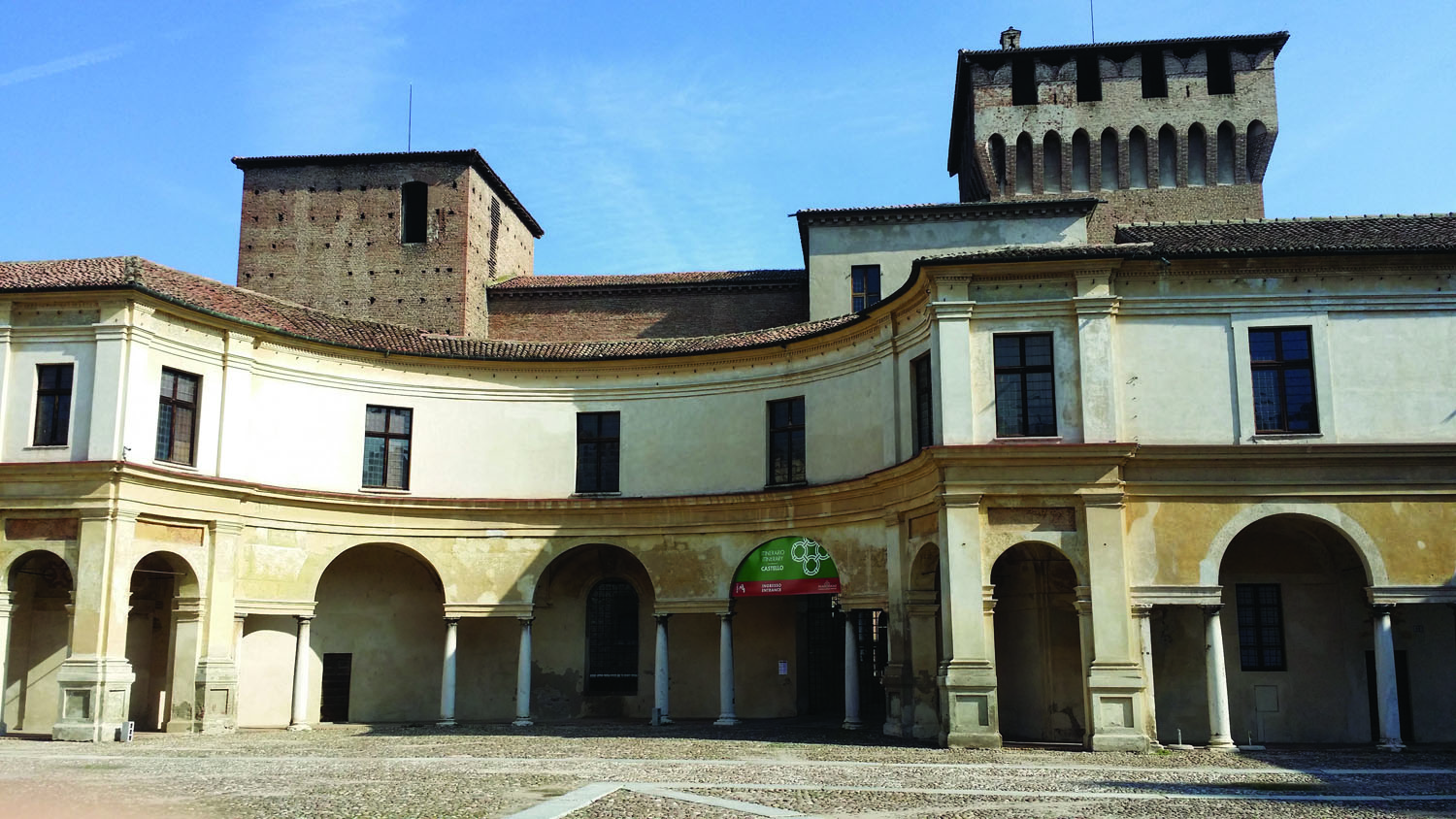 According to legend, Longinus, the centurion who stood at the foot of the Cross, subsequently travelled to Mantua (for reasons unknown) and in 1304 his body, along with a handful of earth that had been soaked with Christ's blood, was found buried here. These relics are now kept in the crypt behind twelve locked doors. Each Good Friday evening the four doorkeepers, who each possesses three of the keys, unlock the crypt so that the blood of our Lord can be displayed to the faithful.
Over the centuries many people worked on the Basilica, including the prolific Giulio Romano, and Andrea Mantegna, who is buried in one of the chapels. Mantegna did a great deal to beautify Mantua during the rule of Lodovico III Gonzaga. He also promoted the image of Lodovico superbly in the Ducal Palace's Camera degli Sposi, where Mantegna frescoed an entire room with images of Lodovico, his family and court. The Gonzagas were famed as supporters of the arts, and Lodovico's devotion to Mantegna was so great that he insisted that the artist be treated as an aristocrat at court – and buried accordingly.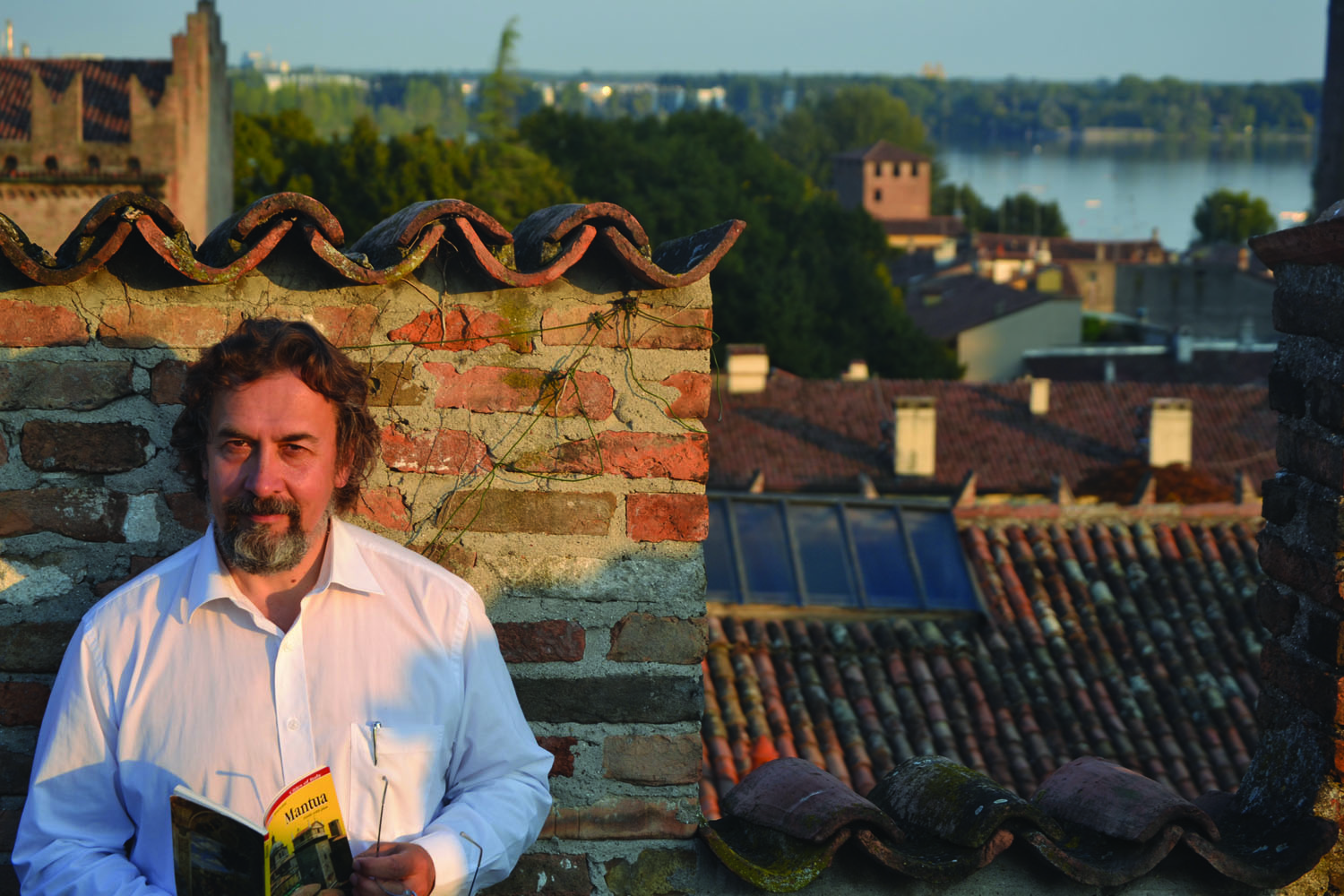 Emerging through the main doors of the Basilica I now felt ready to visit the Piazza delle Erbe, but first I had one more piece of Mantegna to look at. Twenty metres away, in Piazza Marconi, an elaborately stuccoed house (above a gentleman's outfitters) depicts The Clemency of Alexander. More than 500 years later, the story of Alexander The Great vacating his throne so a dying soldier could be warmed by the fire is only just visible. Evidently Mantegna's daughter was married to the son of Viano, the merchant who commissioned this façade.
Now I made my way to Piazza Erbe, which is not so popular with locals because of the cafés – Osteria delle Erbe, Pavesi & Pavesino and Grifone Bianco – that spill out across the piazza in front of Palazzo della Ragione (Mantua's old courthouse). Most Italian cities have an area like this – Piazza San Marco in Venice, the Campo in Sienna – but, in my opinion, Piazza delle Erbe is the kind of place where anyone, visitor or local, would enjoy sitting out. You have the Clock Tower by Bartolomeo Manfredi, court astrologer and mathematician, the exquisitely carved Casa del Mercante built in 1455 for the merchant Giovan Boniforte, and San Lorenzo Rotonda. The latter is one of the most remarkable structures in Mantua. It's a tiny, circular church built in 1040 that actually disappeared from view – and public memory – until 1908 when the shops and houses that had built up around it were demolished.
From here I walked just a few blocks east to Teatro Bibiena, which is part of the neo-classical Palazzo Accademico but which takes its name from Antonio Galli Bibiena of Parma, who also designed the Teatro Comunale in Bologna. This much smaller project – a mere 363 seats stacked in five tiers –was built between 1767 and 1769 under the Hapsburgs, who took over Mantua after the Gonzaga line died out. In 1770, a year after it opened, the 13-year-old Mozart played here en route to Rome and Naples. Leopold Mozart was greatly impressed by the building, and by the reception his son received: "In all my life, I have never seen anything more beautiful of its kind."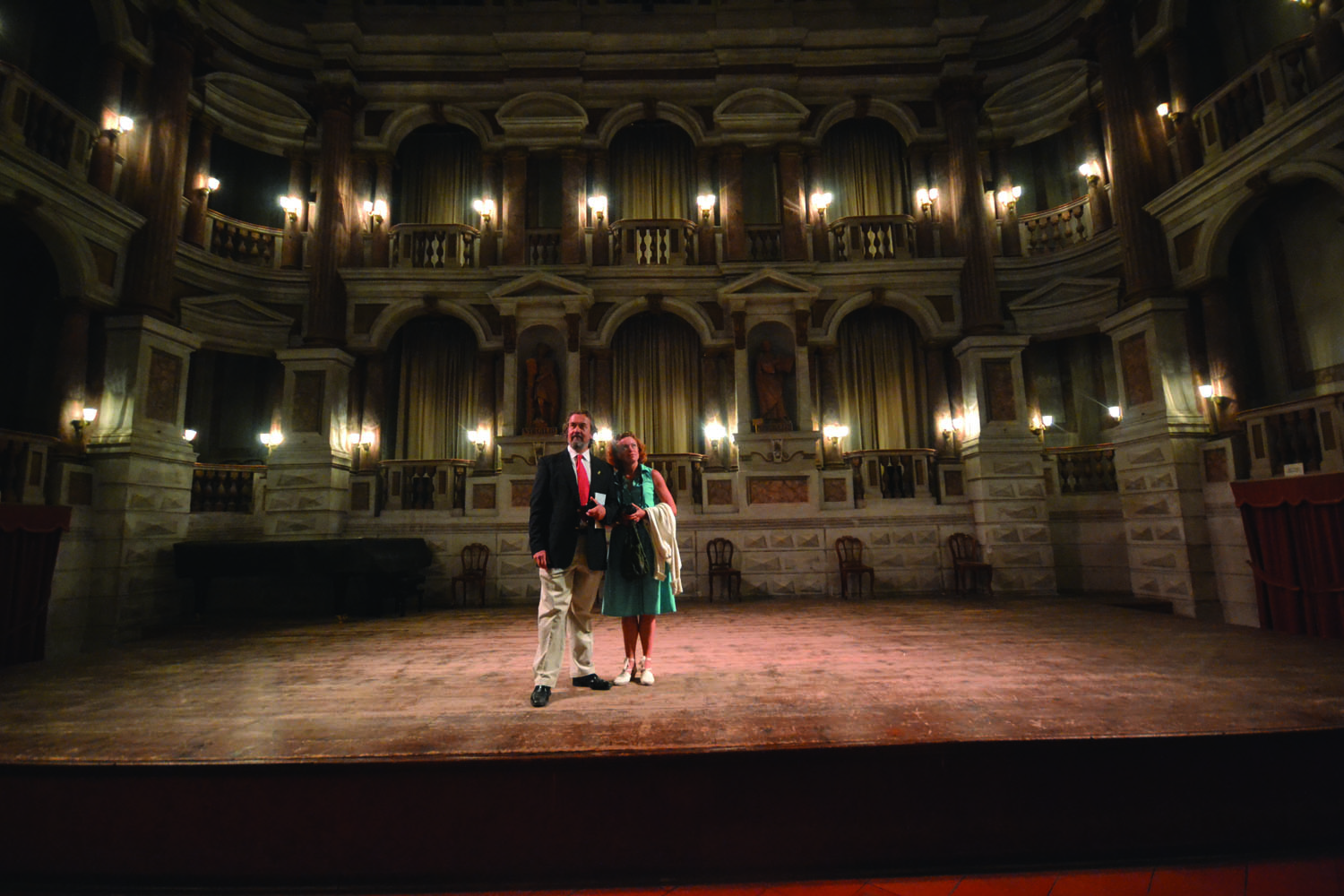 On my way back to Piazza Sordello I got wonderfully lost and discovered two palazzos not in my guide book. The baroque Palazzo Sordi was built for Benedetto Sordi in 1680 by the Flemish architect Frans Geffels. On the plate of six doorbells I found that two members of the Sordi family still lived here. And almost next door was Casa dei Bertani, which the architect Giovanni Bertani bought and adapted for himself. Bertani had trained with Giulio Romano in Mantua and after Romano's death he was promoted to the post of Prefect of the Fabbriche Ducale. Bertani had been translating Vitruvius's designs from the Latin and here he imported two ionic marble columns from Verona that he inserted into the façade, inscribing one with Vitruvian details. The man was actually using his house to advertise his profession. By this time I was surfeiting on history. It is everywhere in Mantua.
The city had woken up by now and was busy going about its day. All these narrow streets, empty when I arrived, were now filled with pedestrians and cyclists, and men and women with small dogs. I don't think I've ever been in an Italian city with quite so many chihuahuas and pomeranians. I found my way back to Piazza delle Erbe along the course of Rio, crossing over it at the Pescherie, a bridge-cum-16th century fish market again designed by Giulio Romano.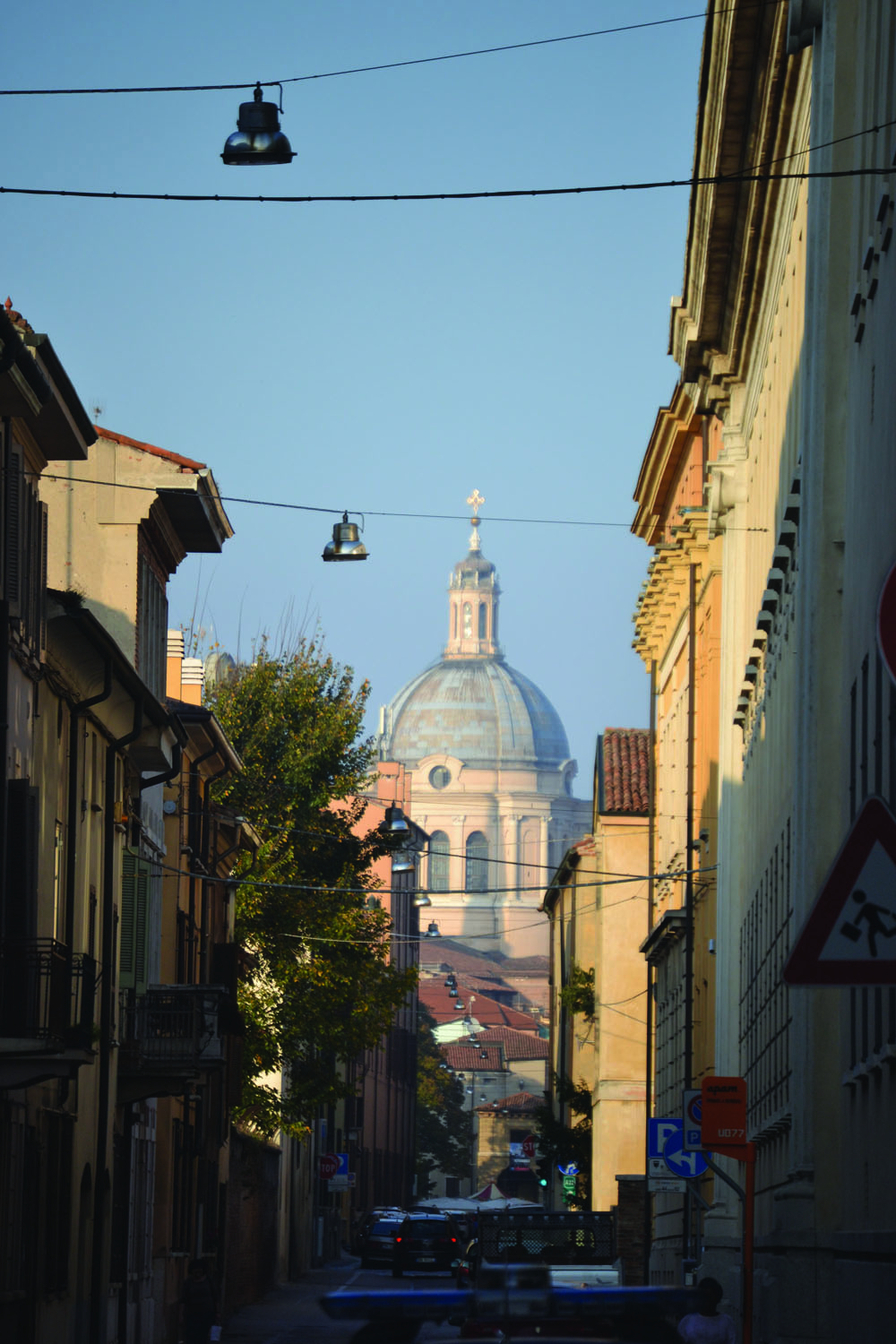 In need of an espresso I paused at Caravatti, one of the oldest cafés in the city centre (where the waitress told me proudly that when in Mantua I should eschew prosecco in favour of their own aperitif of aromatic bitters and wine) and then went to see if I could get into my room in Palazzo Castiglioni.
Faustina the maid was now on hand to let me in and took me up to my room. It turned out to be a huge vault 10 metres high under the roof and big enough to hold a mayoral reception. She also pointed out the wonderful secular frescoes of animals and explained that the spiral staircase in the corner went up onto the roof, but to be careful climbing up there as it wobbled. I had to try it out as soon as she left. On the top the Castiglioni tower I found myself facing straight into the dome of San Andrea with the Ducal Palace behind me. This was going to be an absolutely perfect place for sundowners when my wife arrived this afternoon. For such a small city Mantua, packs a huge amount of history.
Photography © Adrian Mourby