Camilla Purdon discovers the secret world of the Venetian lagoon with a culinary cruise on board one of the region's last historic fishing vessels. Photos by Camilla Purdon unless otherwise stated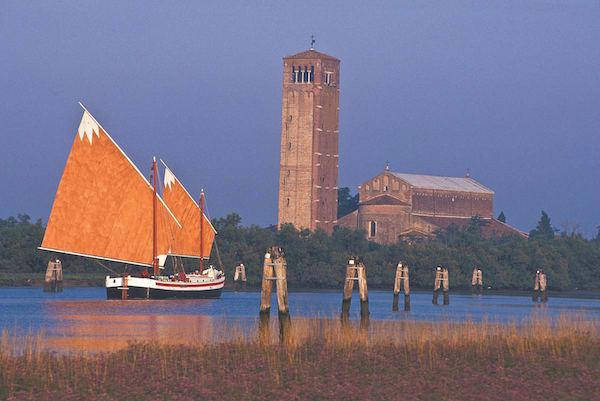 I'm standing on the deck of Eolo, one of Venice's last historic fishing boats, looking out across the limpid green waters of the lagoon. On the horizon I can trace the faint outline of the city's spire-studded skyline, while high above my head a pair of russet sails flap in a breeze laced with aromas of lunch being prepared in the galley kitchen below. By my side, leaning on the tiller, is the boat's owner, skipper and head chef Mauro Stoppa. "I truly love and respect the Venetian lagoon," he explains. "When you know its story and how to approach the area, it opens up a magical world. That's what my mission has been for the last 20 years with Eolo." 
Mauro was introduced to the lagoon as a young boy by his father, a wild duck hunter, with whom he spent countless hours navigating its waterways and marshes while learning about the area's native wildlife. He dreamed of owning and living on a boat from an early age, but it was only in 1998, after several decades of working internationally in the field of agriculture, that he finally realised his ambition and bought the 56-foot vessel we're chatting on today. "The idea was to find something that was close to my soul, close to my heart", he tells me. "Having sailed and lived in the lagoon since childhood, I have a heightened awareness of the region's rich history and natural assets, which I'm passionate about sharing with others." 
God of the winds
Named after Aeolus – the Greek god of the winds – Eolo is a bragozzo, one of the flat-bottomed fishing boats that for centuries plied the shallow waters of the Venetian lagoon and the upper Adriatic. Serving as a working fishing vessel until 1967, she has since been lovingly refurbished and today offers bespoke, luxury expeditions for small groups of discerning travellers. Each itinerary is adapted to the groups' interests and preferences, as well as the ever-changing whims of the wind, following Mauro's firm belief that "you need to take time and respect the rhythms of the lagoon, which is timeless".
For the past three days I've been a guest on one of these tailored trips, which has taken us on a leisurely voyage of discovery around some of the most remote corners of the northern lagoon. While most visitors to Venice make it no further than the "big three" islands of Murano, Burano and Torcello, packing their "lagoon experience" into a rushed couple of hours, Eolo transports its passengers via a labyrinth of meandering channels to reveal hidden fishing valleys, far-flung islets and salt marshes teeming with nesting plovers, peacocks and migrating pink flamingos. 
During our trip, Mauro arranges private visits to a number of lesser-known islands and sites such as the Mekhitarist Monastery of San Lazzaro degli Armeni, one of the leading centres of Armenian culture. Another excursion takes us to Orto, a vineyard on the island of Sant'Erasmo, where bottles of wine are submerged in the lagoon and aged under water for nine months before being shipped to some of the world's finest restaurants. We also spend a morning at the UNESCO remains of Altinum, once home to the original Venetian settlers, who in the 5th century fled the Barbarian hordes and took refuge on the swampy mudflats of the lagoon where Venice would be built. 
Culinary traditions
A cruise on Eolo offers far more than a sightseeing trip around the region, however; it's also an opportunity to discover the lagoon's unique culinary traditions, which are intrinsically linked to Venice's past as a maritime port and nexus of ancient trade routes, where spices and exotic ingredients once arrived from all corners of the globe. 
While his guests relax on board, Mauro and his crew set to work in the tiny yet perfectly equipped kitchen, using the freshest fish and seafood, as well as local meat, game and vegetables, to produce a dazzling array of dishes. "I only use seasonal produce, so our menus change every day, according to what my fishermen friends bring me and what I discover in the local markets", he says. 
Yesterday's lunch, for example, began with platters of crisp seabass croquettes and roasted baby artichokes drenched in extra-virgin olive oil, followed by a tortino of asparagus with parmesan bechamel, steaming bowls of vongole nostrane (highly-prized lagoon clams, brought on board by a local fisherman earlier in the morning), and a dessert of zuppa inglese with wild strawberries and sweet black cherries. This afternoon, Mauro tells me, we will start with crostini with salty lardo and carletti herbs, followed by miniature frittate with wild hops, spring lamb with roasted potatoes and rosemary, and a rich chocolate and almond torte. Depending on the weather, meals are enjoyed either outside on deck or below in the ship's cosy galley cabin, beautifully presented on tables laid with fresh linens, glass and silverware, with every course carefully paired with a selection of local wines. 
Fishermen's cottages
At the end of each day, Eolo docks close to whichever boutique hotel, heritage property or private villa Mauro has hand-picked for his guests to spend the night in. On the first evening of our trip our group stays on Burano, in some of the chic refurbished fishermen's cottages that together form the "Casa Burano" diffused hotel run by the family behind Venissa, a wine resort and Michelin-starred restaurant on the neighbouring island of Mazzorbo, where we enjoy a superb dinner that night. The following evening we travelled north to Cavallino Treporti and spent the night at Locanda alle Porte 1632, an idyllic 17th-century inn on the edge of the lagoon, where dinner was served in a private fishing hut overhanging the Sile river. Here, owner and chef Giovanni Simeoni shows us his traditional lever-operated fishing nets before serving a feast of baked scallops, marinated sardines, baby octopus and white asparagus, followed by his signature tiramisù.
Slow travel ethos
In recent years, Venice has been hitting the world's media headlines all too often with sensationalist stories of extreme over-crowding and gargantuan cruise-liners that continue to pollute the city's air and shake its fragile foundations. Sadly, this extraordinary city once known as La Serenissima is becoming gradually less serene and increasingly fraught with the challenges of modern-day global tourism. But as I've discovered over the past three days, thanks to the responsible "slow travel" ethos behind Eolo, it is certainly still possible to experience and enjoy the timeless magic of the Venetian lagoon, with an altogether different type of cruise that both reveals and respects its unique culture, cuisine and ecosystem.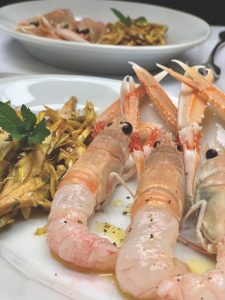 More information
For a typical three-day cruise, inclusive of all excursions, meals and accommodation, prices start at €2,200 per person. Excludes pick-up/drop-off transport before and after the cruise. Maximum 12 guests.
For 2020, Mauro will also be offering bespoke one-day cruises and cooking class cruises, with prices upon application. 
For more details, and how to book check out the Eolo Cruising Venice website or email info@cruisingvenice.com
For more Venice articles, check out our archive