This lesser-know region in idyllic central Puglia is fast becoming a foodie paradise, as Rachel Beckwith discovers as she visits the producers…
Just a light lunch, they said. The heaving table in front of me suggests otherwise – it gives an audible creak every time our hostess balances yet another plate of food at the centre. It is already adorned with all manner of local cheeses and breads, with roasted courgette and aubergines, juicy olives, various speckled charcuterie, and fresh fruit from the local farms – not forgetting the obligatory bottle of wine and, equally important, the bottle of olive oil. I help myself to another ripe fig, the skin still milky from the sap of the tree. A light lunch? I should know by now that in Italy, there really is no such thing.
Located in the 'heel' of the Italian peninsula, the region of Puglia has long boasted fine weather, vibrant culture and a rich, rolling landscape. It is now becoming home to a flourishing foodie scene, too.
The products and recipes that locals have always enjoyed are beginning to vie for attention throughout
Italy, and indeed have begun to spread their influence across the restaurants and kitchens of Europe. The heart of this gourmet revolution is Terra dei Messapi, a locale in the middle of the region.
In this part of Puglia, you'll find the roads dotted with just a smattering of the iconic trulli that has made property here so popular. Then, the deeper you drive, twisting olive trees and vineyards begin to flash past in regular succession. There is no denying that Puglia is a rural region, far from the glitz and glamour of the northern cities. It is a place where flat-capped farmers bend deep in the fields to pull up the year's harvest by hand. As a result, you can expect the food here to be reliably authentic, simple and unpretentious.
A TASTE OF PUGLIA
The city of Mesagne plays a pivotal role. Ten years ago there wasn't a single restaurant in the whole city, as families were reliant, by choice, on home cooking. But now there is an explosion of new eateries run by the younger generation, catering for the growing number of tourists who venture down from Brindisi (the popular coastal destination is just 20 minutes away). Most of these are now successful trattorias, earning a growing reputation among visitors and locals alike.
Artichokes are special to this area, so you'll undoubtedly encounter them at least once during your stay – either preserved as an antipasto or roasted and scattered over focaccia bread. Top of the tasting list should be carciofi di Brindisi, a particularly sweet type of artichoke that has an unusually smooth, spine-free skin. There is even an artichoke festival in Mesagne every year in the first week of April, with the locals showcasing their best recipes. I am told they make pasta, soups and even desserts from the revered vegetable during this springtime celebration.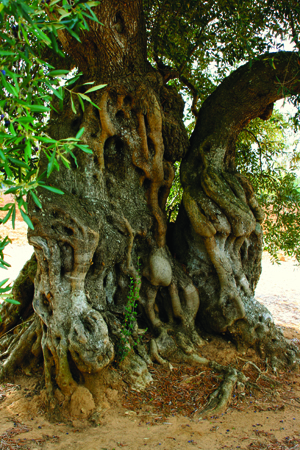 No matter what time of year you visit Terra dei Messapi, you are bound to eat orecchiette – small pasta with a name that translates as 'little ears'. To learn how to make the traditional shaped pasta, I took part in a cookery class. First you roll the dough into a thin sausage, then you cut it into small chunks. Next, you need to drag a knife over each one to give it texture, then use the knife to place it over the tip of your finger – without tearing it. It's this process that gives the pasta its ear-like shape, and makes it perfect for absorbing rich tomato-based sauces. Mine looked a little irregular in size, but I was told they at least had character.
A region as agriculturally diverse as Puglia inevitably produces some fantastic wines. Robust reds dominate the vineyards here, and picking up a bottle or six during your stay is positively encouraged. Negroamaro is the most boldly defined Puglian wine, grown almost exclusively in the Salento area. As its Italian name suggests, it is a deep, dark red (almost nero – black – in colour) with a pleasantly spiced, heavy body. Most vintages will keep well and improve vastly over time.
Another must-try is Primitivo, a grape variety which has been most popularly exported to the vineyards of California. The original, Italian version is widespread in Terra dei Messapi. Of course, you will find plenty of individual producers and estates in this area, many of whom are willing to open their doors to visitors. There are plenty of opportunities to take part in wine tastings, walk around the estates and tour the vast oak barrels buried deep underground.
One such producer is Cantina San Donaci. It is here that I experienced an almost amorous reaction to a humble Puglian wine, Contrada del Falco (2011). I really don't know what happened that year in the vineyards just outside of Mesagne, but the result is truly special – a highly quaffable red wine with notes of dark cherry, chocolate and tobacco. It grows more complex and interesting in the glass – each sip bringing around another rich flavour. I fell in love with it and came home with a suitcase packed full of the stuff.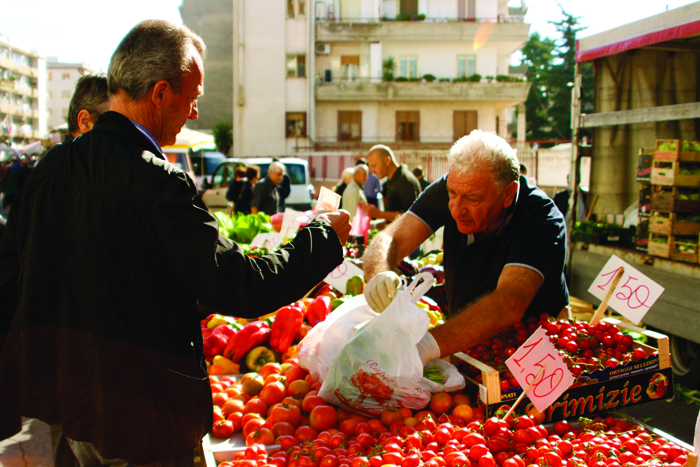 A unique place to visit is Francavilla Fontana. This sleepy town draws visitors for its cobbled streets and traditional crafts, though I went to find the candied almonds. Similar to the confetti you get as Italian wedding favours, the local almond rici are sweet-coated, using a different process that has survived centuries.
The basic ingredients are water, sugar, lemons – and plenty of elbow grease. A husband and wife team keep the history alive in a small shop by making their own rici in a large copper bowl set over a roaring fire. They tip and toss it constantly between them, like a see-saw, occasionally adding a ladleful of the lemon and sugar mixture, which hisses in the heat. The process is quite hypnotic to watch, and almost as enjoyable as eating the sweets still warm from the pan.
As I leave the town with the sweetness of candied almonds on my tongue, I pass the everyday rhythms of local life. An old man wheels his bicycle over the cobbles, heading out for a lunchtime drink. A woman washes her clothes in the street, children circling her like seagulls. The husband and wife who make candied almonds are waving goodbye to me from their shop doorway. I am struck by how kind and accommodating the people of Terra dei Messapi are, and how generous they are with their foodie secrets. 
KEY WINE PRODUCERS
➤Cantina San Donaci
Via Mesagne 62, Brindisi
www.cantinasandonaci.eu
☎ +39 0831 681
➤ Cantine due Palme
Via San Marco 130, Brindisi
www.cantineduepalme.it
MORE INFORMATION
➤Learn more about the vibrant region of Terra dei Messapi by visiting www.terradeimessapi.it
➤ You can order many of the products mentioned – including the wine, orecchiette pasta, biscuits, olive oil and more – from Puglia Shop Online. They deal direct with the producers of the region, so what you order is authentically Puglian. Visit www.pugliashoponline.com for information on how to order.
Tags:
Culture
,
food and wine
,
Gourmet Guide
,
Puglia
,
Terra dei Messapi
,
Tours
,
Travel