Always imagined cycling the Dolmites? Amy Lucinda Jones takes to the roads to see the delights of Trentino Alto Agide from the saddle…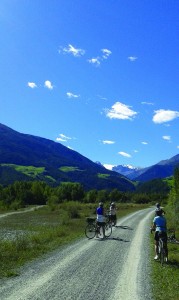 One of the best ways to really experience Italy is, in my opinion, not from the comfort of an air conditioned bus, not from a train compartment, nor is it from a car window. No, the best, and certainly the most exciting and stimulating, way of exploring the beautiful boot is by bike. I had the pleasure of joining a cycling tour to discover one of the most incredible natural features of Italy: the Dolomites.
The dramatic Dolomites range across the region of Trentino-Alto Agide. The fertile land in this all-year-round holiday destination produces a variety of award-winning wines and gutsy grappas, as well as delicious apples from the orchards which are dotted all over the region.
My bike tour began in the small town of Torbole, which is home to some of the most spectacular views of Lake Garda. Oh yes, did I forget to mention that Trentino-Alto Agide borders on the captivating northern end of Lake Garda? What a way to begin a trip! I was tempted to sneak off and spend the next six days just breathing in the impossibly fresh air that surrounds this incredible lake, whilst enjoying some delicious ice cream and sipping on Negronis with very cosmopolitan crowds, but my bike awaited me. I had opted for a hybrid version, after having asked our guide Kara for advice. Kara is the owner of Kara Mia Adventures (see what she did there?), a company that offers guided bike tours in various parts of Italy, all of which include gorgeous hotels and fabulous food at local trattorie and agriturismi.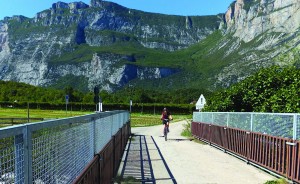 With years of bike tour experience, Kara knew exactly what she was talking about, and had a pretty exciting itinerary lined up for us. Our first carefully selected hotel was the stylish Hotel Santori; crisp, clean and sports oriented, it was full of bikers, hikers and windsurfers – the area is known for its strong winds, which make it a water sport hotspot. Its laid back vibe made it a great place to start the tour and mingle with the other tour-goers. Some had lots of biking experience, others little, so I didn't feel too out of place – I'm not exactly what you would call a fitness fanatic. The first night we were shuttled up to an agriturismo in the mountains, the name of which the guide wants to keep secret as it's a real hidden gem. Pasta with local olives, delicious pork and rabbit, as well as sinful crème caramel and potent limoncello, That evening we practically rolled back down the mountain and into our comfortable beds for a peaceful night's sleep.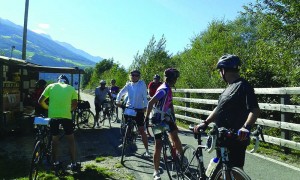 The following day we were given the opportunity to take part in a short hike and a spot of meditation and 'mindfulness', defined as the ability to find one's channels for pleasure. As I sat on the grass with my eyes closed, listening to the gentle sounds of birds and insects around me (and probably on me too, but I was too chilled out to really care), I wasn't sure if I managed to achieve this state of 'mindfulness', but I definitely felt thoroughly relaxed. The outstanding views from our meditation position were surely enough to make even the biggest city fan up sticks and settle for a life in the enchanting countryside.
Tuesday was when the real cycling began. I knew it had to start at some point. Fortunately, most of the cycling over the whole trip was done on the safe cycle paths, piste ciclabili in Italian. Any riding that we did on roads was normally brief, and luckily, in the heavily Germanic-influenced Alto Adige province (where around two thirds of the population speak German as their first language), drivers are very respectful of cyclists, even ones who crawl uphill – I am, of course, talking about myself here. I was left red-faced on more than one occasion, both due to the few uphill stints that pushed my unfit limbs to the limit, and the fact that I was always the last to reach the top. Cringe.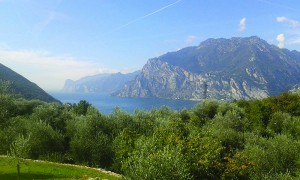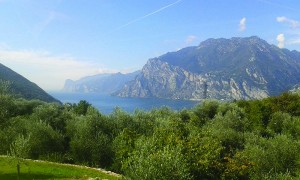 We had the pleasure of cycling alongside the Sarca river, surrounded by dazzling mountains splashed in sunshine. Passing the quaint villages of Arco and Dro, we meandered our way through the blissfully quiet countryside to the Pisoni winery. Here, you'll witness a true passion for winemaking and be met by some very hospitable staff who don't speak much English, but do insist you try their delicious wine and grappa. Following this lunch break, the next part of our journey was a little more of a struggle, as a lunch lull kicked in. However, the crisp mountain air and striking views succeeded in waking us up.
An incredible meal at Ai Spazzi Restaurant awaited us that evening, and as we coasted up the mountainside in a tram, we marvelled at the tranquillity of Mezzocorona and its surroundings; this well-known wine gro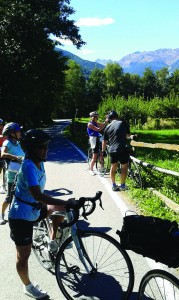 wing area is often described as the 'most beautiful wine garden of Europe'. As well as the scrumptious food – a common theme throughout the entire tour – a highlight of the evening was without doubt the 10 litre jug of juniper grappa presented to us at the end of the meal. Again, we all slept pretty well that night…
After our night at the Albergo Caffè Centrale in Mezzocorona, we once again set off for our next charming destination. The next hotel I was really looking forward to as, in reality, Schloss Korb Hotel wasn't so much a hotel, but an actual castle. How wonderful it was to rest my tired body in this true of oasis of tranquillity, complete with every home comfort and the fluffiest bath robes and slippers. With the sweet smell of the countless roses and intensely beautiful views of the Überetsch valley, I could have stayed there for a month. A lot of tour group bonding was done in the grand dining room that evening, as we tucked into our sumptuous dinner, which consisted of succulent swordfish and the most incredible salad buffet I have ever witnessed. Needless to say, we felt like kings.
The next day, after a small lapse in concentration and some very unskilled map reading, I managed to make a wrong turn and found myself wondering where on earth I was. A quick call to the guide and the directions of a very helpful local set me back on the right track, and I was once again cruising along a comfortable cycle path. With barely anyone else around, I felt myself truly getting back to nature, as I swerved around geckos and caterpillars on the path and smelt the sweetness of the surrounding apple orchards. This was why I had chosen to ride alone this time.
The final town on our itinerary was beautiful Merano. Known for its relaxing spa resorts and once home to Franz Kafka, in Merano yo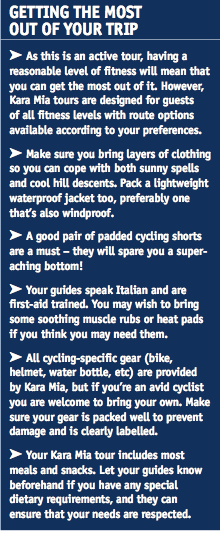 u can also find some marvellous 15th century churches. With a 50/50 split of Italian and German speaking residents, the mix of cultures is simply wonderful; Italian laid back attitudes together with Germanic politeness and efficiency? Now there's a place I wouldn't mind living. On Thursday afternoon I took a relaxing walk along the Passeggiata Tappeiner, which meanders up Monte Benedetto and offers sweet scents of local plants and wild flowers, as well as truly amazing views. One of the best things about this trip was the balance of cycling and the amount of free time we got to explore and discover the locations in which we stayed – at no point were we 'forced' to engage in any activities. It was all very mellow and unhurried.
We were to stay in the four star Hotel Meranerhof, which overlooks the Passer river in Merano, for two nights. On the final full day we made our way to the train station and after a 60-minute train journey from Merano up to Malles, we were in for a 62km ride back down. We cruised through shaded woodland and along sunny cycle paths before stopping at a little restaurant along the way for some knödels (German potato dumplings) and a refreshing beer. We then continued on our way back towards Merano, weaving through more orchards and stopping for a little dolce in the form of homemade apple strudel and apple juice at a cute little stand nestled among the fragrant trees. As the sun was starting to go down and my bottom was starting to ache just a little, we took a final breather at a viewpoint overlooking the entire city and the surrounding mountains. I had a nice little chat with Kara at this point, and she revealed to me just how much she loved this place. I could definitely see why: I hadn't felt so relaxed and rejuvenated in quite a long time.
As well as meeting some amazing people and realising that I, Miss hardly-ever-does-any-sport, actually do have the capacity to ride around the Dolomites on a bike without getting lost. Okay… without getting lost more than once. The fact that we could go off and explore independently, safe in the knowledge that there was help on hand whenever we needed it, made for a pretty successful and truly enjoyable trip.
Yes, your bottom may be saved in a nice comfortable coach, but will you get to dodge caterpillars and smell the sweet scent of red apples as you whizz by on two wheels, with the majestic Dolomites as a backdrop? Definitely not. Just don't forget those padded cycling shorts.
Tags:
Alps
,
Cycling
,
Dolmites