Adrian Mourby shares some of the best sights, accommodation and places to eat & drink in one of Venice's least-visited districts
Photos by Kate Tadman-Mourby
What to see and do
Querini Stampalia
After the Querini family died out in 1868 their palazzo – and all its art works – was turned into a museum featuring paintings by Bellini, Tieplo and the Longhis.
Santa Maria Formosa, Castello 5252

 +39 041 271 1411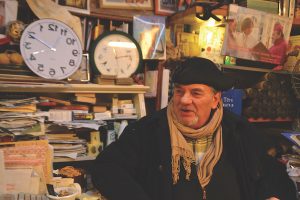 Alta Acqua
Luigi Frizzo (right) runs this eccentric bookshop with books stacked in an old gondola and a bath, and cats sleeping on the till. You may not find the book you want but you certainly won't get bored.
Calle Longa Santa Maria Formosa, 5176/b

 +39 041 296 0841
Santa Maria Formosa
The irregular Campo Santa Maria Formosa is dominated by its titular church, which has two distinct façades. The one facing the canal is High Renaissance; the other, facing into the campo, is baroque.
Calle Seconda de la Fava, 5263
Museo Storico Navale
From the Doges' Bucintoro (pictured left) to Italian torpedo mini-subs from World War II, this compact museum provides various interesting insights into Venice's long and unique relationship with the sea.
Riva San Biasio, 2148

 +39 041 244 1399 
Scuola degli SS Giorgio e Trifone
This 15th-century meeting house was built by Slav merchants (Schiavoni) and inside it are many paintings depicting the lives of the saints by Vittore Carpaccio. Among the other notable sighter, over the entrance you'll find a relief of St George and the Dragon by Pietro di Salò; above it, a Virgin enthroned with Saints.
Castello, 3259/a

 +39 041 522 8828
Chiesa San Zaccaria
There's an atmospheric, waterlogged crypt containing the mortal remains of eight doges in this majestic church, but also a delightful Madonna and Child with Saints by Giovanni Bellini.
Campo San Zaccaria, 4693

 +39 041 522 1257
Where to stay
Danieli
The oldest commercial hotel in Venice and one of the grandest, with superb views of Bacino San Marco.
Riva degli Schiavoni

+39 041 522 6480
Palazzo Sant'Antonin
Small, family-run palazzo with a large garden and friendly staff. Less than ten minutes from Riva degli Schiavoni.
Fondamenta dei Furlani

 +39 041 523 1621
Liassidi Palace Hotel 
A 15th-century palazzo arranged around an attractive modern courtyard with rooms overlooking the Fondamenta San Lorenzo.
Ponte dei Greci

 +39 041 520 5658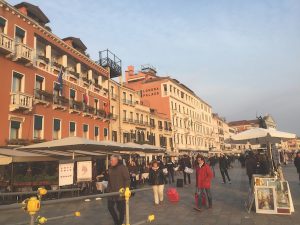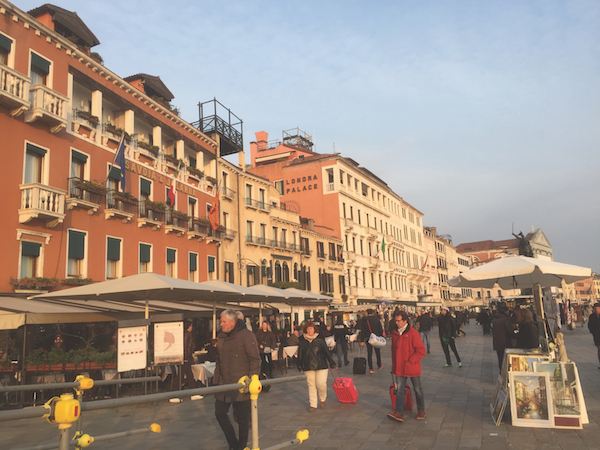 Londra Palace
Tchaikovsky's favourite Venetian hotel (right) is located behind the statue to Vittorio Emauele II on Riva degli Schiavoni.
Riva degli Schiavoni

 +39 041 520 0533
Palazzo Schiavoni
A series of self-catering apartments near the Scuola degli SS Giorgio e Trifone with the luxury of breakfast delivered to your room in the morning.
Fondamenta dei Furlani

+39 041 241 1275
Hotel La Residenza
The former Palazzo Badoer Gritti sits on the campo where Vivaldi was baptised.
Campo Bandiera e Moro

+39 041 528 5315
Where to eat & drink
Al Vecio Canton
Hearty taverna rising over two floors in Castello's old Armenian neighbourhood with a good line in pizza and house wine.
Ruga Giuffa

 +39 041 528 7143
CoVino
A tiny, 16-seater corner restaurant with a fixed €40 menu for three courses that features local specialities re-imagined. The name is a pun on "little cave" and a place with wine.
Calle del Pestrin

+39 041 241 2705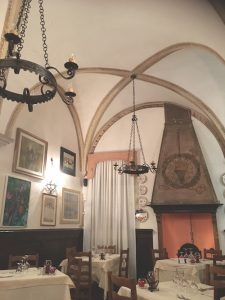 Al Giardinetto da Severino
The main restaurant is inside a 14th-century family chapel (left) but most people come to eat in the 200-seater garden which grows its own grapes for a sweet red wine.
Salizada Zorzi

+39 041 528 5332
Paradiso
Friendly waiters serve a good-value lunch here on the ground floor of the Hotel Savoia & Jolanda. People come for the view of San Giorgio Maggiore and, for once, are not overcharged for it.
Riva degli Schiavoni

+39 041 520 6644
Osteria Oliva Nera
Isabella serves excellent seafood in this cosy, informal restaurant in Castello's old Greek neighbourhood.
Calle Seconda de la Fava

+39 041 522 2170
Local
One of the best trendy new restaurants in Castello, housed in an old shop opposite Chiesa di Sant'Antonin. The innovative chef from Murano places great emphasis on sourcing local produce.
Salizada dei Greci

+39 041 241 1128
Getting there
By plane
British Airways offers return flights from Heathrow, Gatwick and London City airports from £62. British Airways Holidays offers three nights at the Danieli in Castello from £499pp.  Price includes return flights. The cheapest way to transfer from Marco Polo airport to Castello is by taking the Venice Airport Express followed by a vaporetto from Piazzale Roma to San Zaccaria. The fastest way to transfer is by water taxi, which costs €110 for a maximum four people if booked in advance.
By train
Railbookers (0203 780 2222) offers three nights at the Londra Palace in Castello, including all trains, one night in Geneva en route and a return flight from £1,189pp.
Get inspiration for your travels and join Adrian for a walk around the wonderful Castello district here.