Alta Badia in the Dolomites offers more than just a simple skiing holiday – Rachel Wilson-Couch indulges in the new gourmet concept of Slope Food while strapping on a pair of skis for the first time…
Just ski into my arms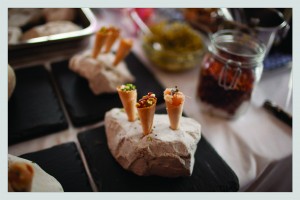 , it'll be fine." Walter, ski maestro at the Corvara ski school looked at me with hope and a little nod of the head. I looked back and saw only a vision of myself in a heap on top of him. The slope dropped away behind him. I leant forward, not wanting to disappoint either of us. The skis shifted and as instructed I pushed my shins to touch the front of the boots, feeling, and finally enjoying the sensation of cutting through untouched powdered snow. With a nifty couple of snowplough turns and wobbly parallel diagonals, I was at the bottom all too soon, wanting to get straight back to the top so I could do it all again.
"Con il capello, puo'essere o brutto o bello." Walter looked at me smiling and we both looked up at the sandstone coloured peak of Sassongher, a daunting 2,665m high. The detto – or saying –meant that a 'hat' of cloud on the peak could mean either good or bad weather. Translation: no one knew what the weather would do. He chuckled as he explained to me the Ladin sense of humour, the oldest language in the South Tyrol, which is still a strong part of local identity and culture, protected by law and taught in schools.
Learning to ski in your late-30s is potentially a daunting experience. Bones take longer to heal and the fear of resurrecting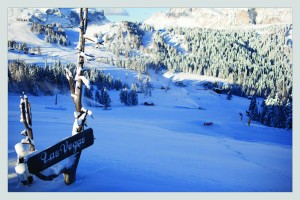 an old knee injury initially held me back. But let go, fall a few times and the sheer joy of downward momentum in the bosom of the Dolomites is an exhilarating experience. Both ski maestros, Walter and Barbara, were locals and worked other jobs to supplement the ski season – Walter as a golf instructor and Barbara as a physiotherapist. Corvara offers beginners a nursery slope just outside the school with carpet and button lift as well as easy access by chair lift to a longer and more undulating slope at Colfosco.
LATE SEASON BENEFITS
Skiing in the Dolomites can start as early as the first week of December and last right through until the beginning of April. The advantage of late season skiing according to Rory Byrne of luxury holiday company, Powder Byrne, are higher temperatures and fewer people: "Sit outside with a coffee on the slopes in March and April, close your eyes and you almost feel like you could be on the beach."
GOURMET FOOD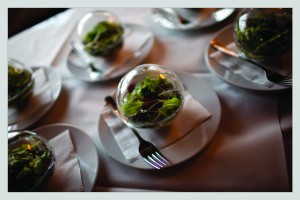 With the launch of the 2013 ski season in Alta Badia comes not only the struggle of one more beginner on the nursery slopes, but a brand new concept in eating on the hop: Slope Food and the Gourmet Ski Safari. The idea is for skiers to ski from refuge to refuge, indulging in tapas-style food produced by six gourmet chefs, each matched to a local wine.
Alta Badia is uniquely placed to offer both top quality food (such as excellent cured meats and cheeses, typical of mountain regions), but also some of the best wines in Italy from the smallest wine-producing area. After three hours of lessons, our first stop at Club Moritzino, a mere stumble from the 'bubble' lifts at Piz La Ila, was a welcome pit-stop. We were tipped off by a local that Moritzino held the best parties on the slopes. We were here not to dance the night away however, but to indulge in two dishes created by two different chefs.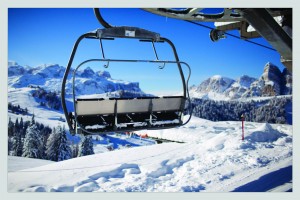 Lorenzo Cogo from the restaurant El Coq in Vicenza is, at 26, one of the youngest Italian chefs with a Michelin star. His creation was a vegetarian salad with flowers, fruits and herbs from the South Tyrol. On paper, dull. In reality, it was exquisite: the salad was inside a plastic dome that had to be shaken to release a pink beetroot dressing encased in a white chocolate ball. He bravely admitted that he was "sick of pork" (especially the local speck) and wanted to do something different. The apples, chestnuts, hazelnuts, cabbage leaves and croutons were washed back with a glass of fresh Alto Adige Sauvignon.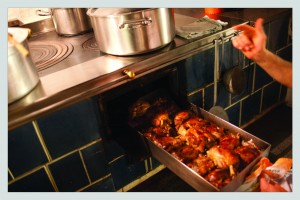 Also at Moritzino was Matteo Vigotti from one of the most famous eating establishments in Milan: the renowned deli and restaurant Peck. His slope food was
an arc of crispy local black bread filled with a Parmesan pudding, South Tyrolean apples in a mostarda di mele and the ubiquitous speck. In effect, gourmet scrambled eggs and bacon with toast and a hint of sweetness from the apples, finished off with a glass of aromatic Gewürztraminer.
An exhilarating ski or skidoo ride away (for the less able) was the refuge I Tabla where the only British chef, John Burton-Race, had prepared a Cornish speciality, joined by Arturo Spicocchi from the Michelin-starred La Stua de Michil in Corvara. Arturo's pigs cheeks browned in South Tyrolean honey, on a potato and horseradish foam with crispy speck, was gutsy and filling – the foam delicious, the cheeks a little tough. Paired with the dish was an exquisite St Maddalena, the best red of the trip so far for me. It was light, making it an ideal afternoon tipple but with a fruity depth and complexity.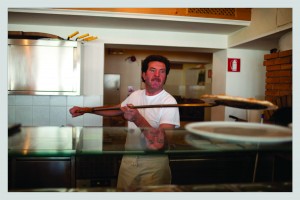 John Burton-Race, Michelin starred chef and TV personality, had bravely given the humble Cornish pasty an Italian makeover with South Tyrolean beef, speck and apple. The pastry was a little dry and the cut of beef probably too good to be in a pasty, but the idea did fit the brief the best; the pasty is the ultimate in portable dining. We followed not with the traditional Cornish ale, but another red, this time
a Lagrein, velvety and aromatic.
The final two slope food options were the work of two-Michelin star chef Norbert Niederkofler of local restaurant St Hubertus and Fabio Cucchelli of the Michelin-starred La Siriola. Norbert presented three mini cones featuring in turn a filling of: tartare of char fish, cheese foam and onion braised in wine vinegar, all served with a glass of Gewürtzraminer. Fabio Cucchelli had cooked up a fish soup with baccalà, polenta and crispy speck, matched with a fresh Pinot Bianco.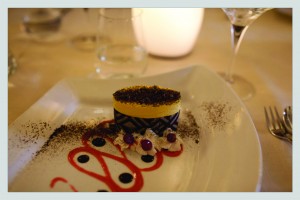 Priced between 9 and 15 euros per dish with wine, Alta Badia's foray into Slope Food and the Ski Safari offers excellent food straight from some of Italy's finest Michelin-starred chefs – all delivered in a portable and affordable package. The idea not only echoes with the current popularity of gourmet street food, which has stripped eating back to the bare essentials, but is a culinary and cultural tour of some of the best products, wines and chefs in the region.
Nothing quite builds up an appetite more than what feels like imminent death on the chair lift, sustained humiliation on the nursery slope followed swiftly by the final elation of completing your first 'run'. The emotional rollercoaster of learning to ski – coupled with the reward of such top quality food and wine – turned a sports holiday into an unforgettable gourmet experience.
WHERE TO EAT SLOPE FOOD
➤ Las Vegas Lodge
Piz Sorega 15, San Cassiano
+39 4718 40138
www.lasvegasonline.it
At 6.50am and 7.20am every Tuesday and Thursday, you can experience breakfast on the peaks at Las Vegas. Snow cats will transport you from the centre of Corvara up to the refuge to eat a traditional Alto Adige breakfast with local products such as cheeses and jams, hams and yoghurts, pastries and cakes. The lodge also serves lunch and dinner and has a limited number of beautifully designed rooms for guests. Interiors are natural and eco-friendly, featuring wood and stone with a contemporary eating and drinking area downstairs. The pizzeria is open Wednesday evenings and a traditional Ladin dinner is also served on Wednesdays with a DJ and music. Ulli, the owner, is a warm and welcoming host who is particularly fond of hitting the slopes at high speed on his skidoo!
Price range €€
➤ Maso Runch
Runch 11
+39 4718 39796
www.masorunch.it
The Maso Runch Farm is at the foot of the Natural Park Puez Odles, 15 minutes from Lalung Lake. Food is traditional Ladin cuisine which is served daily. The set evening meal is six courses of traditional farming food featuring dishes such as soup, roast meats, polenta and pancakes with spinach and ricotta, all cooked in an old wood-fired oven.
While it is a great way to taste Ladin food, the six courses consist of quite generous portions, so it may be worth ordering less. The farmhouse is an agriturismo, offering both summer and winter accommodation in rustic apartments on the farm. The atmosphere is homely and traditional, with excellent service to boot. In summer, fresh eggs and milk are available everyday. Ideal for children who can pet the animals and make good use of the playground.
Price range €
➤ PIZ SOREGA
Str. Pizsorega nr. 1
+39 4718 49434
www.pizsorega.it
Three generations of the same family live above the restaurant in Piz Sorega: granny and granddad, mum and dad and two children who make the daily commute to the bottom of the slopes for school everyday. The name translates as 'peak over the river' and the restaurant serves some of the best pizza in the area. Traditional options include the tricolore pizza: basil, tomato and mozzarella and the most popular is the diavolo, which is layered with local spicy salami. The atmosphere is warm, friendly and informal and prices are very reasonable for the high quality of the food. Warm up with an elderflower Prosecco before moving on to the main course with a large group of friends in a cosy venue that offers great value for money.
Price range €
➤ The Restaurant St Hubertus
Strada Micura de Ru 20, San Cassiano
www.rosalpina.it
The first incarnation of St Hubertus was as a small restaurant that was originally part of a pizzeria. Then came the Michelin star and the pizzeria closed to become what is now a two-star Michelin restaurant in one of Cassiano's most sought-after dining spots. There are now nine tables in the dining room,
one by the open fireplace and the chef's table, together with a private dining room which looks into the kitchen. The menu draws influence from traditional Alto Adige gastronomy, its history, and aims to 'synergise' local produce and agriculture with research and local chefs. Dishes include the St Hubertus variations on liver, hare terrine and pig's head risotto. You can expect enjoyable and top quality food for a very special occasion, served in a very special location.
Price range €€€
➤ LA STUA DE MICHIL
Hotel La Perla, Str. Col Alt 105, Corvara
+39 4718 31000
www.hotel-laperla.it
The Costa family first opened La Perla as a hotel in 1956 and it is the stunning interiors as well as the Michelin-starred food that makes it stand out in
a region of fine dining. Wood-panelled walls make for a cosy yet elegant dining space that cleverly mixes formal with informal. Dishes aim to use up to 80 per cent local organic produce, and where possible, fairtrade. Arturo's Slope Food dish – honey-glazed pig cheeks on a potato and horseradish foam – reflects the ethos of the restaurant, which is to use local and draw on the traditional to create some of the most visually pleasing dishes on the slopes with mouth-watering flavour. Expect to pay Michelin star prices for a rather eccentric dining experience that is worth every euro.
Price range €€€
➤ RIVIERA
Zattere, Dorsodoro 1473, Venice
+39 0415 227621
www.alpesador.it
Though not officially slope food, refueling after a flight into Venice will set you up for skiing and make your journey to Alta Badia much more relaxed. Any flight in or out of Venice always warrants a pit-stop, especially in the winter time when the tourists are few and the mist and cold winds rid the city of tourists and smells. Take a water taxi straight from behind Marco Polo airport to this venue and enjoy the food of a truly passionate restaurateur. "I want to change the world and I want to start with a sandwich," professes GP who has only been in the business for a couple of years. We start with a smorgasbord of seafood, followed by razor clam, tomato and samphire spaghetti, finishing with a caramel ice cream 'sandwich'. Service was immaculate and the passion for producing simple food for the right reasons, in a city geared up for mass tourism, was inspiring.
Price range €€
Tags:
Alta Badia
,
Culture
,
Dolmites
,
food
,
Gourmet Guide
,
Holidays
,
Skiing
,
Slope Food