Just 25 miles off the coast of Lazio, Ponza is a favourite holiday haunt of the Romans. Mario Matassa embarks on a voyage of discovery to Italy's undiscovered island.

There's something about island holidays that brings out the boy adventurer in me. From the moment I see the ferry navigating its way into port I feel a tingle of excitement that land-bound holidays somehow fail to inspire. Once on board it's a race against my sons to see who reaches the deck first. I sense their excitement and I know exactly how they feel. As the mainland slowly disappears into the horizon, there's nothing but open blue sea and the mystery of that island somewhere far ahead.
The island of Ponza stands out as something of an anomaly. Say 'Sardinia', 'Sicily' or 'Capri' and everyone nods in recognition. But mention Ponza and, more often than not, you're greeted with a blank stare. The Romans, for good reason, like it this way. In over three decades of mass tourism, they have managed – miraculously, some might say – to keep this place virtually a secret. 

Ponza (Isola di Ponza) is the largest of the six Italian Pontine Islands, a string of volcanic formations off the coast of Lazio. It is located about 25 miles south of Cape Circeo in the Tyrrhenian Sea. It's small as far as islands are concerned – approximately seven kilometres long and barely two kilometres wide.
Land AHOY!
After two hours of uninterrupted serene blue sky and sea I'm beginning to wonder if the captain knows where he's going. Then, suddenly, it's there. The island rises out of the horizon like a mirage – tall white cliffs, a smattering of tiny buildings, craggy stalagmites rising from the water. Yet, even though the first sight of land from a distance was spectacular, it's nothing in comparison to the picture postcard spectacle that confronts you from the moment that you disembark.
It is an explosion of colour and activity. The dazzling hues of pinks, blues and yellows of the Moorish-looking cubed houses rising steeply from the harbour look like an assortment of randomly scattered Neapolitan chocolates. Below, in the crescent-shaped harbour, sits a no less impressive array of boats – comprising everything from ferries, sailboats and luxury yachts, which mingle seamlessly with the simplest and most charming fishing and rowing boats.
Immediately I knew we'd come to the right place. But then, we were in good company. During the winter months this tiny little island is home to a mere 3,000 inhabitants. In the summer, however, numbers swell to 30,000. It's a popular resort amongst Romans and is a favourite of international celebrities. Distinguished vacationers to Ponza have included Kirk Douglas and his son Michael, Burt Lancaster, Sophia Loren and Princess Caroline of Monaco – not to mention Jacques Cousteau and his son Philippe, who also filmed several documentaries in the area.
The Perfect Tour Guide 
As we disembarked we were greeted by Antonio Iacovella – Tony – our host for the next couple of days. His family originate from Lazio, and he spent 20 years in Dublin before returning to Italy where he met his wife Nina, a true Ponzesi. Together they now run a charming B&B on the island.
Moments later six of us, along with baggage, were bumping through the warren of streets in Tony's battered but trustworthy old Fiat Panda. I wouldn't advise bringing your car to the island. The roads are steep and, in places, it looked as though even his Panda couldn't possibly fit. In fact, some streets appear narrower than the average footpath. Once you've seen them you'll understand why vehicle rentals on the island are limited to mopeds, yellow-painted Pandas, miniscule jeeps and golf carts!
Tony's B&B, Casa D'Atri, is perfectly located. Via Scotti runs high above the town and the view from the terrace, which overlooks the bay, was mesmerising. The house, parts of which are carved out of the mountainside, dates back to the Bourbonic period when the Kingdom of Naples re-colonised the island.
Naturally, as you'd expect on an island, activities centre around the water. There are several beaches on Ponza, the most popular being the Spiaggia di Frontone and the Chiaia di Luna or Half Moon Beach. The latter is only accessible by a 2,500 year old Roman gallery tunnel carved through the mountain. Unfortunately, at the time of my visit it was closed as some careless local workers had used explosive gelignite instead of a chisel to dig a conduit. It was, however, being repaired.
Other beaches scattered along the coast are really only accessible by boat. These can be rented at a reasonable cost or alternatively, for anyone not comfortable at the helm, there are all sorts of organised boating excursions to choose from.
After our long journey the idea of relaxing on the beach was too tempting to resist. Tony's 12-year-old son Giovanni volunteered to act as our personal tour guide, although we were under strict instructions that he wasn't to go into the water (Italians believe that anything below 35 degrees is too cold for swimming!). We took the taxi boat from the harbour to Spiagga di Frontone, which takes about ten minutes. The boat pulled up just a few metres from the beach and we all spilled out into the water. Within minutes I'd failed miserably in my role as temporary guardian. Giovanni, along with my two sons, just weren't to be contained.
Later that afternoon, after we managed to drag the kids out of the water, we headed into town. There are two main shopping streets running parallel with the harbour. There's no shortage of boutique shops and the local ceramics are well worth a second glance. The Saperi & Sapori shop sells a broad range of typical local products. While the boys were busy devouring an enormous mound of ice-cream in the gelateria next door, I sampled my fair share (and my wife's) of the local limoncino, as well as a chocolate and a melon flavoured liqueur. I couldn't decide which I liked the best as they were all utterly delicious, so I left with a few bottles in hand.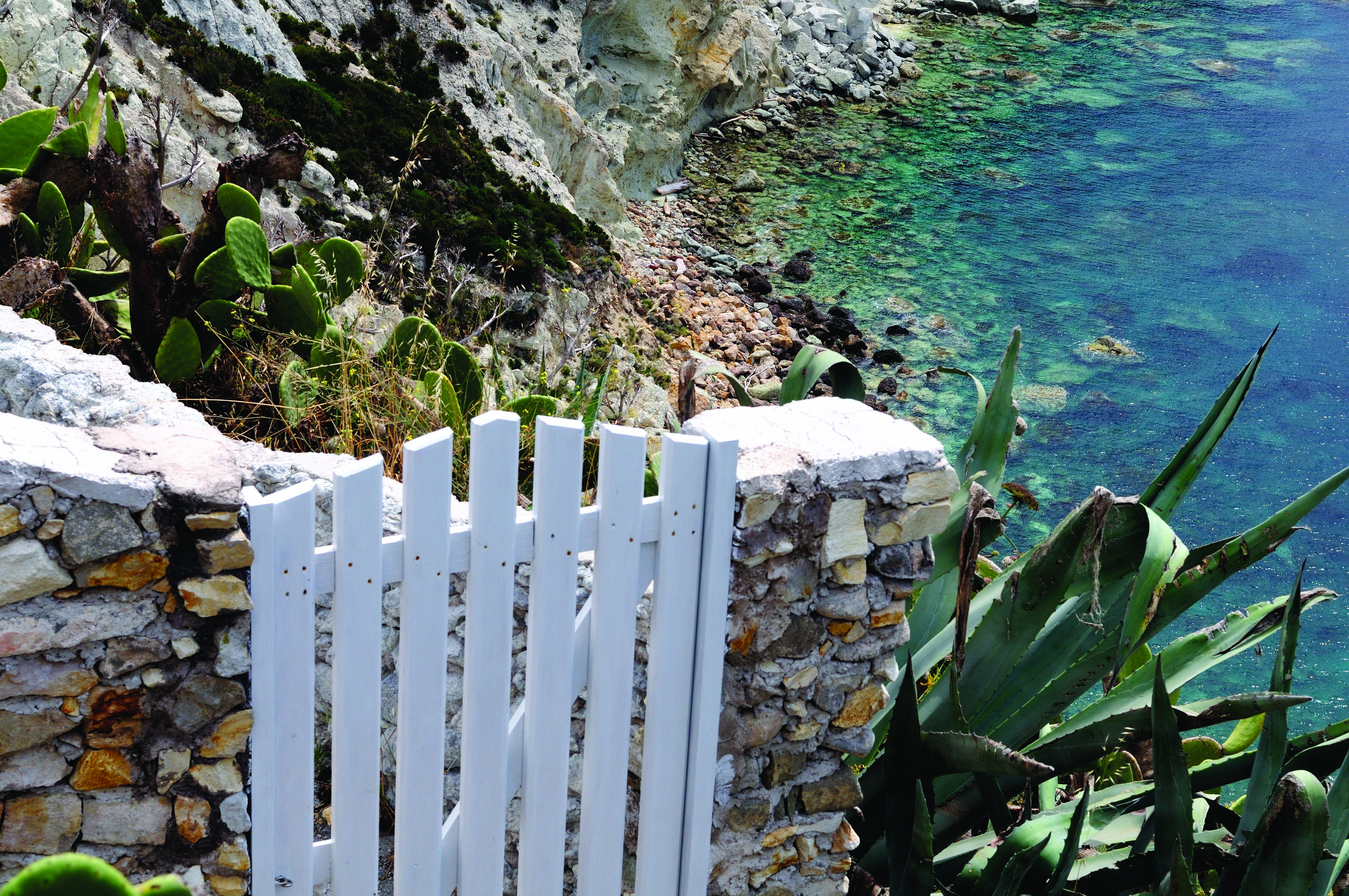 As evening approached, numbers on the streets began swelling as Italians emerged for the customary pre-dinner passeggiata. As one would expect, Ponza is a seafood lovers' idea of paradise and there are any number of good restaurants to choose from on the island. For tonight we opted to take a taxi to Il Tramonto, located in Campo Inglese (English Camp), which is named after the site where the English soldiers were garrisoned after their invasion of the island in 1813.
The English, it has to be said, were by no means the first to invade Ponza. Over the years it has been captured at one time or another by – amongst others – the Spanish, Greeks, French, Moors, Carthaginians, Egyptians and Canaanites. History lessons aside, the restaurant occupies a dominant position in the middle of the island and enjoys some rather special views from the terrace of neighbouring islands Palmarola to the west and Zannone to the east. And it was a bonus that the food here happened to be rather special too!
A Place Apart
By late afternoon we were one in a flotilla of boats speeding back into harbour. Dinner time was approaching! That evening, sitting at a restaurant overlooking the harbour, I watched a couple of local fishermen cheerfully unloading their catch. It suddenly occurred to me what makes this place so special. For all its natural beauty, for all the glitz and glamour of the multi-million-pound yachts resting in the harbour, Ponza remains unspoiled and unpretentious. Life here is as simple and relaxed as it ever was.
The following morning Giovanni was up, ready and waiting to see us off. As our ship slipped back out to sea he stood diligently on the dock, waving farewell. In a way I envy him. I find it hard to imagine a more perfect childhood. After all, on an island, every day is an adventure.