Explore Pavia and Oltrepò Pavese – one of Italy's best-kept secrets and not far from Milan. Words and photos by Valentina Nicastro
There's a stretch of land just 40 kilometres south of Milan that is still fairly unknown to tourists and offers the unique opportunity to live a truly authentic Italian experience. This is Oltrepò Pavese (which literally means "on the other side of the Po", the river that runs through the large plain in the north of Italy). It is a beautiful region where medieval castles and charming hamlets combine with scenic roads and an excellent gastronomic tradition. It is also the largest wine district of Lombardy (much larger than the more famous Franciacorta region), and produces fine wines made from grape varieties such as Bonarda, Barbera, Pinot Gris, Pinot Noir and Moscato.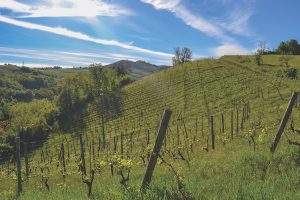 The landscape of Oltrepò Pavese is characterised by gentle hills painted with hues of browns and greens, punctuated by the bright colours of modern tractors driving around on old farm estates. This is very much a country of farmers and producers who cultivate their land with love and dedication, and this culture is reflected in the peaceful atmosphere and genuine hospitality that can be enjoyed here. 
Exploring this region makes for a perfect escape from the crowded tourist trails around Milan and could also be a nice break for those walking the Via Francigena, as the route passes through the territory of Pavia.
The charming university town of Pavia is the ideal place to start this journey through the beauties of Oltrepò Pavese. It's just a short train ride from Milan and offers a great mix of sights, cafés and shops that can be easily explored on foot.
One of the most ancient sites here is the Church of San Pietro in Ciel d'Oro, a stunning basilica dating back to the 8th century that holds the relics of St Augustine and the remains of the 6th-century philosopher Severino Boezio.Close to the church is the Castello Visconteo, which was commissioned by Galeazzo II Visconti in the 14th century. It has been frequented by figures as illustrious as Leonardo da Vinci and Petrarch and is now home to the town's Civic Museums, which boast a rich collection of paintings and sculptures.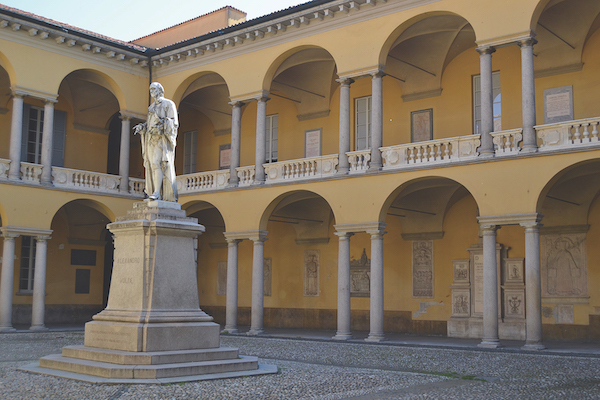 From here you can cross over to reach Pavia's main street, Strada Nuova, which is is lined with cute shops and important landmarks, like the Fraschini Theatre and the University, which is one of the oldest and most prestigious in Europe; its professors and alumni have included the likes of the 16th-century polymath Gerolamo Cardano, and Alessandro Volta, the 18th-century physicist who is credited as the inventor of the electric battery. 
A quick detour from here through Corso Giuseppe Garibaldi leads to the Gelateria Da Cesare, an institution for ice cream (and hot chocolate) lovers; and from there it's a super quick stroll to the Basilica di San Michele Maggiore, where the crowning ceremonies of Italian kings once took place. 
Next stop is the old Covered Bridge, the preeminent symbol of Pavia, which connects the town centre with Borgo Ticino, a picturesque district of colourful houses and typical trattorie.
Our last stop is Piazza del Duomo, to admire the third largest dome in Italy, before indulging in an aperitivo in Piazza della Vittoria, the hub of the town's social whirl.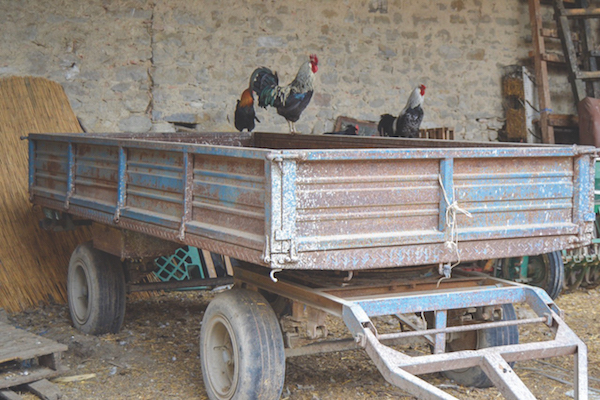 Changing landscape
Leaving Pavia behind, the landscape slowly changes to open fields and hilly roads. I would strongly suggest hiring a car to explore Oltrepò Pavese, so you are free to stop whenever you please to admire the beautiful views that open up at every turn. (You'll do this pretty often!)
My first stop is San Ponzo, a charming village that is entirely built in stone and wrapped around tiny, atmospheric alleys. The entrance to the village is dominated by the parish church, which is home to the relics of the patron saint, San Ponzo. There are various hiking trails through the surrounding woods and with a 40-minute walk you can reach the caves of San Ponzo, where it is said that the saint went to pray in solitude. While you are exploring the village, make sure you visit Verardo, a small, family-run farming estate that breeds an endangered cattle variety known as Varzese, which produces excellent cheeses. Entering their courtyard feels like stepping back in time!
About 10 kilometres from San Ponzo is Varzi, a delightful town whose historical centre has perfectly preserved centuries of rich heritage. Varzi is located in a strategic position along the Via del Sale, an ancient route used by merchants to take salt from the Ligurian coasts to the markets of the Po Valley, and this is reflected in the unique system of porticoed streets that constitute the town's most striking feature. These porticoes were used to provide shelter to the animals and goods of the tradesmen and can still be admired in Vicolo Dietro le Mura and Via del Mercato.
Other interesting sights include Via di Dentro, squeezed between two medieval towers, and the 12th-century Malaspina Castle in Piazza del Municipio, with its Witches' Tower, where people accused of witchcraft were imprisoned during the Inquisition. The town is also famous also for Salame di Varzi, produced by small artisan firms.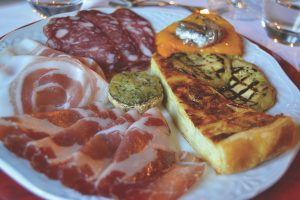 After feasting on local delicacies at the Officina dei Sapori, we'll head to Zavattarello, which is considered to be one of Italy's most beautiful villages – I Borghi più belli d'Italia. As we travel, the road gets narrower and slowly rises between meadows and vineyards, with beautiful views.
In medieval times Zavattarello was a renowned centre for the production of slippers – its name actually derives from the word savatèn (makers of slippers). The square is surrounded by stone buildings and is home to the 14th-century Oratory of San Rocco, which contains a magnificent wooden altar and, unusually and curiously, is connected to the town hall via the bell tower. 
Towering magnificently above the village is the Dal Verme Castle, which was built in the 10th century by the monastery of Bobbio and subsequently belonged to the Dal Verme family for six centuries. The castle is an impressive example of medieval defensive architecture and has a terrace that offers 360-degree views over the surrounding valley. Apparently it's still inhabited by the ghost of Pietro Dal Verme, lord of the castle in the 15th century. He was poisoned by his second wife, Chiara Sforza, and continues to manifest his presence through mysterious noises!
After a quick visit to the heritage museum Magazzino dei Ricordi on Via Vittorio Emanuele, and the cemetery behind the Church of San Paolo to admire its unique octagonal shape, we'll drive for about 20 minutes to Fortunago, another one of Italy's most beautiful villages. Although most of its medieval fortification has been destroyed, Fortunago has managed to preserve a magic atmosphere of past times thanks to an accurate restoration of its old stone houses and porphyry-paved streets. A walk up to Piazzetta della Chiesa offers a view over the hills of Oltrepò that can reach as far as the mountains.

Community of monks
Our final destination for the day is the Abbey of Sant'Alberto di Butrio, one of the most important sights in Oltrepò Pavese. At about 700 metres above sea level, the abbey is in a stunning position surrounded by woods and silence. It was founded by the hermit St. Albert in the XI century and today is managed by a small community of monks who produce honey, essences and natural medicines sold in the abbey shop.
The abbey consists of three interconnected churches, one of which is covered in beautiful frescoes reproducing saints and stories of miracles. You can see the relics of the saint, and the room of the blind brother Frate Ave Maria, who lived here for 40 years and is famous for his devotion and charitable actions. However, what strikes me most is learning that the abbey is thought to be the final resting place of no less than King Edward II of England!
The usual story is that Edward was murdered in England by order of his wife and buried at Gloucester, but according to some historians he managed to escape and found refuge here. Nobody can say for sure where the real tomb is, which only serves to increase the air of mystery that surrounds this religious complex.
Finally, it's time to head back home, but there are still a couple of important things we need to do before we leave. First, we have to stock up on delicious cured meats from the Thogan Porri family; then we must take part in a well-deserved wine tasting session at Montelio, an historic winery that has been developed on an old monastery estate where grapes were cultivated as early as the 13th century. 
For more about Oltrepò Pavese, check out Valentina's travel guide to the area