This is a city full of iconic must-sees, but there are also hidden gems and lesser-known spots just waiting to be discovered, says Amanda Robinson
Photos by Amanda Robinson unless otherwise stated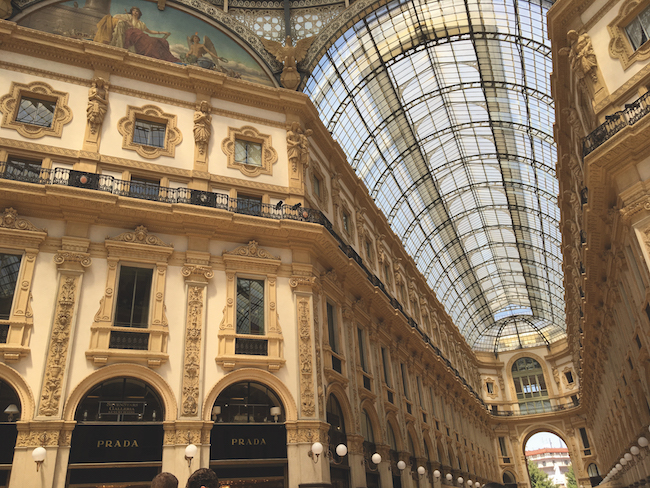 Like all large metropolitan cities, Milan sets a busy pace. A centre for international business and at the cutting edge of haute couture and design, this city has purpose. Driving through Milan, you can see this all around you. This is a commercial hub, a mecca for fashionistas, with much sleek new investment and expansion, and yes, you can sense the vibrant atmosphere of the city as you move around it. But what about the life that goes on alongside all this hustle and bustle? What is actually going on behind those elegant façades and wrought-iron gates? I was hoping to find out. I was in Milan for a weekend in the company of a hometown girl; her shining enthusiasm for returning to her native city was certainly infectious, and under her guidance I hoped to discover more than a visitor normally would about this northern capital.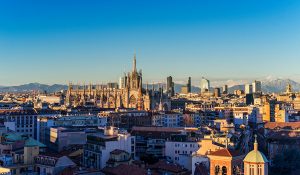 As we sped along Milan's gracious, wide avenues to our hotel, I couldn't help but notice that they were lined with grey stone buildings that had the unmistakable look of 19th-century Paris; at the corners of some of these long terraces were pavement bistros and relaxed alfresco customers. The many wrought-iron balconies and gates were delicate and attractive, and as I glanced upward (if there is one thing you should always do when you go to Milan, it is look up), rooftops and windowboxes were positively spilling over with green planting of every dimension. It's an extraordinary sight wherever you go in this city – and, if you get the chance, do visit Bosco Verticale (Vertical Forest), two apartment blocks in the Porta Nuova planted with more than 900 trees. Back to the French connection, and it transpires that my hunch was right: when Napoleon invaded Italy, it was his intention to set up a brand-new capital for his newly conquered kingdom, and that capital was to be Milan. Napoleon the First was indeed crowned at Milan's Duomo on May 26, 1805. History also tells us that his reign was short-lived, but he left his Gallic mark on the city's roads and residences with a truly Parisian style.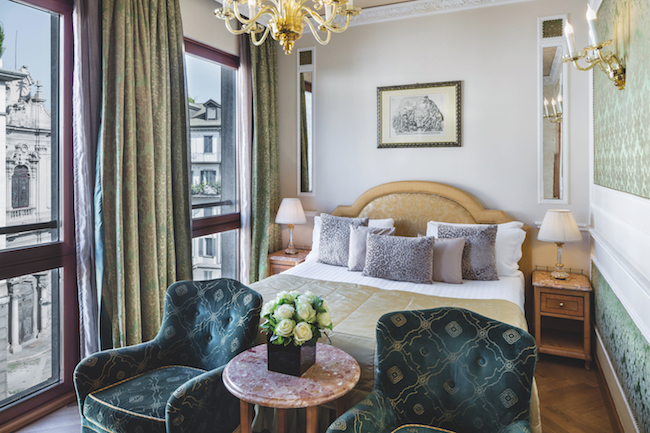 Weekend bolthole
Our home for the weekend was the centrally situated Carlton Baglioni hotel, an impressive five-star, family-run hotel set back from the main road with its own drive. Elegant and welcoming, it has all the traditional hospitality and quality you would expect, coupled with modern innovation and flair. Overlooking Via della Spiga, Milan's most famous shopping street, the hotel has its own discreet entrance at the rear that allows easy access to a world of retail therapy and all that glorious window-shopping. The relaxing rooms and suites are tastefully furnished to suit their generous proportions with opulent detail and contemporary touches. Downstairs, there is a wellness centre and spa, while the recently re-opened Caffè Baglioni showcases its healthy eating menu, designed by young chef Marika Elefante.
In life there is always balance of course, and the hotel's fine dining restaurant, Il Baretto al Baglioni, is a far more traditional offering. Something of a Milanese institution, its food is unashamedly authentic fare (risotto alla milanese, osso buco) all served with a flourish in an oak-panelled ambience, with old-fashioned courtesy. A popular table with non-resident diners as well, this is the place to be, and be seen. And don't forget the traditional Milanese aperitivo at 19.02 precisely. This is 'Ferrari Time', after the sparkling wine made by Ferrari in Trento, and this is served alongside a mouthwatering array of antipasti. It's a rather chic Italian equivalent of afternoon tea, which you can book via the concierge at the hotel (concierge.carltonmilano@baglionihotels.com).
Of course, you could spend your entire stay indulging your shopping impulse, and a visit to Milan wouldn't be complete with a stop-off at the Galleria Vittorio Emanuele II, the celebrated covered arcade, and one of the first in the world. Its impressive mosaic floor makes you fell like you're on a catwalk even if you're just there to window-shop all those incredible designers.
Duomo detour
Back in search of culture now, and to something unexpected on the way to the Duomo. Criss-crossing the tramlines and admiring the brightly-painted carriages as we walked, we came to the smallest of chapels, tucked away down a narrow path. It's open to visitors, and we stepped into an extraordinary space. The walls are lined with row upon row of skulls and bones and surrounded by ornate Baroque carving and decoration. This is San Bernardino alle Ossa, an ancient church once linked to the nearby Ospedale del Brolo, which is now long-gone. Strangely moving, this chapel is a place of beauty despite its macabre décor. And, as always, look up to be rewarded with a breathtaking fresco on the domed ceiling, sending the souls of the departed to their eternal rest.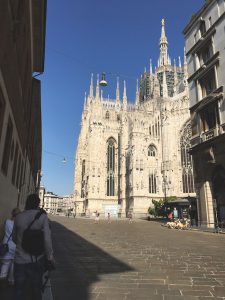 Much has been said about the Duomo round the corner from San Bernardino alle Ossa of course, but it is still worth stating that it is one of the tallest cathedrals in the world, and possibly the most impressive with its intricate details, Gothic vaulted skeleton ribcage exterior and spires that took 500 years to complete. Yes, the queues are long but there is the fast-track option, and anyway it is worth the wait.
For another infusion of cultural splendour, the Pinacoteca di Brera is a mere five minutes' walk from the Duomo. The main public gallery in Milan, Palazzo Brera houses one of the world's most significant collections of Italian art, with works by such luminaries as Caravaggio, Bramante, Piero della Francesca and Gentile Bellini.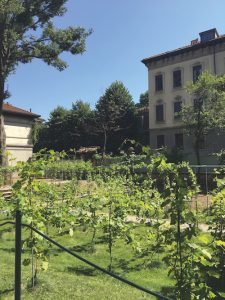 Another place of pilgrimage for art lovers is the Santa Maria delle Grazie, home to Leonardo da Vinci's The Last Supper, but just across the road on Corso Magento is another place you should go. It's behind more of those intriguing wrought-iron gates so often peered through with a moment or two of imaginative speculation based on a glimpse of the detail beyond. This time, the gates were opened and we were ushered into the shaded courtyard of Casa Degli Atellani, a 15th-century restored Milanese palazzo. Impressive enough in itself, with frescoes and mosaics, it unexpectedly reveals beautiful gardens to the rear.
Within this green oasis is La Vigna di Leonardo, Leonardo's vineyard. Having moved to Milan in 1482, he was commissioned to paint The Last Supper in 1495 in the refectory of Santa Maria delle Grazie by his patron, Ludovico Sforza, who gave him the vineyard over the road in 1499 as a gift, apparently to encourage him to stay in city. After 500 years, the vines have been replanted; they are now flourishing in this tranquil open space. It's open to the public, along with the museum in the main house, and it is well worth booking a guide to show you around. Make sure you keep a look out for the tortoises roaming in the undergrowth, though. I'm not sure how happy they were with visitors invading their space – and they can move pretty smartly when they want to!
There are other secret gardens we didn't get to see this time, like Villa Invernizzi with its flamingos, and Villa Necchi Campiglio (see last month's issue of Italia!), which should definitely be on your radar if you have time.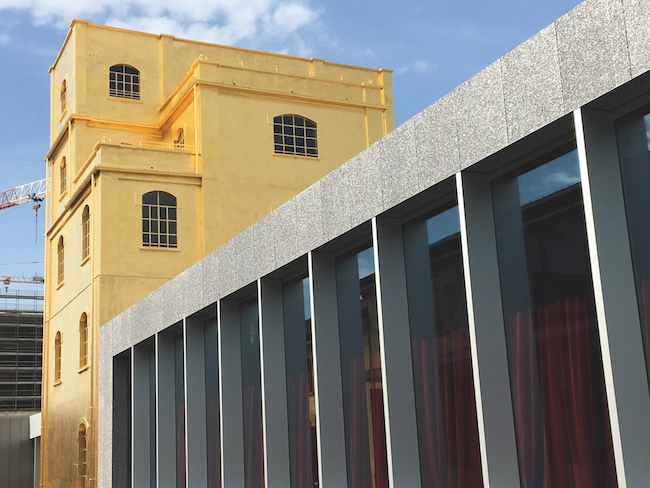 Final stop
From the venerable and classic to the ultra-modern, hyper-chic world of the Prada Foundation, our last stop on this tour. Slightly out of town, on the site of an old distillery, the Fondazione Prada building rises up out of an average suburban setting with the arresting focal point of a golden tower standing proudly amidst the urban and industrial construction surrounding it. Gilded with 24-carat gold, the Haunted House is just one of the permanent exhibition spaces at this cool and dynamic complex dedicated to contemporary art and culture.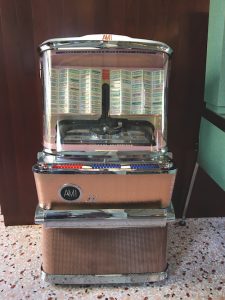 There's also a cinema and a retro bar, Bar Luce, decked out in fine '50s and '60s style by film director Wes Anderson. International artists that have exhibited here include Anish Kapoor and Louise Bourgeois. In 2016, the Foundation also opened Osservatorio, a gallery dedicated to photography in the Galleria Vittorio Emanuele II. One ticket is valid for the two venues if you visit them both within seven days.
Yes, we experienced the pace of the city (not to mention the 40-degree heatwave while we were there), but there is so much more than the usual tourist destinations to engage with. Don't miss out on the Duomo, La Scala et al, of course – but do take time out to explore some of the more unexpected sights and cultural surprises that Milan has to offer. You'll find them. I'm definitely going back for more.
For more Milan travel ideas and advice (including the best places to stay, eat and visit), make sure you read Amanda's Milan Travel Guide.