Genoa might not be the first place you think of for a city break, but it has a special history with lots to see that you won't find anywhere else, beyond all the boats. Jon Palmer sets sail…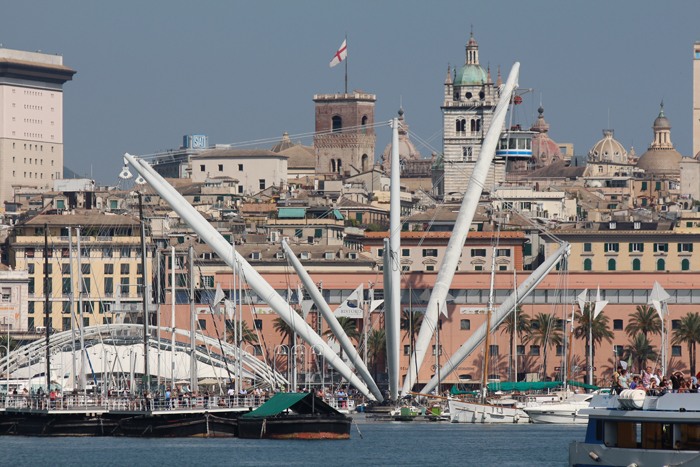 Genoa is the second busiest port in Italy, after Gioia Tauro, and the sixth busiest in the Mediterranean. With La Spezia, the Med's seventh largest port, just down the coast, the influence of major cargo tonnage is inescapable. As a port, it's a little larger than Southampton, though as a city it's about three times the size of Southampton and (as a Hampshire man myself I can say this) it has rather a lot more going for it – apart from all the boats!
For one thing it has the Palazzi dei Rolli, which are quite unique and worth a weekend's visit just in themselves. The Genoese have always resisted strictly hierarchical government and as a consequence they have no publicly owned grand palaces. Instead they have a series of palazzi – 144 if you count them all – that were, and often still are, owned by important families and used in the days of the Republic to accommodate visiting foreign dignitaries. In 2006, 42 of these houses became the focal point of Genoa's Strade Nuove (New Streets) Unesco Heritage Site. Because most of them are still privately owned, they have varying degrees of public access, but if you look out for the city's Rolli Days (there's a week of them this month, for example), you will find that many more of them throw open their doors and welcome the public in. Some of the most important ones are almost always open, and people rent them out for grand occasions like weddings, or go to see their art collections, or just to visit their roof gardens – small oases of calm designed to make the most of what little space there is here between mountain and sea. In these gardens, if you're lucky, as well as compact, ornate landscaping, grottos and rare flora, you'll see parrots. Nobody knows why – though it's probably related to the city's long seafaring history – but Genoa is home to a sizeable colony of parrots.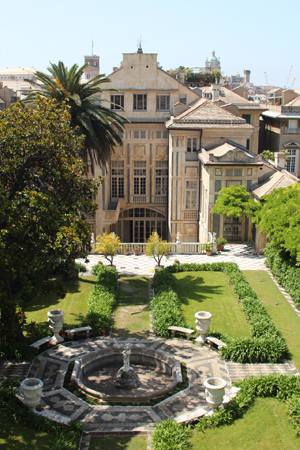 You can't escape the influence of the sea in Genoa, and the way the city always looks out towards it. There is the Bigo, the city's latest major landmark, built for the 1992 Christopher Columbus celebrations, and taking inspiration from the derricks that loaded ships in the past. There is Christopher Columbus himself, Genoa's greatest son. He may have sailed to the Americas under the flag of Spain, but he came from Genoa. The Genoese are very proud of this, and keen to make sure you understand that Columbus was Genoese, and not Spanish, even if his ships were. There is Giuseppe Garibaldi: it was from Genoa that Garibaldi sailed with the 'One Thousand' that would conquer Sicily and then march north to unify Italy. And then there is the lady I met at Pesto di Prà (www.ilpestodipra.com).
We had been invited along there to see how they make proper Genoese, classic, original pesto. At Pesto di Prà they have the basil growing in greenhouses and a little factory where they make and bottle it. If you want proper pesto (and the Genoese are as proud of their pesto as they are of the man who discovered the Americas and the man who unified Italy) you go to Prà. It's to the west of the city, just up the steep mountainside that rises out of the sea and above the port's not so beautiful container terminal. As we enjoyed a plate of anchovies with pesto, looking down the hillside she started telling me how she could remember when this was all fields. She reminisced about growing basil, tomatoes, lettuce and courgettes on the slope between where we were standing and what she remembers as pristine Mediterranean coastline, but looked to me more like the River Test at Southampton…
This is Genoa's dilemma. It must retain its status as a port. Trapped between mountain and sea, with no arable land to speak of, it can be nothing else. Yet it also wants to show itself off as the beautiful city it is, and to regain the ground it lost in the 20th century as a destination in its own right, as a city that is rich in history and culture, rather than just somewhere to take a boat from to somewhere else.
It wasn't always like this – in days gone by, Genoa was teeming with tourists. In the 18th century, 'grand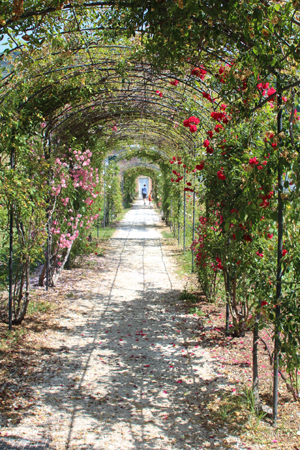 tourists' who were perhaps planning to visit Venice on the way home would come here from Turin and await a boat to afford them passage to Leghorn or Lerici. But such boats were rarely frequent and never punctual. Many an 18th century aristocrat found he had time to explore La Superba. The tradition continued through the 19th century and into the 20th with literary greats Charles Dickens, Henry James, Anton Chekhov and Dylan Thomas all spending time here. "The dock-front of Genoa is marvellous," Thomas wrote in a letter to his parents in 1947 (obviously in one of his lighter moods – Genoa can do that to you). "Such heat and colours and dirt and noise and loud wicked alleys with all the washing in the world hanging from the high windows."
Its pastel-painted and frescoed buildings, seemingly sat higgledy-piggledy one atop the other up the mountainside, tell you that this is a proud, pretty, yet understated city that doesn't boast about its culture and achievements. You can see that much in the Genoese people. They feel they have a reputation in Italy as being cold and indifferent, but they are probably just a little bit more northern European than some of their compatriots. Unlike some, the Genoese don't dress up or go out of their way to be seen in the best cafés. They are polite and welcoming – though really no more or less than anybody you'll meet in any other city. They're just ordinary people who live in an extraordinary place.Genoa's intended reinvention as a tourist destination is based on its unique heritage, its pretty position between mountain and sea, its excellent seafood (a result, in no small part, of the fact that there really is no farmable land here), its narrow alleyways that squirm through its enormous historical centre – though in fact, Genoa doesn't really have a centre, it's more a collection of small neighbourhoods jostling each other for very little space. And if it does have a centre – a 'heart', that is – this has always been its port.
It is at the port that you really see the beginnings of the transformation of the city from functional to fascinating. The Maritime Museum is a magnificently executed immersive experience – at one point, quite literally, as they have a feature that lets you experience what it's like to be in a lifeboat in a storm. The Aquarium is the largest in Italy, and the sharks in it seem larger still as they swim menacingly around you with only an enormous glass wall between you and a world from which you would never emerge. You can walk along the sea front here, perhaps looking for another fantastic fish restaurant, though whatever you do you won't miss the umbrella of the flyover above you, which runs directly through the city and is, frankly, an eyesore. The road will be hard to move, but they have plans for the area: a total restructuring of the waterside, and even ideas for relocating the airport to its own purpose-built island out in the sea.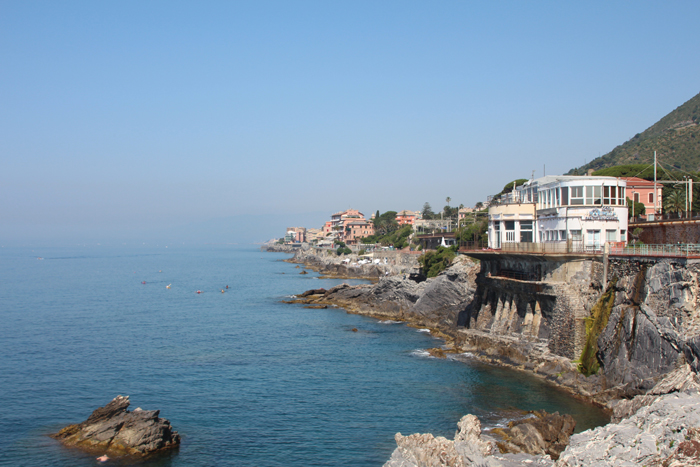 We were there for the Regatta of the Ancient Maritime Republics, an annual event more like Hong Kong's Dragon Boat Race than Oxford and Cambridge – contested in eight-man coxed boats, but on the open sea, with fanfare, ceremony and fancy dress. The Regatta moves from Ancient Republic to Ancient Republic. This year it was Genoa's turn, then it will go to Venice, Pisa and Amalfi. Venice won the race by the way – as they usually do. La Serenissima may have steadily lost ground as the Mediterranean's premier port ever since Columbus (who was Genoese, let's not forget!) discovered America, but they still rule at the rowing. Genoa, however, is starting to make ground in the tourism stakes.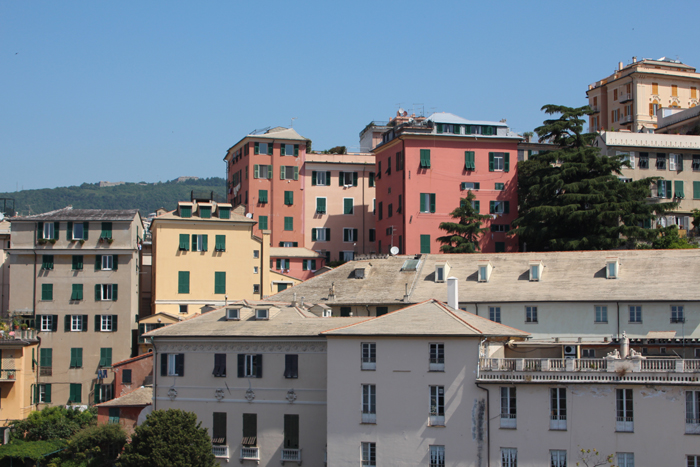 DON'T MISS
The Galata Sea Museum
As befits the birthplace of Christopher Columbus, Genoa has the largest maritime museum in the Mediterranean, which includes a fascinating virtual tour showing you what it would have been like to emigrate from here to the Americas in the old days.
The Aquarium
One of the largest displays of biodiversity in Europe, with a new Whale Tank and its City of Children, it's the largest structure in Italy dedicated to games, science and technology for little ones. See all this, and visit the bathhouse at San Nazzaro, any weekend until the end of September, with hotel included, for just €90 per person per night.
I Musei di Strada Nuova
Get a guided tour of the old town, plus entrance to the Musei di Strada Nuova in via Garibaldi – a Unesco World Heritage Site – and the Museo di Sant' Agostino, and see the city's 21 historic shops, any weekend until the end of September, with hotel included, for just €70 per person per night.
Tags:
48 Hours
,
Boats
,
Coast
,
Genoa
,
Holidays
,
Port