For a Christmas break with a difference, join Rachael Martin as she heads to Milan and nearby Lake Como to soak up the festive atmosphere…
Milan photos by Comune di Milano unless otherwise stated

1. Christmas starts early in Milan with the Sant'Ambrogio festival
On 7 December it is the feast day of Milan's patron saint, Sant'Ambrogio (Saint Ambrose), who was Bishop of Milan during the 4th century. It's a festival that's much loved by the Milanese, the time of the Oh bej! Oh bej! Christmas market, and the opening night of the season at La Scala. The day after is la Festa dell'Immacolata Concezione, the Feast of the Immaculate Conception. Both are public holidays and are referred to collectively as il ponte, literally 'the bridge', or 'long weekend'. For tourists it's a great time to fit in a pre-Christmas trip and indulge in some serious Christmas shopping in one of the world's fashion capitals, while taking in the sights and enjoying the festivities.

2. Then there's all that shopping…
When in Milan, shop. Milan knows style (and quality) like few other cities, and it defines a way of life. Start by checking out the designer names along Via Montenapoleone in Milan's fashion district, known as the Golden Quad. Then head off to some of the quieter pedestrianized streets such as Via della Spiga. Nearby Brera is home to boutiques, art galleries and a vintage clothes store named Cavalli e Nastri. Also go to Madame Pauline to indulge in more vintage clothing and accessories for the Christmas party season. The decorations at La Rinascente department store are always spectacular and a visit for stocking fillers is a must. Go to Funky Table for Christmas baubles and more, while Cargo has plenty of home and design gifts to bring back.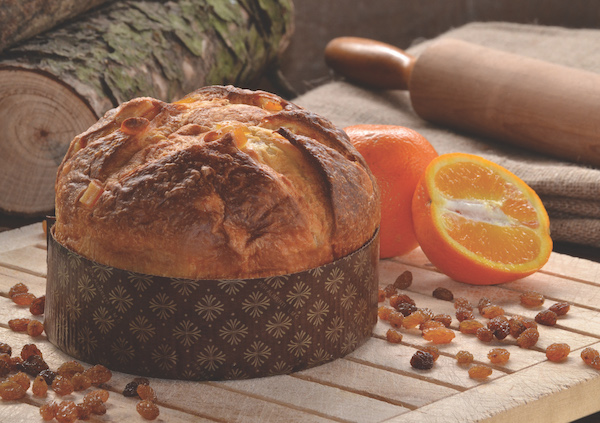 3. …Not to mention all that cake
Milan's Christmas cake is panettone. Last year the Galleria Vittorio Emanuele II saw the largest panettone in the world enter the Guinness World Records. It took six pastry chefs to make it, was 150cm high and was decorated by the Chocolate Academy Centre, headed by world champion chocolatier Davide Comaschi. If you'd like to take home your own panettone, Pasticceria Cova, Pasticceria Marchesi and Pasticceria Cucchi are popular. Pasticceria Martesana is also renowned for its Sachertorte, while Pasticceria Ranieri makes a pineapple version. Peck is another great place to stock up on panettone and more, as is Eataly.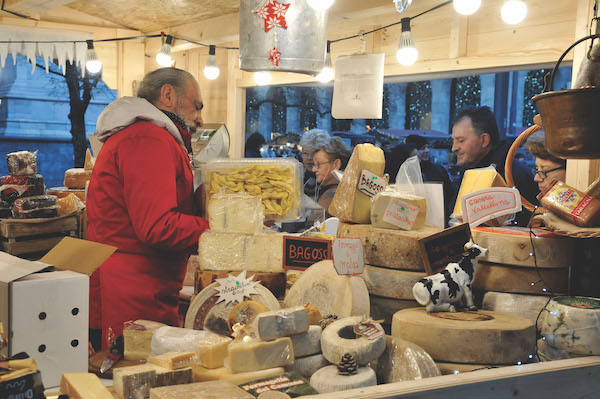 4. Christmas markets range from the traditional to the ever-so hip
L'Artigiano in Fiera (30 November – 8 December 2019) at the Rho Fiera Milan Exhibition Centre displays crafts from Italy and all over the world alongside Italian food and wine. Traditional craft market Oh bej! Oh bej! (5-8 December) takes place along the outside of the walls of the Castello Sforzesco. Christmas Villages with ice rinks are set up at the Villaggio delle Meraviglie at the Giardini Pubblici Indro Montanelli and Darsena Christmas Village, right next to the Navigli. There are also traditional markets in Piazza del Duomo and Piazza Duca d'Aosta. Also see the Christmas edition of the Mercatone dell'Antiquariato (15 December), Milan's antiques market that stretches all along the Naviglio Grande. East Market is the vintage market inspired by the markets of East London, here in its Christmas edition (15 December, admission €3, under-14s free). Head out to Lambrate for Il Sabato di Lambrate local festival (14 December) with local crafts, food and drink, again all in Christmas key.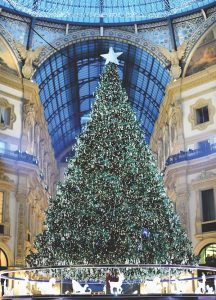 5. The Christmas trees are typically well dressed
The Christmas tree in Piazza del Duomo is one of the first to be lit, at the beginning of December, as is the tree in Galleria Vittorio Emanuele II. Get wrapped up and take an evening walk to fully enjoy the Christmas spirit. Stroll around the historical centre and then head up to Via Brera or Via Solferino for dinner. Alternatively, start in Piazza del Duomo, move on to Via Torino, one of the city's main shopping streets, and then along Corso di Porta Ticinese. Finish with a well-deserved aperitivo along the Naviglio Grande. 
6. Como's Christmas celebrations are just an hour away
Città dei Balocchi (23 November 2019 – 6 January 2020) is the city's Christmas festival, with its air of pure magic that enchants young and old alike. It began 25 years ago as a festival for local families and their children. Last year's event saw 2,300,000 visitors, an unprecedented success and proof that Como is a city that can be enjoyed at Christmas and New Year as much as during the warmer months. The Magic Light Festival is a series of spectacular architectural light installations projected onto buildings in the city's historical centre that give the city a true fairytale feel. There's also a traditional Christmas market, ice rink, exhibitions, an 18th-century carousel, Ferris wheel, music and much more. 
7. Catch a Christmas concert
The Teatro alla Scala opens this year's season with Puccini's Tosca conducted by Riccardo Chailly. The event will be attended by Milanese dignitaries, politicians, business people and others from the higher echelons of Milanese society. The good news for the rest of us is that it will be shown on screens in the Galleria Vittorio Emanuele II and in other places around the city. For ballet lovers, Delibes' Sylvia runs from 17 December – 14 January at La Scala, while Teatro Strehler is playing The Nutcracker from 13-22 December. The Basilica di Santa Maria delle Grazie, home to The Last Supper, will hold its annual Christmas concert on 10 December at 9.15pm. (For tickets, see Associazione Musicale ArteViva) Two Christmas Gospel concerts will take place at Teatro Nuovo (24 and 26 December), while the Auditorium di Milano will celebrate New Year with Beethoven's Ninth Symphony
(29 December – 1 January).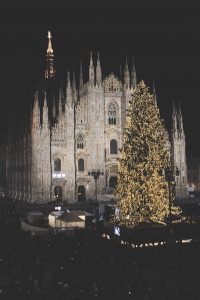 8. It's a great time of year to see the Duomo
No visit to Milan would be complete without a visit to the city's Gothic cathedral, and this is especially true at Christmas time. Midnight Mass at the Duomo is a truly special occasion, though you will need to get there a couple of hours before. It's an emotional event in this Gothic masterpiece presided over by the Madonnina, the 'little Madonna' which is on top of one of its spires. Winter often offers clear skies and it's a good time to get the best views from its terraces, both of the city and of the nearby Alps. New Year's Eve events take place in the Piazza del Duomo with live music and fireworks. Follow a visit to the Duomo with lunch with a view of the Duomo at nearby wine bar SignorVino. 

9. There's culture, art and design, and the Leonardo da Vinci celebrations
Milan has museums and galleries that range from the Pinacoteca di Brera to the Fondazione Prada and Hangar Bicocca for contemporary arts. This year also saw the 500th anniversary of Leonardo da Vinci's death, so now is your last chance to catch events such as the restoration of the Sale delle Asse at Castello Sforzesco (see Yes Milano). The Triennale Design Museum has a permanent collection of Italian design at its Museo del Design Italiano, while the De Chirico exhibition is at Palazzo Reale (25 September – 19 January.) Also visit the Museo del Novecento for 20th-century art. Go up to the room that contains Lucio Fontana's 1951 Neon Structure and for spectacular views of the Duomo and the Galleria Vittorio Emanuele II.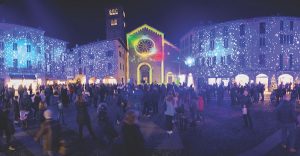 10. Take a Christmas cruise on Lake Como
The Lake Como Christmas Light Event (23 November – 6 January) is hailed as the most beautiful Nativity in the world. Christmas illuminations are set up at various points along the lake to highlight architectural treasures such as Villa Carlotta and Villa del Balbianello. This evening cruise starts in Como and takes you up the lake with stops at beautiful villages for local food and opportunities to buy local products. And, should you wish, you can even book your own private speedboat for the trip. Could this be the ultimate Christmas gift?
Where to stay
Galleria Vik
Go for all-out luxury inside the Galleria Vittorio Emanuele II at Galleria Vik with
its stunning views over the Galleria.
Via Silvio Pellico, 8 – 20121 Milan
Antica Locanda Leonardo
Centrally placed, family-run hotel with a lovely garden, free wi-fi and 17 cosy bedrooms in an elegant, 19th-century historic building.
Via IV Novembre, 41 – 20123 Milan
Albergo Terminus
Four-star Albergo Terminus in Como offers lakeside luxury in a 19th-century Liberty-style palazzo with 50 rooms.
Lungo Lario Trieste 14 – 22100 Como
Find out more
For further details about Christmas events in Milan, see Yes Milano
For further details about the programme of Christmas events in Como, see the Città del Balocchi website.
For more articles on Milan, check out our archive