Are you looking to raise your culinary skills to the next level? Michela Di Carlo gets a flavour of what's on offer at some of Italy's top-rated professional cookery schools

1. Parma, Emilia-Romagna
The International School of Italian Cuisine (ALMA) is the brainchild of the renowned Milanese chef Gualtiero Marchesi. It's been the world's leading international educational and training centre for Italian Cuisine since 2004. "Next Generation Chef is ALMA's daily commitment to creating an education and culture around food and wine based on values of sustainability, food sovereignty and consumption habits," says Head of Education and chef Matteo Berti. "These themes are at the heart of identity of our School."
Located in the heart of the Food Valley, inside the amazing Reggia di Colorno Palace, ALMA has been training chefs, pastry-chefs, sommeliers, bar and restaurant managers, and food and beverage managers all over the world. Nowadays ALMA welcomes 1,200 students a year and, according to the latest statistics, 80 per cent of them find a job within six months of graduation. The seven-month Italian Culinary Program (ICP) is the course geared towards International Students. It is not just a theoretical and practical training in advanced Italian cuisine, but a real full-on Italian experience under the guidance of expert chefs. Fees: €13,200

Alma International School of Italian Cuisine
Piazza Garibaldi, 26, 43052 Colorno (PR)

 +39 0521 525211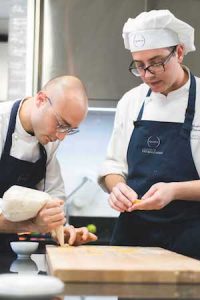 2. L'Aquila, Abruzzo
The Accademia Niko Romito is a top educational and training institution, an ambassador of Italian haute cuisine in the world. At Castel di Sangro in Abruzzo, Niko Romito, the acclaimed Michelin three-star chef (Ristorante Reale), reveals his secrets and techniques. "We believe gastronomy is a complex science, which requires a multidisciplinary approach. We provide our students with a broad basic culture, good management skills and an open-minded vision of the world, nourished by curiosity".
Established in 2011, Niko Romito's school boasts some of the most up-to-date teaching and cooking facilities in the whole of Italy. Hands-on lessons include daily activities at the Reale Restaurant and theory classes ranging from the geography of food production and supply chains to apiculture, from botany to marketing and the fundamental principles of restaurant management.
The 12 month advanced professional course (Corso di cucina italiana professionale) is for applicants holding a high school or cooking school diploma. It is open to a maximum of 16 students who are selected through a rigorous selection process. Fees: €16,000 
Accademia Niko Romito
Piana Santa Liberata, 67031 Castel di Sangro (AQ)

+39 0864 840610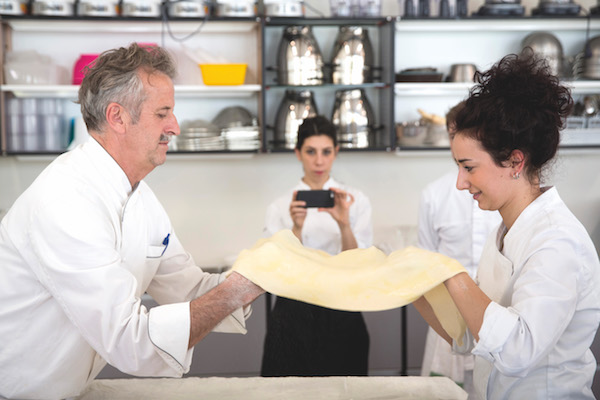 3. Cuneo, Piedmont
Since 2004, students have been coming here Pollenzo Food Lab from all over the world. This isn't just a school of practical cookery, and it won't simply provide a technical grounding. Its added value is that it operates within the context of UNISG, the University of Gastronomic Sciences, developed by the Slow Food association and based in Bra. The activities that take place in the Pollenzo Food Lab follow an original, innovative teaching model whose aim is to support and fuel gastronomic and culinary passion, with great attention paid to sustainability and creativity. Modern technologies and the multidisciplinary skills of the instructors means students can take full advantage of a space designed to function like an Ancient Greek agora, where knowledge is exchanged horizontally.
The Pollenzo Food Lab consists of a classroom, a teaching kitchen for practical exercises and a professional kitchen. High-tech support and a versatile space allow full freedom for learning and experimentation. "Today there is a lot of media frenzy around cooking and cooks. We intend to offer a different vision to the students of our school," says Carlo Petrini, president of the University of Gastronomic Sciences. "The complexity of the values in play in any kitchen is huge and must be addressed with a holistic approach to ensure that good cooking is more and more a conscious expression of local areas and the people who live in them." The 12-month Master di Ecogastronomia in Cucina, open to undergraduates, is taught in Italian and combines the gastronomic sciences with sustainable practices. It is aimed at acquiring a professional craftsmanship operating in the fields of cooking, bakery and agricultural production. There are opportunities to meet top international guest chefs who visit Pollenzo periodically to cook at the university's Academic Tables canteen and to attend their lectures. Fees: €12,500
Pollenzo Food Lab UNISG: University of Gastronomic Sciences
Piazza Vittorio Emanuele 9, Pollenzo – 12042 Bra (Cn)

 +39 0172 458511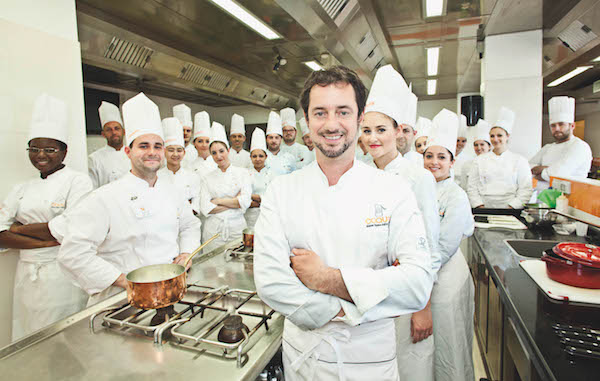 4. Rome, Lazio
If you are looking for a modern approach and hyper-professional facilities, Coquis, which has been run by the Michelin-starred chef Angelo Troiani of Ristorante Il Convivio since 2012, is the best place to go.
This school offers both professional and amateur cookery courses in English and Italian that run for as little as a day or for as long as six months. At the advanced level, you can get the undergraduate level bachelor's degree in Science and Culinary Arts. This three-year, full-time course will teach you the technical and scientific skills you will need to work as a chef or a consultant, or at a research or teaching faculty in the food industry. Take a deep journey into the art of food! Fees: up to €10,000
Coquis
Via Flaminia, 575, 00191 Roma
+39 0633 220 082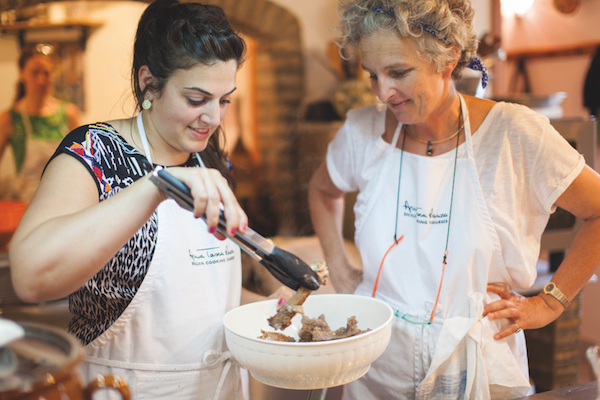 5. Palermo, Sicily
A total immersion in Sicily's unique flavours, scents and colours. Anna Tasca Lanza is situated on the Tasca d'Almerita family wine estate near Palermo, the school is based in a typical Sicilian country mansion. It is run by Anna's daughter, Fabrizia, a cook, art historian and cultural anthropologist. "We have a history ingrained in tradition, both of food and agriculture. Long before the whole storytelling on farming and the farm-to-table movement became a hit in certain areas of the world. Therefore, here you can still find a thick layer of soul behind and within the land, the houses, the people. A soul which produces experiences that can lead far beyond the consumption of food by itself. A soul which shapes our hospitality as well as the land and the food in a wonderful unique harmony which will feed the body as well as the mind!"
Courses range from half a day to five days and focus on island cooking. You also get to visit wine cellars, street markets and local farms. All the ingredients used in classes are grown on the estate and accommodation is provided. "Cook the Farm" is the 10 week course for students interested in bridging the gap between cooking and farming. It's a "beyond the recipe" approach to food, in order to equip food lovers with technical, anthropological and horticultural knowledge of Mediterranean cuisine. Short workshops start from €170, residential courses (including accommodation) start from €2,200. 'Cook the Farm' from €10,200.
Anna Tasca Lanza
Contrada Regaleali, Case Vecchie, 93010 Vallelunga Pratameno (CL)
+39 0934 815621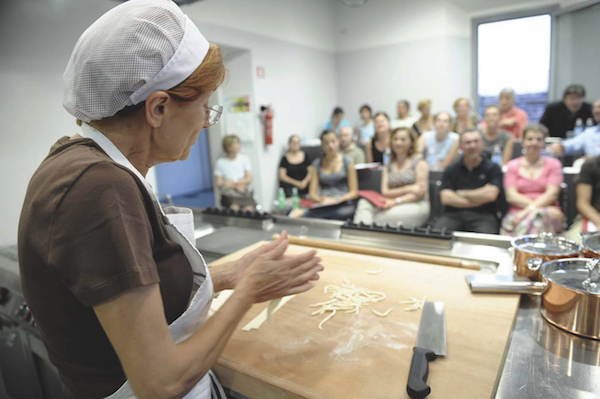 6. Forlinpopoli, Emilia-Romagna 
Based in Forlimpopoli, near Cesena, the Casa Artusi school is well known as the "centre of Italian gastronomic culture". Dedicated to the town's favourite son, Pellegrino Artusi, author of the food bible Science in the Kitchen and Art of Eating Well (first published in 1891 and followed by 15 additional editions), it is devoted entirely to Italian home cookery. Casa Artusi also houses a library, bookshop, restaurant, wine cellar and events space, all geared towards enhancing and promoting typical homestyle cooking traditions through research, training and communication, with special attention on local gastronomy. "Placing home cooking at the centre of attention means bringing up the discussion of cultural exchange, something mass media standardisation has been unable stamp out," says Massimo Montanari, the Scientific President of the School Casa Artusi. "Casa Artusi was established through the firm belief that home cookery is a cultural heritage of extraordinary interest, which demands urgent attention."
The school has a teaching hall with 20 well-equipped workstations, and courses are available for foodies aiming to improve their ability and for professionals. Among the Scuola's teachers are Le Mariette, masters in the arts of puff pastry, fresh egg pasta and piadina making. The Mariette Association at Casa Artusi in Forlimpopoli offers home cooking courses which are closely connected with tradition in Emilia-Romagna. This Association was founded in memory of Marietta Sabatini, who was a legendary cook for Pellegrino Artusi. Masterclasses start from €45
 Casa Artusi 
Via A. Costa 23/27, 47034 Forlimpopoli (FC)
+39 0543 743138