Mario Matassa reveals the secrets of Italian festive food. Though Christmas Day provides the climax of the occasion, the Christmas Eve feast provides the perfect opportunity to warm up for the big event
Photos by Mario Matassa
Festive holidays are always special occasions in Italy, and none more so than Christmas. In a country where festivity and food are synonymous, the Italian Christmas is a two-day marathon with long-lasting meals of abundant and sumptuous proportions. Tradition is central, with dishes that are symbolic in terms of both religion and place.
Everyone has a favourite Christmas dish, and whatever your menu preferences, there's something quite magical about food prepared at this time of year. More than anything, the traditions that are served with the dish conjure memories. Whether it's duck, goose, turkey or roast, the sights and smells emanating from the kitchen and the table bring back memories of good times gone and hope for those to come. 
Last year, as the pasta was being served, I glimpsed my son sneaking struffoli from the serving dish. It made me laugh as it was something I remember doing myself when I was his age. Now I'm wondering if my parents had noticed me? And so it is, the traditions carry on!
Christmas Eve
Primi
In Italy, the festivities begin with La Vigilia, Christmas Eve. Italians eat magro ('lean') on Christmas Eve, but to interpret this as 'light' is completely mistaken. (Since when have you heard of Italians eating light?) Rather, it just means no meat, but plenty of vegetables and fish. 
The number of courses served tends to be symbolic – seven for the seven sacraments, 12 for the disciples, or 13, with Jesus; and the type of fish you eat depends on where you live. A firm favourite in the past was il capitone (eel), but tastes have changed and it is probably fair to say that today the preferred choice for most Italians is baccalà or merluzzo (salt cod or fresh cod) – though the cooking method will vary. 
Baccalà is sold everywhere in Italy in the run-up to Christmas. It is important to buy it in advance as it needs to be soaked in water for a couple of days before cooking. (It is also important to remember to change the water several times a day.) Baccalà alla napoletana is a hugely popular dish cooked not only in Campania but across the country (albeit often under a different name). The addition of sultanas and pine nuts really lifts the dish and makes it something special and festive. Here's a recipe to try.
Secondi
Insalata di rinforzo hails from Campania in the south of Italy. Its name refers to its capacity to reinforce the appetite. Full of the strong flavours that are typical of the region, this dish will evoke memories for anyone who has ever visited Naples. 
For me, this is one of those clever Italian dishes that feeds more than just the appetite. For many people, the preparation of the dish will have started on a hot July or August day when the vegetables were being harvested and preserved fresh from the fields. These preserved vegetables will now bring back memories of summer – a perfect tonic on a winter's evening. 
Strictly speaking, the peppers used will be jarred and preserved in vinegar. However, along with the pickled baby gherkins, capers and salted anchovies, I find this overpowering and prefer instead to inject a little mild sweetness, which you can get by using roasted peppers. But this is ultimately just a question of taste; there are no hard-and-fast rules with insalata di rinforzo. It can also be prepared well in advance, and if you see that it's running low, you simply top it up. It is a dish you can serve on a large platter, then put your feet up and let your family help themselves. Make your own here.
Dolci
Italians secretly love fried food – or, more correctly, they have a weakness for fried dough, savoury or sweet. This is, however, a treat that is generally reserved for festive occasions. In the Emilia-Romagna region they eat gnocco fritto (deep-fried bread dough salted); in the far northeast of the country they eat krapfen (a doughnut); and at carnival time everyone eats chiacchiere and frittelle (though again, different names are used depending on where you happen to be). 
Struffoli, from Naples, are prepared and eaten all over Italy at Christmas. These golden balls of deep-fried dough smothered in honey and decorated with candied peel are simply irresistible and make a wonderful centrepiece for the festive table. My grandmother, who was from the province of Frosinone in Lazio, made these every year, a day or two in advance. As a child I would sneak into the kitchen at any available opportunity and pinch a few from the dish. My sticky, honey-covered fingers must have been a bit of a giveaway. Fortunately, she would always compensate, making sure she made the proverbial bucketful – so there were still a few left on the day! Here's how to make struffoli.
Christmas Day
Antipasti
Classic appetisers on Christmas Day include a mix of torte salate (akin to savoury quiches) and a platter of salumi misti, which can include a mix of Parma ham, culatello, coppa and lardo. This is generally served with gardiniera vegetables (pickled vegetables preserved in oil or vinegar). Although that makes an excellent dish, the pickled vegetables do make it very similar to the insalata di rinforzo eaten the previous evening. They can also make the dish quite filling, bearing in mind that it can be followed by anything up to five or six courses.
Last year my neighbour Anna Maria suggested that I try this dish as an alternative. She prepared it for me with lardo di Colonnata, which, when cut wafer-thin as it should be, just melts in the mouth.
I like to think of this as an Italian variation on the British 'surf and turf'. It is important to find plump prawns and to make sure that the pancetta is sliced very thinly as it has to become crisp just as the prawns are cooked. The dish is perfect in its simplicity and requires minimal preparation time. And it can be made in advance – try it here.
Primi
And so we come to the all-important pasta course. A Christmas meal would be unthinkable for Italians unless it included at least one – generally two or even three – courses of the nation's favourite staple. What sort of pasta you choose to eat on Christmas Day will really depend on where you are from. Stuffed pasta cooked in a golden capon broth has come to be regarded as a national dish for the occasion, but it can be time-consuming as both the pasta and broth need to be prepared in advance.
An excellent alternative I have found is crespelle. This dish originated from the Emilia-Romagna region and is served in restaurants throughout the area. Now, strictly speaking crespelle are not pasta – at least not in the traditional sense – but you would be hard pushed trying to convince any of my neighbours of the finer nuances to the argument. 
The filling is flexible. On this occasion I have used red radicchio – because it somehow seems fittingly festive – but you could also use spinach, mushrooms or ham. Whatever the main ingredient you choose to stuff your crespelle, the key is to stick to the same proportions of Parmesan and ricotta. This is another dish that takes the work out of the kitchen on the day itself as it can be prepared up to a day in advance and stored in the fridge. Here's a recipe for crespelle.
Secondi
Unlike the British with turkey at Christmas, there is no single national dish when it comes to the main course in Italy. Lamb, goose, duck, faraona (guinea fowl), and beef are all popular, depending on the region in which you live. In Emilia-Romagna, guinea fowl is eaten in many households. Although it is smaller than a chicken or turkey, after the courses that have preceded it, and before the ones that are still to come, a few slices of its flavoursome meat seem to fit perfectly. 
There are a number of ways to cook guinea fowl, but at Christmas a roast seems almost obligatory. I like to bone the bird as it makes it easier to carve. However, this can be quite time consuming and it is by no means necessary. The key to a good roast is to make sure you do not overcook the bird. You might want to check the oven periodically – a stuffed bird takes between 1 hour 20 minutes and 1 hour 30 minutes to cook. Also, it is important to let the bird rest for 20 minutes before carving. Make it here.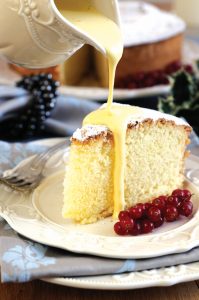 Dolci
When it comes to dessert and cakes, most Italian households will offer a selection on Christmas Day. There's almost always a panettone and a pandoro (although the latter is more common on New Year's day); a panforte, which is a rich, dense cake from Siena baked with hazelnuts, honey and almonds; and torrone (nougat) to serve with the coffee and liqueurs. A cake and cream-based dessert is also common, the paradise cake with hot zabaglione sauce being one such example.
The name comes from the fact that the cake is as light as air (like paradise); it is similar to the popular pan dei angeli (angels' cake), which uses potato and regular flour in equal quantities. It has a dry, fragile texture, which is why it is usually filled with a patisserie cream and the sponge sprinkled with a light liqueur of some kind. The dry texture also lends itself to being served with a glass of something fresh, white and sparkling. Like myself, this cake somehow miraculously improves with age and is better if made one or two days in advance. Try making it here.
Find more Italian food and drink here