If you're seeking some authentic flavours to pep up your favourite recipes, try some of these quintessentially Italian store cupboard spices and condiments
For some, a plate of food is nothing without lashings of ketchup or mustard, for others the secret is all in the mix of ingredients with an added pinch or two of something from the larder. The word condiment can cover so many delicious options, from prepared sauces and pickles to dry or wet seasonings, spices and herbs added during the cooking process. Some of our selection pack a punch, while others are more subtle on the palate, but they will all impart a distinctively authentic flavour to your Italian recipes. If, like us, you are a devotee of preparing your meals from scratch with good ingredients, then we guarantee you will enjoy trying out these unusual and (in some cases) unexpected flavour sensations. Let us know what you think!
Editor's choice
Cannamela Zafferano
Saffron is one of the most prized spices in the world and comes with a high price tag. The stigmas and styles of the saffron crocus are painstakingly hand-harvested, which is what makes it expensive. Its distinctive flavour and colour is essential to classic Italian recipes like risotto alla milanese or pollo allo zafferano. This handy pack of three sachets contains best-quality Mediterranean ground saffron, with each sealed sachet containing a measured dose sufficient for a risotto for four, or saffron chicken for eight, so a little goes a long way. The saffron is ground to a fine powder which avoids the necessity of presoaking the strands. Turning our hand to a risotto alla milanese, the resulting colour was just as vivid and the saffron flavour really came through well.
From Something Italian
Price £3.50 for 0.3g 
Verdict: In perfectly measured doses, these sachets are a wonderfully practical solution when your budget won't run to a more expensive jar of saffron.
Seggiano Rosé Balsamic Vinegar
Aged in oak casks in the Modena area, this lighter variation on the iconic balsamic is made to the traditional method with rosé wine and has impeccable credentials. Sweet/sharp notes and depth of flavour.
From Seggiano
Price £8.20 for 250ml
Verdict: With its attractive rosy hue, add this delicate balsamic vinegar to salad dressings and marinades for fish and poultry.
Polvere di Liquirizia di Calabria
Ground from liquorice root, the aroma of this fine brown powder is strong, deep and distinctive – certainly a talking point. It's woody and savoury, but with added sugar it will work well in desserts.
From Sous Chef
Price £5.50 for 80g
Verdict: Liquorice has a flavour similar to aniseed. Add a touch to pasta dough or hearty casseroles. A little goes a long way.
Oro Azzurro Colatura di Alici
With a genuine historic pedigree, the Romans called it garum. This flavoursome potion is the essence of salted, fermented anchovies and is pure umami. Briny and savoury rather than fishy, it's a natural flavour enhancer.
From Sous Chef
Price £11.50 for 140ml
Verdict: Rather than merely adding anchovies to a dish, add real richness and depth to meat and pasta dishes with a dash or two of this.
Iasa Bottarga di Tonno
Bottarga di tonno is salted, pressed and sun-dried tuna roe. Grated to a fine coral-coloured powder, it is especially popular in Sardinian cooking. Bottarga tastes of the sea and is intensely savoury.
From Bellavita Shop
Price £6.50 for 50g
Verdict: Sprinkle on bruschetta and dress with olive oil and lemon for an antipasto, or add to simple risottos and hot spaghetti.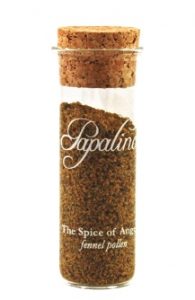 Papalino Fennel Pollen
This precious pollen is harvested in Calabria, where fennel grows prolifically in the wild. Pleasingly crunchy in texture, it has hints of anise in its flavour, along with fresh grassy notes and
a delicious tangy piquancy.
From Amazon
Price £15 for 15g
Verdict: From roasted vegetables and meats to pasta, just add a pinch at the end of your cooking to lift a dish to extraordinary heights.
Saba Mosto di Uva Cotto
With a lovely pouring consistency and rich flavour, this cooked grape must condiment is absolutely delicious. It's aged in oak casks, which produces irresistible notes of sweet and sharp.
From Partridges
Price £10.60 for 250ml
Verdict: Its sweetness lends itself to desserts – add as a finishing flourish to panna cotta, ice cream and fresh fruits like strawberries.
Click here for more Italia! taste tests