Mario Matassa brings us some of the best culinary delights from this beautiful stretch of the Ligurian coast – including some exquisite ways to cook fresh fish…
With its tiny bays, little ports and multicoloured houses, the Cinque Terre is a landscape image that stands among the finest Italy has to offer. This little stretch of Ligurian coastline is a haven for tourists, drawn to its warm climate and scenic beauty.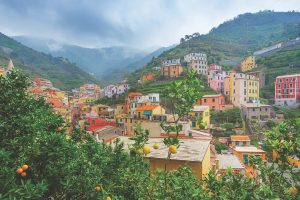 The climate is also central to the region's cuisine. Fruit, vegetables and herbs grow well here. The salty sea breeze mingles with a bewildering and concentrated concoction of herbs, vines and lemon groves. And with year-round sunshine, plants not ordinarily seen north of the mezzogiorno thrive here.
Fresh and salt-preserved fish, especially sardines, fresh anchovies and salt cod, are used regularly in the kitchen. Homemade sauces, focaccia breads, pasta, vegetables and fresh fruit are the mainstays of the diet.
Herbs and wild plants are also used heavily. A bundle of at least seven types – known as the preboggiòn – might include dandelion, wild spring cabbage, beets, parsley, nettles, smooth sow-thistle and borage leaves. Today, the use of wild herbs is overshadowed by the emphasis on basil, used to make the area's most recognised sauce, pesto alla genovese. Ironically, this is one of the few sauces that locals do not make to preserve, preferring instead to make it al momento, for the good reason that basil, once crushed, quickly deteriorates.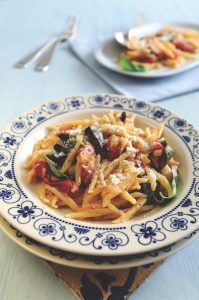 The area also has a long-standing tradition of dried pasta. Trenette, long, thin linguine-like pasta, are served with pesto, potatoes and green beans. Equally popular today are trofie, little twisted strands of pasta.
Dried pasta was taken by fishermen on long journeys at sea. It's claimed they would also take sacks of biscuits. These may well have been canestrelli liguri, seven-pointed flower shaped biscuits that are enjoyed today after dinner, perhaps dunked in a glass of Sciacchetrà, a well-regarded local dessert wine.
Click on the links below to create some classic dishes of the Cinque Terre. Buon appetito!
Anchovies alla Vernazza (Alici alla Vernazza)
Anchovies are the most commonly served fish in the Cinque Terre, often simply marinated in lemon juice as an antipasto. Gianchetti are tiny anchovies, caught locally, simply floured and fried. If you can't find anchovies for this recipe, use sardines.
Swordfish with capers, pine nuts and lemon (Pesce spada alla ligure)
Throughout Liguria, capers, pine nuts and lemons are used to flavour and garnish dishes. It's always best to use unwaxed, organic lemons.
Canestrelli biscuits (Canestrelli)
These biscotti (left) would traditionally have been twice cooked (bis-cotti), resulting in a crisp exterior and crumbly interior. Sailors took them on long voyages because they keep for long periods of time. Canastrelli can be bought today, fresh from the ovens, in any good bakery in Liguria.
Trofie with leeks, tomatoes and basil (Trofie alle ligure)
This dish is often made with the addition of either olives or capers, or both. However, if you are using capers, it's preferable to use the salted variety, which should be rinsed before use. If you do this, be careful when it comes to seasoning the dish.
For more great recipes, here's our archive