This is a wonderfully quick and aromatic way to introduce strawberries into a savoury snack. The Parmesan works really well with the strawberries and balsamic with the savoury sourdough being the perfect base.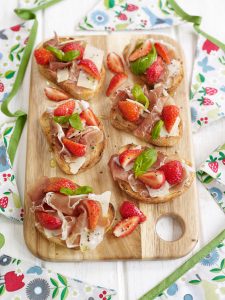 Strawberry, Parma Ham & Parmesan Crostini 
Serves 4 – Prep time 5 mins – Cook time 5 mins
Ingredients
200g of quartered strawberries
8 slices of sourdough bread
8 slices of thinly cut parma ham
100g of parmesan cheese shavings
1 tbsp of aged balsamic vinegar
1 tbsp of extra virgin olive oil
a small handful of basil leaves
black pepper to season
Method
Firstly, hull and quarter the strawberries and set aside.
Toast the sourdough bread and then place on a serving platter. Arrange the parma ham on top of each slice of bread, top with some strawberries and then sprinkle with the parmesan shavings.
Finally, drizzle with the balsamic vinegar and olive oil and sprinkle with the basil leaves and some freshly cracked black pepper.
Recipe from Berry World
Tags:
food
,
recipe
,
strawberry