This pasta dish by Lakeland is just what is needed for a tasty meal.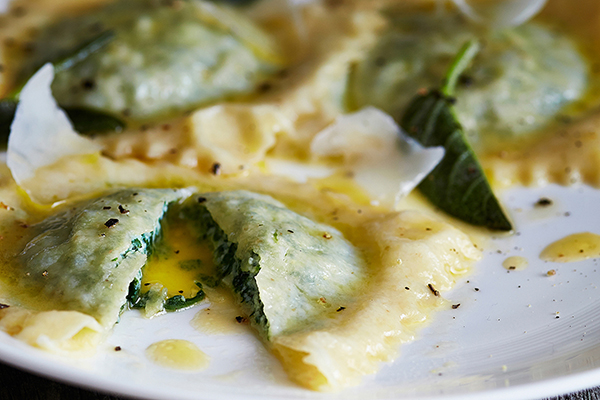 Ingredients:
For the pasta:
160g '00' flour, plus extra to dust
240g fine semolina
5 eggs
For the filling:
600g cooked spinach, squeezed as dry as possible and finely chopped
600g ricotta cheese
Pinch freshly grated nutmeg
1 egg yolk
Salt and freshly ground black pepper
Sauce:
4 tbsp vegetable stock
A few fresh sage leaves
25g butter
50 – 75 g Parmesan cheese to serve
Method:
To make the pasta, heap the flour and semolina together on a floured worktop, make a well in the middle, break the eggs into the well and beat them with a fork, slowly incorporating the flour and semolina to form a dough. Knead until you have a smooth-textured dough with an even colour. If the dough is too dry, wet your hands with water while kneading. Cover the dough with clingfilm and leave to rest for at least 30 minutes.
To make the filling, combine the spinach, ricotta, nutmeg, salt, pepper and egg yolk in a bowl. Mix well, season and set aside.
Divide the dough into four equal portions. Using a pasta machine, gradually roll the dough until you have thin sheets, dusting with flour if needed between each pass through the machine.
Put small heaps of filling, approx. 1 tsp, at 5cm intervals across the pasta sheet and dampen the pasta around each heap. Lay a second sheet over the top and press down around the filling to expel any air. Cut with square ravioli cutter and press gently around each ravioli to seal.
Cook the ravioli in a large pan of boiling salted water; it will cook in 2-3 minutes, so start your sauce at the same time. Warm the vegetable stock in a saucepan on a medium heat, add the sage leaves and butter and allow to melt.
When the ravioli is ready, drain, keeping two or three tablespoons of the cooking water, return it to its saucepan with the retained cooking water and add the sauce. Take the saucepan off the heat and serve the pasta immediately with Parmesan shavings.