Fresh or frozen, peas bring a refreshing lightness to any dish and are therefore often used to lift the spirits of what might otherwise be overly-hearty winter warmers…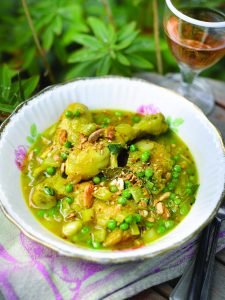 Saffron-braised chicken with peas, almonds and garlic
Serves 4 – Preparation 15 minutes – Cooking 45 minutes
Ingredients
4 free-range chicken legs,

 


cut in half

3 tbsp olive oil

4 shallots, chopped

2 sticks of celery, chopped

4 cloves of garlic, peeled
and sliced

1 tbsp flour

200ml dry sherry

a pinch of saffron
500ml chicken stock
2 bay leaves
salt and pepper
150g frozen peas
a small bunch of flat-leaf parsley, chopped
100g toasted almonds, roughly chopped
Method
In a large, flame-proof casserole pan, fry the chicken in the olive oil for 2-3 minutes on both sides or until golden, then remove and set aside.
Add the shallots, celery and garlic, cook until translucent
and lightly golden, 6-8 minutes.

Stir in the flour, sherry, saffron and stock, stirring all the time until the sauce comes back to the boil. Add the bay leaves and then season with salt and pepper.

Add the chicken back into the casserole pan. Place on the lid and cook on a low heat for half an hour or until the chicken is starting to fall away from the bone.

When the chicken is almost cooked, add the peas and cook for 5 minutes, then turn off the heat and add the parsley.

Ladle into warm bowls and sprinkle with the almonds.
Images and recipes © British Peas and Beans from A Taste of Summer