Risotto dolce con susine stufate
Risotto can work as a dessert too. Here is a fantastic Risotto rice pudding with stewed plums, using seasonal fruit.
➤ Serves 2 ➤ Preparation 10 minutes ➤ Cooking 15 minutes
350ml milk
25g caster sugar
90g arborio or carnaroli rice
1 vanilla pod
75ml double cream
250g plums
1-2 tbsp water
3 amaretti biscuits
In a heavy saucepan heat the milk, then add 20g sugar and the risotto rice. Add the seeds of one vanilla pod to the saucepan, then toss the pod in too. Simmer gently, stirring continuously so the rice doesn't burn on the bottom of the pan, until the rice is cooked. This should take around 16-18 minutes. About 10 minutes in, add the cream and remove the vanilla pod from the pan.
In the meantime, wash the plums, cut in half and remove the stone. Place the plums in a separate saucepan and add 1 tbsp of water and 1 tsp sugar (check the sweetness of the plum as the amount of sugar needed will differ between varieties). Set on a low heat and simmer very gently for 5-10 minutes, depending on the size of the plums.
Put the amaretti in a freezer bag and crush with a rolling pin. Divide the rice between two bowls and top with the cooked plums. Scatter the crumbled amaretti over the top of the plums to serve.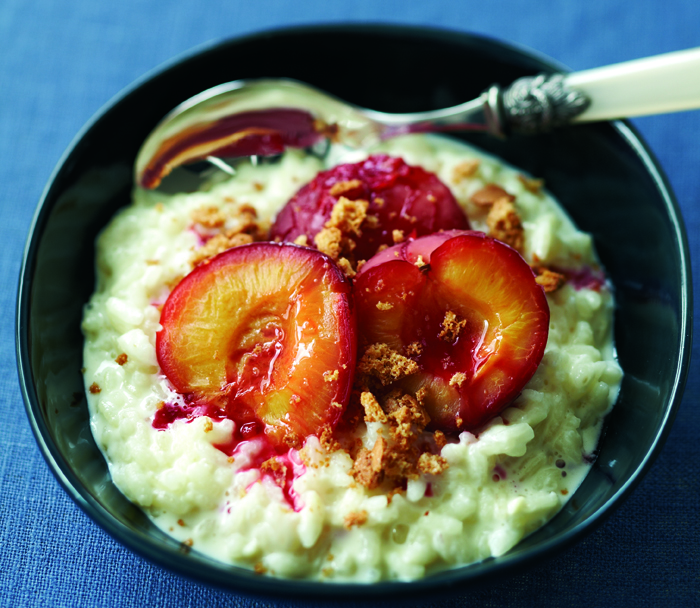 Tags:
Pronto
,
Recipes
,
Risooto rice pudding
,
Risotto
,
Risotto rice pudding with stewed plums
,
Stewed plums