Take the easy route to cooking a quick supper with Italy's favourite rice dish. Italia! looks at some of the ready-to-make risotto kits currently on the market
Risotto is a quintessentially Italian dish originating in the north of the country. It remains especially popular in these northern regions – such as Piedmont and the Veneto – where rice paddy fields are a common sight. Generally speaking, risotto is served as a primo (first course) dish and is made with short-grain rice such as arborio or carnaroli. Although the dish seems simple, it demands a pretty high level of care and attention while cooking, as the stock should be added gradually and the rice stirred regularly to absorb the water and its flavours properly. 
Risotto kits come complete with all the ingredients you'll need (apart from the cooking stock). Just pop in the pan and, hey presto! An instant risotto. Well, almost – you'll still need give them a stir for best results, but with all your ingredients in one handy pack, these kits (supermarket and deli options) are a one-stop solution to easy midweek suppers. 
Editor's choice
La Malva Rosa porcini risotto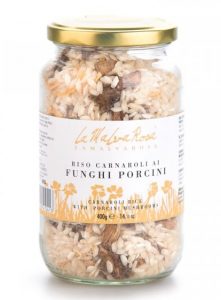 In a chunky (recyclable) glass jar, this risotto mix from Bellavita is a larger quantity than the others, so would last for more than one meal or serve a larger group at one sitting. It also works out at better value. It's a quick-to-cook mushroom risotto; all the hard work has been done for you. Malva Rosa has gone for the finest Italian carnaroli risotto rice and added generous chunks of dried porcini mushrooms, plus a little dried onion for added depth of flavour, so all you have to do is add stock or water, and cook. A good, flavoursome risotto that leaves a little 'bite' in the finished dish.
From Bellavita 
Price £5.90 for 400g
Verdict: This quick-cook mushroom risotto has all the hard work done for you, and is made with three natural ingredients, so it tastes just a bit more like homemade than the others.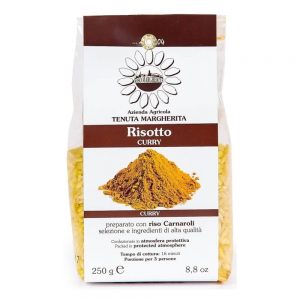 Tenuta Margherita curry risotto
This speedy risotto has a high proportion of rice (95 per cent), plus the curry spice mix, which is aromatic, not spicy-hot. Finished with Parmesan and butter, it tastes delicious!
From Vorrei
Price £5.00 for 250g
Verdict: An unusual but pleasing flavour for short grain risotto rice (curry usually goes with basmati rice). Mild and very savoury.
Loyd Grossman butternut squash
& sage risotto meal kit
Called a 'meal kit', this risotto relies on a two-step process to get the finished result. It comes with a creamy sauce and parboiled risotto rice and needs less than the 20 minutes stated to cook.
From Asda (and other supermarkets)
Price £2.89 for 300g
Verdict: With its pre-cooked ingredients, this is a very simple risotto to prepare. Subtle flavours and a very creamy texture.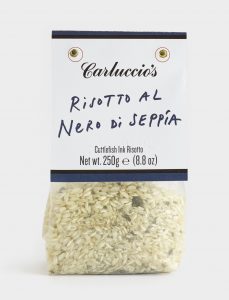 Carluccio's squid ink risotto

This mix has the flavoursome addition of cuttlefish ink, which brings a mild flavour of the sea to the finished risotto. The final result is a rather striking black dish which cooks up perfectly in the time stated.
From Carluccio's
Price £4.95 for 250g
Verdict: This famous Venetian speciality has a smooth, delicate taste. Don't add other flavours, just a drizzle of oil to finish.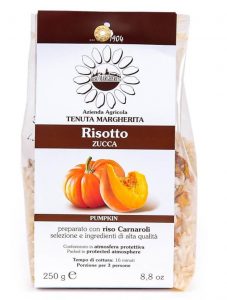 Tenuta Margherita pumpkin risotto

From the same company as the curry risotto, this one takes a little longer to cook as you need to soften the pieces of dried pumpkin in it. Gluten-free and with a tender texture to the finished dish.
From Vorrei
Price £5.00 for 250g
Verdict: Pumpkin adds colour, and flavour comes from other veg and herbs too. There are more risotti in this range, so give them a try too.
Riso Gallo 'Pronto' saffron risotto
From Gallo's extensive range, this one has saffron in it for a traditional risotto alla milanese. Thanks to the parboiled rice, it is quick to cook (under 12 minutes) – keep stirring to create that creamy finish to the dish.
From Waitrose
Price £2.39 for 175g
Verdict: An interesting and flavoursome option with
a good texture and colour to the rice, and a nice depth of flavour.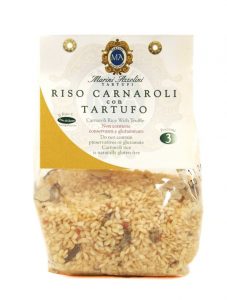 Marini Azzolini truffle risotto

A rather luxurious risotto of carnaroli rice with dried vegetables and summer truffle. It cooks easily in the suggested time, with distinct chunks of truffle, veg and flecks of truffle in the finished risotto.
From Sous Chef
Price £7.50 for 250g
Verdict: More expensive, thanks to the truffle, but worth pushing the boat out as the rice is tender and the flavour rich and earthy.
There are lots more Italian food & drink reviews to inspire you on our site