This tart by Lakeland is the perfect dish for a summer picnic or a light evening meal with some potatoes and salad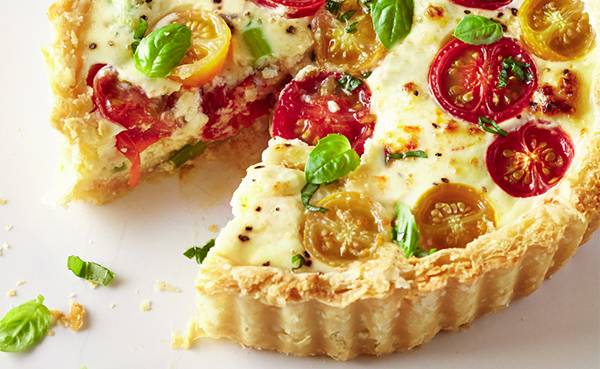 For the rough puff pastry:
75g plain flour
Pinch salt
25g butter, chilled and cut into 1cm cubes
25g white vegetable fat, chilled and cut into 1cm cubes
3 tbsp cold water
For the filling:
100g ricotta
3 eggs
2 tbsp single cream
1 small clove garlic, peeled and crushed (optional)
40g Sunblush tomatoes, chopped
4 spring onions, trimmed and sliced
2 tbsp fresh basil, shredded
40g Parmesan cheese (or vegetarian alternative) , finely grated
Salt and freshly ground black pepper
3 red cherry tomatoes, halved
3 yellow cherry tomatoes, halved
Instructions:
To make the rough puff pastry, sift the flour and salt into a bowl then add the cubes of butter and vegetable fat. Using a round-bladed knife, stir in around 3 tbsp cold water, or enough to bind the ingredients together. Do not worry that there are lumps in the mixture.
On a generously floured surface and using a rolling pin well dusted with flour, roll out the dough to a rectangle 12 x 36cm.
Fold one third over the centre, then the other third over that. Press the edges firmly with a rolling pin to seal, then wrap the dough in cling film and chill in the fridge for 15 minutes.
Repeat the whole process three more times, remembering to keep your surface and rolling pin well floured, and chill for 30 minutes more at the very end.
Preheat the oven to 220°C/Gas 7 while the pastry is chilling. Roll the pastry out to a 28cm circle, 3mm thick. Line the base and sides of the Perfobake tin with the pastry, trimming off any excess with a sharp knife.
Place the tin on a baking tray, line the pastry case with baking parchment and baking beans then bake blind for 15 minutes. Next remove the paper and beans and return the pastry case to the oven for a further 5 minutes or until crisp. Remove from the oven then reduce the heat to 180°C/Gas 4.
To make the filling whisk together the ricotta, eggs and cream in a bowl until smooth. Stir in the garlic (if using), SunBlush tomatoes, spring onions, basil, Parmesan and seasoning.
Pour the filling into the baked pastry case and smooth the surface. Arrange the tomatoes on top, cut sides up, and finish with a grinding of black pepper. Bake the tart for 35-40 minutes or until set and golden.
Remove from oven and leave to stand for 5 minutes if serving hot, or let it cool completely if serving cold.