Olive oil is essential to Mediterranean food culture – how would Italians live without it? Join us to sample a selection of the best…
Olive trees are the oldest known cultivated tree and the oil they produce is referred to as 'liquid gold'. With its extraordinary health-giving properties, one can see why this glistening liquid is so highly praised, but what makes a good extra-virgin olive oil (EVOO)? 
You may as well ask, 'What makes a good wine?' It's such a subjective matter that coming to a consensus is never easy. With flavours ranging from sweet to peppery, it's hard to know which to choose. Whether you want to dress a salad, add flavour to a dish, or use it every day, there is an oil for every occasion. Here are seven we have tried; they have their differences but are all excellent.
Editor's choice
Tenuta Ribusuoli extra-virgin olive oil 2018

Grown in olive groves on the Ribusuoli tenuta in Montalcino, Tuscany, this single-estate oil is also available in 250ml and 750ml sizes. With an intensely verdant colour, it tastes extremely green and fresh, with a grassy, lemony finish, gently piquant and lingering. There is no bitter aftertaste at all, and its distinctive flavour is quite delicious with delicate herbal notes playing on the tastebuds. Definitely not an olive oil to cook with: this finely-crafted example deserves centre stage with some good fresh bread and fine balsamic vinegar, or drizzled over salad leaves, beans or soups as a glorious finishing flourish. Delivery charges extra.
From Tuscan Farm Shop 
Price £18.00 for 500ml
Verdict: A delightfully fresh young oil with a highly individualistic, rustic flavour straight from the terroir. Worth tracking down from the Tuscan Farm Shop in Norfolk if you can.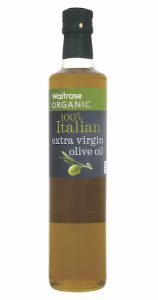 Waitrose organic evoo
Made entirely from organic olives, this oil is a glorious green. Its delicious flavour can be described as sweet, light and delicate, while it has a velvety smooth texture. A quality olive oil that offers great value for money.
From Waitrose
Price £4.25 for 500ml
Verdict: This fresh, fruity oil has a delicious flavour that would work well on its own or with balsamic vinegar as a dressing.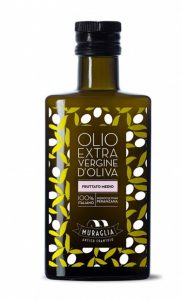 Fruttato Medio Peranzana EVOO
Another cold-pressed oil, this one hails from Puglia and is made from 100 per cent Peranzana olives. Golden in colour, it is also lighter in pungency than some, but no lack of flavour as the fruity notes are intense and fresh.
From Sous Chef
Price £9.50 for 250ml
Verdict: A high-quality extra-virgin olive oil best paired with delicate lightly cooked dishes – fish and seafood or with a tomato salad.

Carluccio's Le Due Sorelle EVOO
Hailing from Sardinia, this cold-pressed extra-virgin olive oil is made from Tonda di Cagliari, Bosana and Semidana olives. Initially light to the taste, though a peppery bite develops and lingers in the mouth. 
From Carluccio's
Price £11.95 for 500ml
Verdict: A rich oil with a perfect blend of fruity olive flavour and a satisfying peppery taste which is a real treat to eat. 


Planeta EVOO DOP Val di Mazara 
Made in Sicily by the world-renowned Planeta winery, this cold-pressed oil is a blend of manually-harvested Nocellara del Belice, Biancolilla and Cerasuola olives. A luxurious pistachio-green oil with a fresh green-tomato flavour. 
From  Great Western Wine
Price £11.95 for 500ml
Verdict: This fruity oil is sharp, spicy and intense. Pair with fresh bread or drizzle over soups, cheeses and grilled vegetables.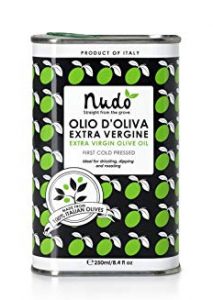 Nudo EVOO
Light, fruity and full of the flavours and scent of freshly-mown grass, this EVOO is from Le Marche. Adopt a tree (prices start from £39 for an annual subscription of oil deliveries) or you can buy a range of cans singly from the Nudo online shop.
From Nudo
Price £7.00 for 250ml
Verdict: A first-cold-press olive oil which captures an elusive freshness with grassy aromas, perfect for drizzling and dunking.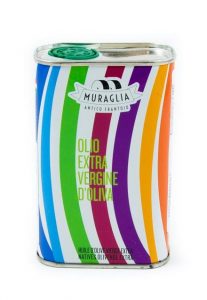 Frantoio Muraglia EVOO
This cold-press olive oil is from 100 per cent Coratina olives, made by a family-run producer in Puglia. Fruity and intense, the flavour develops on the palate and tickles your nose. Fresh and delightfully uncloying.
From The Red Beetle
Price £8.90 for 250ml
Verdict: This robust green oil really packs a punch, with plenty of peppery spice to complement pasta, cheeses and white bean salads.

There are lots more Italian food & drink reviews to inspire you on our site
Tags:
Buy Italia
,
food
,
Food & Wine
,
olive oil