Alongside its reputation as a land of top-quality wines, Italy also has a fine tradition of alcohol-free drinks, for any time of day. Here are seven of our favourites for you to try
Whether for health-conscious reasons or purely for flavour, the trend for low- or alcohol-free drinks is growing, so here is our selection of Italian non-alcoholic options – from the kind of refreshment you'd grab on the go through the day to give you a boost or quench your thirst to the elegant aperitivo tradition of Italian 'bitters'.
These cute, single-serve glass bottles contain closely-guarded special tinctures of herbs, bitter citrus and botanicals that you can drink on their own over ice, or with a measure of something like Aperol or Campari, or even prosecco, to create a longer (alcoholic) drink. These bitter ingredients are designed to stimulate the appetite, making them the perfect choice for aperitivo time.  
Editor's choice
Sanbittèr Rosso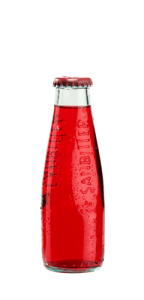 Sanbittèr Rosso stands alongside Crodino (see below) as one of Italy's favourite aperitivi. Huge plus points for the elegant, recyclable glass bottle! We enjoyed Sanbittèr Rosso well-chilled over plenty of ice, with a slice of fresh lemon to garnish. With a robust herbal bitterness and fruity spicy notes going on in the background, this is the alcohol-free answer to Campari and soda without a doubt. Always drink it chilled (otherwise it's a bit cloying) and how about this interesting 'mocktail' presentation idea: lightly moisten the rim of a cocktail glass with lemon juice and stand the glass upside down on a plate of ground almonds – just like salting the rim of a Margarita glass. Then pour chilled Sanbittèr Rosso into the glass, garnish with a lemon peel twist and enjoy!
From Sous Chef  
Price £8.95 for 10x100ml
Verdict: A very 'grown-up' bitter taste best suited to those who don't have a sweet tooth, Sanbittèr can be enjoyed with or without the addition of alcohol, but always chilled.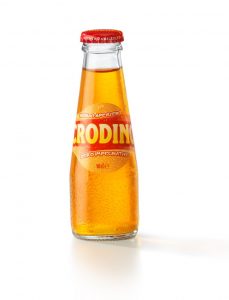 Crodino
Around for more than 50 years, Crodino's spice, herb and botanical blend is a closely guarded secret, but there's a real depth of clove spice alongside woody, bitter notes. Serve in a tumbler over ice, with a slice of orange to reflect its amber tones.
From Sous Chef
Price £9.95 for 10x100ml
Verdict: Aged for six months before bottling, we loved the complex depth of flavour in Crodino, which has stood the test of time.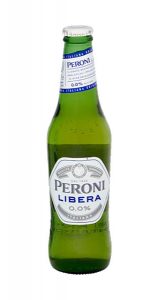 Peroni Libera 0.0% lager
A pale straw colour in the glass, this smooth lager is lightly carbonated to allow the flavours to come through. From the makers of Nastro Azzurro, you can taste hops and malted barley along with a pleasant biscuity lemon finish.
From Waitrose
Price £4 for 4x33ml
Verdict: As an alcohol-free lager, this is a refreshing and flavoursome alternative, to be served chilled on a hot summer's day.
Genesis Latte di Mandorla Avola 
Made with organic almonds from Avola in Sicily, this is a traditional almond milk that is served over ice (con ghiaccio) as a deliciously refreshing drink on hot days. Light and not too sweet, give the bottle a good shake first.
From Bellavita
Price £2.20 for 250ml
Verdict: This organic milk will transport you to Sicily, where they have been drinking it as a summer pick-me-up for centuries.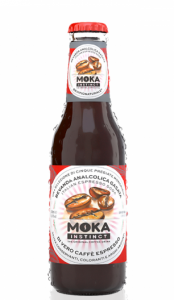 Moka Instinct Espresso Soda
This cold coffee infusion is from a blend of five different coffee beans, sparkling water, a dash of sugar and nothing else. Pour over ice to enjoy the caffeine hit and light tingle on your tongue. Also available in a 150ml can. 
From Bellavita
Price £1.20 for 200ml
Verdict: Don't let the idea of 'fizzy' coffee put you off – this is a refreshing equivalent to half a cup of espresso, so will pep you up nicely.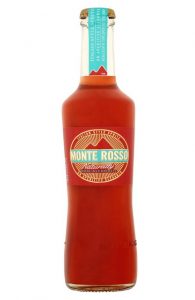 Monte Rosso Spritzer
Inspired by the Italian 'bitters' tradition, this is a new take on the idea. Tart cranberry, aromatic botanicals and plenty of sharp bitters in a lightly carbonated grape juice. Serve chilled with a slice of orange or lemon over ice.
From Ocado
Price £2.55 for 275ml
Verdict: If you like Campari and Aperol, you'll like Monte Rosso. It really is pleasantly bitter in the same way, but alcohol-free, of course.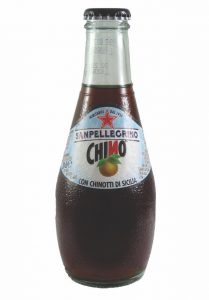 Sanpellegrino Chinotto
Taking its name from the bittersweet chinotto fruit (a type of citrus), this fizzy drink also has the fruit's bitter snap. Despite its resemblance to another popular tawny soda, this is fruitier and much less sweet.
From Sous chef
Price £6.50 for 6x200ml
Verdict: Chinotto feels like the grown-up relative to the popular colas out there. Hurrah for more woody spice notes and less sugar.

Look out for more Italian food & drink reviews to inspire you
Tags:
Buy Italia
,
drink
,
Food & Wine
,
Food and drink
,
Italian drinks
,
soft drinks