Antipasti are a way of life in Italy, and an essential aspect of the nation's favourite first course of any meal is preserved vegetables. Here we present a selection from the UK high street.
Go to any restaurant in Italy and you'll be provided with the option (and who could turn it down?) of a selection of antipasti to start your meal. The meats are a must – a particular establishment's freshly-sliced hams should never be disregarded. But you should never partake in the meat without the veg! And when it comes to an antipasti presentation, vegetables picked in the summer and preserved in oil for consumption throughout the rest of the year reign supreme. Unfortunately, most of us, especially in the UK, don't have large vegetable gardens and so can't do as many Italians do and grow and preserve their own summer produce. So what's the alternative? We've visited supermarkets and well-know delis in order to find out just what's available…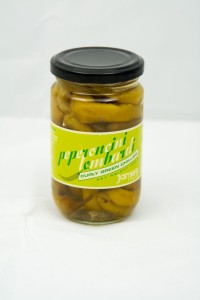 EDITOR'S CHOICE
Peperoncini Lombardi Curly green chillies in brine
From Jamie's Italian delis
(not available online)
Price £6.50 for 300g
Be warned: these are hot. Not 'blow your head off' hot, but you certainly know when you've taken a bite – eating whole chillies in one go is not recommended! These chillies from Lombardy have a really pleasing sourness to them, making them ideal both as an aspect of an antipasti selection and as a topping for pizza or as an ingredient in a simple pasta sauce. You could try dicing them or even blending them and mixing them with pesto for a pasta dish with a kick, or just chop them up and mix them with fresh tomatoes and slices of salami. Matching them with wine is pretty well impossible. If you're going to have a drink with them, we'd suggest a very dry martini over lots of ice.
VERDICT * * * * *
They pack a punch, but these chillies are great, either on their own, cooked whole on top of a pizza, or chopped up and tossed into a salad.
……………………………………………………………………………………………………………………………
Pomodori Secchi sott'olio (Sun-Dried Tomatoes in Olive oil)
From Carluccio's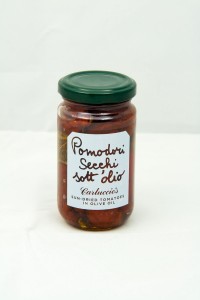 www.carluccios.com
Price £3.95, 200g
Sun-dried tomatoes are a staple of Italian diets: a means of preserving the precious fruit from plants that have been watered every day for months to attain perfect ripeness. No one would want all that effort going to waste! These, from Carluccio's are soft and delicate, not too strong in flavour, nor too bitter. Superb on their own or blended and mixed into a pasta sauce.
VERDICT * * * *
Far better than the sun-dried tomatoes you'll find in the supermarket, these are soft and delicate, though they have a pretty hefty price tag!
……………………………………………………………………………………………………………………………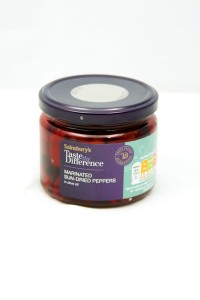 Taste the Difference Marinated sun-dried peppers
From Sainsbury's
www.sainsburys.com
Price £3.50, 290g
Sun-dried peppers are all too easy to get so, so wrong. Unless they're cooked to perfection they can end up being too soft and lacking in flavour. Thankfully, these ones, from the Sainsbury's Taste the Difference range, manage to maintain their consistency and their taste, making them perfect for
inclusion on your plate of lunch-time antipasti.
VERDICT * * * *
These delectable peppers won't turn to mush and make a great match with pecorino cheese and freshly-sliced Parma ham.
……………………………………………………………………………………………………………………………
Marks & Spencer roasted peppers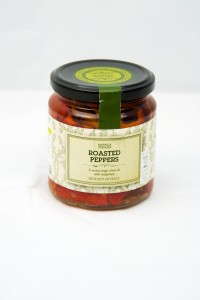 From Marks & Spencer
www.marksandspencer.com
Price £2.50, 280g
Preserved in extra-virgin olive oil that's been flavoured with parsley, garlic and rosemary, these small pieces of roasted red pepper are extremely tasty, though their consistency could be considered a little on the soft side (though the skins aren't at all overly tough). They're great tossed with fresh pasta however, to make a simple yet elegant starter dish, and they make a great addition to a green salad.
VERDICT * * *
Vegetables that have been preserved in oil can soak up too much of that oil and lose their bite. This has happened here just a little.
……………………………………………………………………………………………………………………………
Carciofi Alla Brace (Chargrilled artichokes)
From Carluccio's
www.carluccios.com
Price £6.95, 280g
No antipasti selection would be complete without a bowl of marinated chargrilled artichokes. These, from Carluccio's, are grown in Puglia and roasted over charcoal for a lovely smokey taste. Lightly flavoured with parsley, they're placed into the jars by hand before being topped up with quality olive oil to preserve them. Not cheap, but then the best things in life very rarely are…
VERDICT * * * * *
Chargrilled artichokes are never cheap, and these are positively expensive, but if you want the best you'll have to pay for it!
……………………………………………………………………………………………………………………………
Taste the Difference Chargrilled Artichokes

From Sainsbury's
www.sainburys.com
Price £3.50, 290g
A firm favourite at any family gathering, these Taste the Difference chargrilled artichokes are a simple and easy-to-acquire aspect of an antipasti selection. They're delicately flavoured, and the oil is fairly neutral, so they make a great addition to salads, chopped up and added to pasta dishes or tossed over the top of a pizza. Good quality and great for everyday use.
VERDICT * * *
Not as good as the artichokes from Carluccio's, but then they have the price advantage and still make a decent antipasto.
……………………………………………………………………………………………………………………………
Waitrose cooks' ingredients chargrilled peppers in olive oil
From Waitrose
www.waitrose.com
Price £4.39, 280g
We love the Waitrose Cooks' Ingredients range, and this relatively new addition of mixed red and yellow peppers that have been chargrilled and preserved in olive oil is a welcome one. The pieces of pepper are quite small, though they pack plenty of flavour and the oil itself is delicious. Best used as a sauce or topping ingredient however.
VERDICT 
A balanced mix of red and yellow peppers, these are best used – as it says on the jar – as an ingredient in a sauce or on top of a pizza.