Add the perfect finish to your Italian dishes with our selection of dried herbs and flavoured salts this month – from truffles to ginger, these will add zing to your culinary exploits!
Whether it's a simple twist of the black pepper mill, a pinch of sea salt flakes or something more aromatic, there aren't that many of us who don't use some kind of seasoning in our cooking. The cuisines of different countries are characterised by their use of distinctive flavours, with the key Italian players comprising oregano, basil and sage, although waiting in the wings are other savoury stars like thyme, mint, fennel and rosemary. Now, while we should all be growing and drying our own herbs and using one or more on a dish-by-dish basis, there is no doubt that the convenience of these ready-made blends are a perfect way to bring the flavour of Italy to your food at home. Buon appetito!
Editor's choice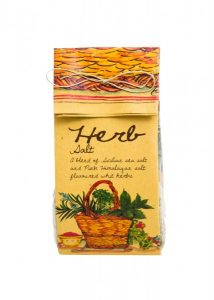 Casarecci di Calabria aromatic herb sea salt
Vorrei have this salt blend created especially for them in Calabria by a family-run firm. A unique product, it is completely natural and comes in this fabulously rustic packaging tied with baker's twine. You get a generous 200g of coarse Sicilian salt, also known as Italy's 'White Gold', which is gathered from the waters between Trapani and Marsala. We spotted larger crystals of pink Himalayan rock salt too, bringing more trace elements and minerals to the slightly green-hued mix. So far, so salty – which is a very good thing in this context – and then the other subtler flavours begin to develop on your tongue. From the familiar pungency of basil and thyme, rosemary, sage, and parsley, you experience the unexpected but delicious fragrant notes of wild fennel, mint, elderflower and finally a pop of piquant pink pepper.
From Vorrei
Price £3.50 for 200g 
Verdict: Aromatic and savoury, this herby seasoning will dance on your tongue with a delicious warmth and depth. Perfect for chicken, fish and veg, even ricotta!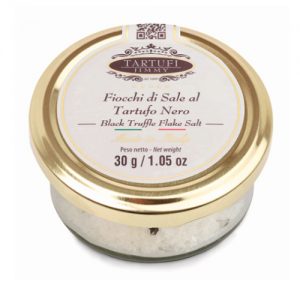 Tartufi Jimmy black truffle salt flakes
Chunky sea salt flakes take on the flavours of black truffle in this tiny pot of umami. The heady aroma is earthy and always divides the crowd, but an absolute winner on a poached egg.
From NifeisLife
Price £6.49 for 30g
Verdict: If you love the umami hit of truffle, this is the seasoning for you – just the merest sprinkle will add super-savoury flavour.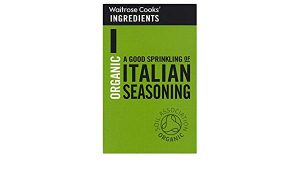 Waitrose organic Italian seasoning
A princely nine herbs and aromatics are crammed into this blend. We liked the dried onion and garlic, aromatic savory and piquant paprika alongside the finely chopped mix of usual herby suspects.
From Waitrose
Price £1.89 for 22g
Verdict: A delicately balanced gathering of favourite Italian herbs with the added bonus of an organic status.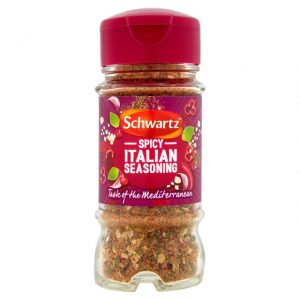 Schwartz spicy Italian seasoning
Very heavy on the dried red and green peppers (around 25 per cent), this seasoning is indeed spicy, but also quite salty. There's a slight smokiness from paprika and only a mild whiff of herbs.
From Schwarz
Price £1.65 for 42g
Verdict: Fine with garlic bread and pizza, this mass-produced savoury blend lacks the finesse of some other blends in the test.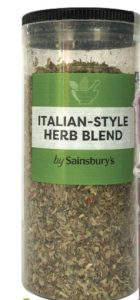 Sainsbury's Italian-style herb blend
A finely chopped mix of dried herbs with oregano and basil leading the way. Flecks of red pepper add no more than a little colour, but the other herbs like sage, parsley and rosemary are flavoursome.
From Sainsbury's
Price £1.50 for 38g
Verdict: A generous sized pot of herbs so you can be lavish. Add a pinch or two to your polpette (meatballs) before cooking. Delicious!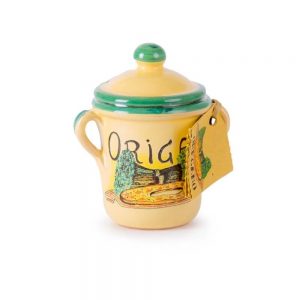 Casarecci di Calabria dried oregano
Part of the mint family, oregano is the classic Italian herb. We loved the earthenware jar with its lid to keep the aroma fresh. Quite potent, you only need a small pinch at a time.
From Vorrei
Price £5.50 for 5g
Verdict: A solo herb that works so well (if not better) when dried, this artisan pot will be a charming addition to your kitchen windowsill.
Le Spiritose di Bologna flavoured salt
This small company aims to capture the essence of their home, Emilia-Romagna, in their ethically sourced products. This unusual combo is lemon, orange and ginger with salt from Cervia.
From The Red Beetle
Price £5.50 for 100g
Verdict: We loved the unexpected heat from the ginger with zingy citrus. Delicious sprinkled over fish and vegetables before grilling.
Click here for more Italia! taste tests!