This Italian hard cheese has long lived in the shadow of Parmigiano Reggiano, but there's no real reason why it should. We put seven supermarket brands under the spotlight…
Grana Padano cheese has a long and noble history: originally made by the Cistercian monks of Chiaravalle way back in the 12th century, it is now produced across five Italian regions and 13 provinces, from Veneto to Piedmont and from Emilia-Romagna to Trentino. A hard cheese made from unpasteurised cow's milk with a fat content of 39-41 per cent, the name comes from its grainy (grano) texture and the original production area of Pianura Padana (the Po Valley).
In 1996 it was granted PDO (Product of Designated Origin) accreditation, so look out for the logo: it is the mark of quality and provenance that ensures the genuine article. Pale golden and smooth, the texture is solid but yielding and finely grained; when cut with a knife it should crumble into slivers. It comes in three vintages: 9-16 months; over 16 months; and aged Riserva, from 20 to upwards of 24 months. It is in the same family as Parmigiano Reggiano with a delicious umami hit, and a lower price, so if that is the style of cheese that whets your appetite, give Grana Padano a try.
Editor's choice
Lidl Grana Padano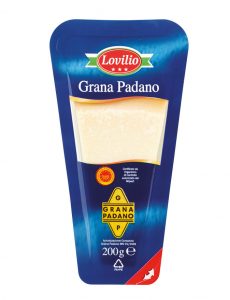 Matured for 16 months, just as other examples in our round-up are, we felt this Grana Padano from Lidl should get the top billing for its price as much as its quality (which is stands up well to the others). At this price point it is certainly affordable for everyday use, but wouldn't look out of place gracing your cheeseboard either. It has a smooth, light texture that is dry to the touch, and the aroma is clean and savoury. Once you taste it, there is a great richness of flavour; nutty and surprisingly sweet with a bright, clean taste that lingers lightly on the palate. Delicious for grating, cooking or for eating on its own, or drizzled with a good balsamic vinegar.
From Lidl 
Price £1.99 for 200g
Verdict: This really is a delicious example of Grana Padano cheese – the texture and taste are aromatic and satisfyingly savoury, and the aged quality shines through on the palate.


Tesco Grana Padano
This Grana Padano is quite a young one, which means it has a delicious milky smell and a good, smooth texture. It is buttery rather than nutty with a satisfyingly sweet, creamy flavour. It melts very well into sauces.
From Tesco
Price £2.50 for 200g
Verdict: Keep in the fridge, where its resealable packaging keeps it fresh without making it sweat. Handy for all your Italian recipes.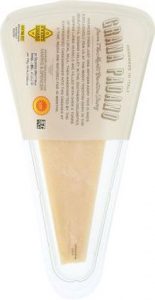 M&S Grana Padano
Made in the Dolomites from a single dairy, the M&S cheese is over 16 months old, with a maturer, caramelised taste that balances well with its saltiness. It is drier with a nutty aroma and flakes more easily when you cut into it.
From Marks & Spencer
Price £3.50 for 200g
Verdict: Premium price for provenance and easy to eat, this is definitely one for your cheeseboard – or shaved over pasta.

Waitrose Grana Padano
A 12-month old cheese, this example from Waitrose is surprisingly robust and savoury. It has a nutty, tangy flavour with a great texture. It breaks apart well, and has a subtle saltiness to it which develops on the palate.
From Waitrose
Price £3.00 for 200g
Verdict: A mature-tasting Grana Padano with a strong umami aftertaste, and a well-balanced flavour. Try with steamed asparagus.
Sainsbury's Grana Padano
We're not sure how mature this cheese is from the label, but it has a mild flavour which suggests it is fairly young. Smooth-textured and easy to slice, with a creaminess balanced by a subtle salty undertone.
From Sainsbury's
Price £2.50 for 200g
Verdict: Mild but with a solid texture perfect for grating over a steaming bowl of pasta or to stir generously into a risotto.

Asda Grana Padano
The eagle-eyed will notice that this prepack from Asda is the grated option as the block cheese wasn't available. However, it had a subtle nuttiness and when baked as a topping it kept its texture very well.
From Asda
Price £1.80 for 200g
Verdict: Worth a try for the convenience – it retains a lot of Grana Padano flavour and is pleasantly textured for gratin toppings.

Aldi Grana Padano
Matured for a minimum of ten months, this smooth operator is delicately creamy and very more-ish. A touch of saltiness comes through at the end, but complements rather than overpowers the balance of fruity flavour.
From Aldi
Price £1.89 for 200g
Verdict: Great value for a well-balanced cheese, with all
the nuttiness you would expect and more from a young cheese like this.
Find more Italian food & drink reviews to inspire you