Simple and satisfying, there is an amazing array of flavoursome filled pasta to be found on the market these days – we taste seven leading brands to find our favourite.
While there is nothing to rival a melting mouthful of freshly made filled pasta, these delicious shop-bought parcels and their precious cargo are a welcome and satisfying supper alternative when time is short.
The flavours, shapes and variations are diverse – from meaty ravioli through to seasonal vegetables, fish and nuts – and need the only briefest of culinary attention. Lightly boil in water for two to three minutes (be careful to simmer and not hard boil them), drain and then dress in good olive oil, butter, pepper and Parmesan. We prepared each of our samples here in the same way – simmered in water – although the timings varied slightly according to the variety of fillings.
---
Editor's choice:
Fratelli Camisa gorgonzola and walnut caramella
This filled pasta shape takes its name from traditional wrapped toffees, as the ends of the fine pasta are twisted delicately around the savoury filling, securing it at both ends. This range of fresh pasta is made exclusively for Fratelli Camisa by the Padane company in Brescia, northern Italy. Batches are delivered every Monday, so you can be sure that you are getting the freshest pasta. Ours certainly tasted very good and the pasta was tender and light after a scant three minutes in the pan – all the twists stayed intact and the filling firm. We all enjoyed the deliciously savoury filling, which was a blend of tangy Gorgonzola and earthy walnuts, bound together with Grana Padano, Provolone and breadcrumbs with a background hint of spicy nutmeg running through the filling.
From: Camisa, £4.95 for 250g
Verdict: 5 stars. Variety is the spice of life, so why not branch out from your go-to spinach and ricotta tortellini and try another flavour combination? This one's a revelation.
---
NifeisLife pumpkin girasoli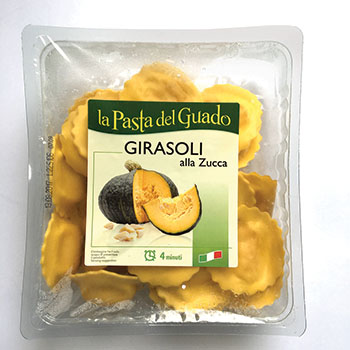 These tender discs of egg pasta only needed about four minutes at a gentle simmer. The filling was pure pumpkin with none of the expected cloying amaretti hit. Sweet and fresh, the true veggie flavour shone through.
From: NifeisLife, £7.99 for 500g
Verdict: 4 stars. With a sunflower shape and equally sunny filling, you can feed a family with this bumper pack. Don't forget the sage butter!
Fontana radicchio & speck panzerotti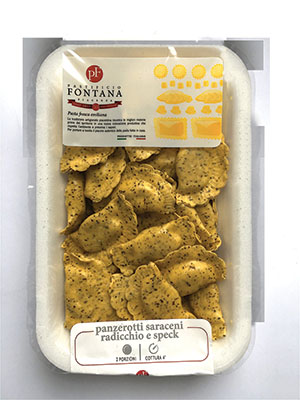 A pasta dough with a difference, this one adds buckwheat to the mix. It gives the panzerotti parcels a nutty flavour which goes well with the bitter radicchio and the smoky Speck cured ham.
From: Bellavita, £3.69 for 250g
Verdict: 3 stars. Hand-finished, these tiny pasty shapes will make a substantial plate of pasta. Serve with melted butter and toasted hazelnuts.
Fontana salmon caramelle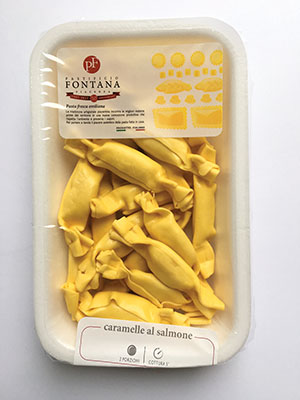 Fish-based filled pasta is unusual but this one went down well. The five-minute cooking time is just about right for the egg pasta to reach al dente, and the filling stays firm but creamy inside with well-judged seasoning.
From: Bellavita, £3.69 for 250g
Verdict: 3 stars. Another take on the traditional wrapped toffee shape, serve these filled pasta twists with olive oil and grated lemon zest.
Camisa truffle & ricotta spiga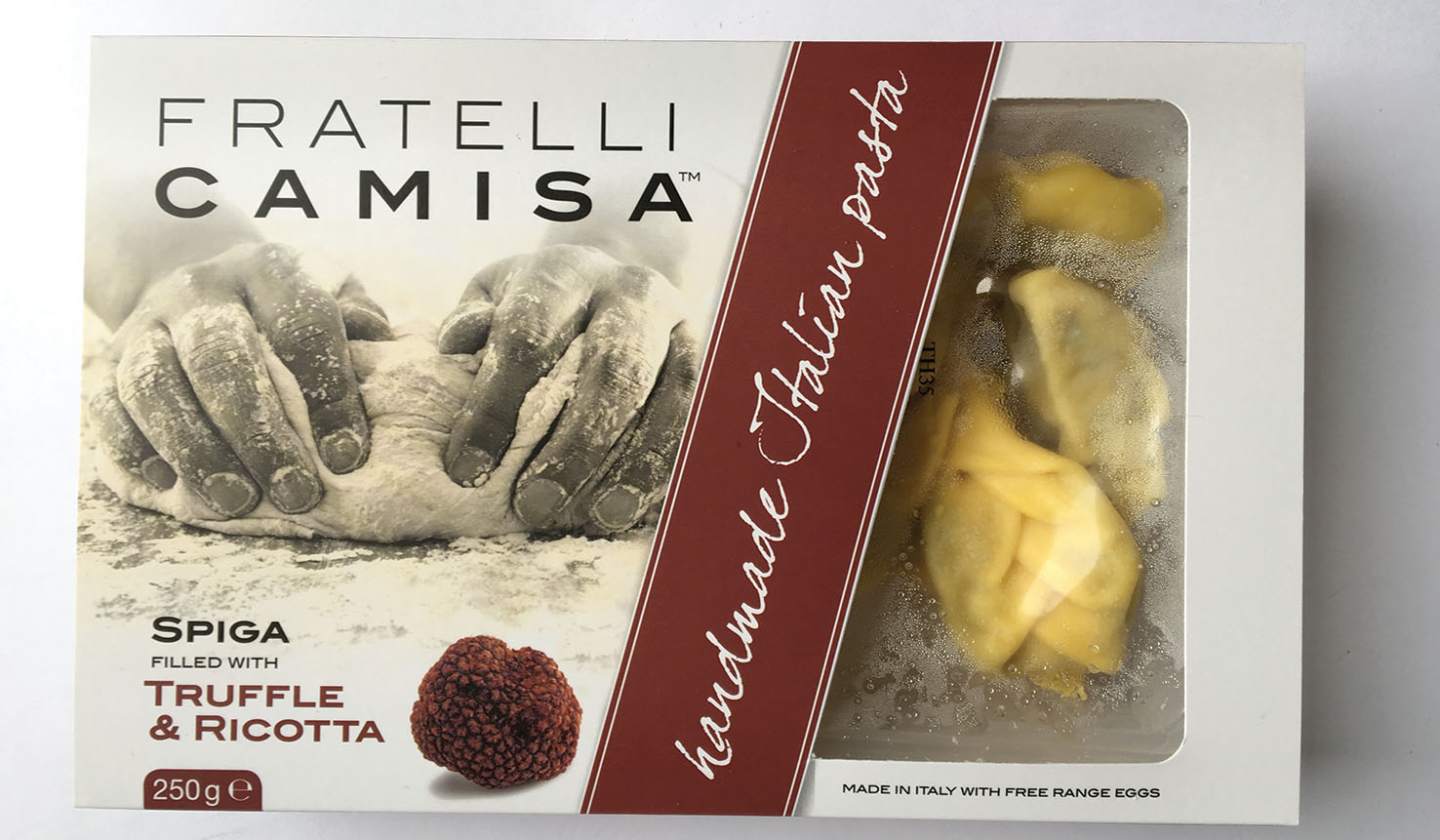 Looking like little ears of wheat (spiga), these compact parcels come from the same producer as our top choice this month. The thinly rolled pasta was rich with egg, while the filling was packed with the earthy flavour of truffle.
From: Camisa, £4.95 for 250g
Verdict: 4 stars. Great value with its luxury filling, this is an indulgent pasta for your next dinner party. Top with a flourish of truffle shavings!
Waitrose beef & red wine ravioli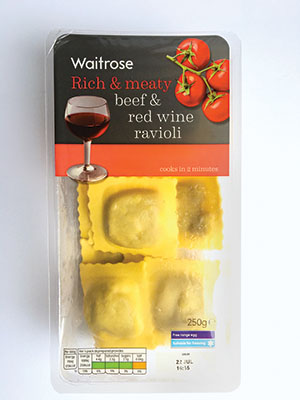 With a hearty portobello mushroom, red wine and beef filling, we were looking forward to these, but the edges weren't sealed and the contents leaked. What we tasted was delicious though.
From: Waitress, £2.99 for 250g
Verdict: 3 stars. Even at a gentle simmer, these ravioli fell to pieces quickly which was a shame. Maybe an overfilled batch, as the flavours were good.
 Sainsburys basil & pine nut margherite
These margherite needed a couple of minutes extra in the pan but stayed intact. The creamy ricotta filling was laced with aromatic Genovese pesto and whole pine nuts for added crunchy texture.
From: Sainsburys, £2.60 for 250g
Verdict: 3 stars. A new twist on spinach and ricotta tortellini, these little daisy wheels are packed with flavour and keep their shape well.